The GBPUSD currency pair traded down over 30 pips after Markit Economics released downbeat UK PMI data. According to the latest UK PMI data, the UK Manufacturing industry shrunk as the PMI came in at 46.9, missing analysts' estimates of 47.9.
---
YOUR CAPITAL IS AT RISK. 81% OF RETAIL CFD ACCOUNTS LOSE MONEY.
---
The UK services industry also expanded by a smaller margin than expected after the PMI came in at 55.1, which was still below analysts' expectations set at 55.5. The pound fell on the weak PMI data, which painted a lousy picture of its economy. 
Top Broker Recommendation
YOUR CAPITAL IS AT RISK. 68% OF RETAIL CFD ACCOUNTS LOSE MONEY
Comments from the Bank of England Governor, Andrew Bailey, when testifying before the UK parliament's Treasury Select Committee (TSC), also did little for the pound as the Governor tried to reassure Parliament that the BoE got a good handle on the UK economy.
Some of Bailey's comments were about whether the bank had reached peak interest rates, with his exact comments being, "I can't tell you whether we're near to the peak", which did not shed much light on the matter.
Still, many believe that the UK, like the US and other leading central banks, is near peak interest rates despite Bailey's comments. The pound attempted to recover at writing after releasing mixed PMI data.
The US manufacturing PMI came in at 48.5, much lower than consensus analyst estimates of 50.0, showing that the manufacturing sector had declined by a wider margin than expected. On the other hand, the US services PMI was much better, recorded at 55.1, but was still lower than analysts' estimates of 52.6.
The currency pair also got a boost from the International Monetary Fund (IMF), which issued a favourable report on the UK's economic growth outlook. In its latest report, the IMF said that it now expects the UK economy to expand by 0.4% in 2023.
The IMF had previously said that it expects the UK economy to contract by 0.6%, that was back in January, but the economy has since improved. As recently as last month, the IMF had predicted the UK economy would contract by 0.3%. Hence, the change of perspective was much welcome.
*This is not investment advice.
The GBPUSD price chart.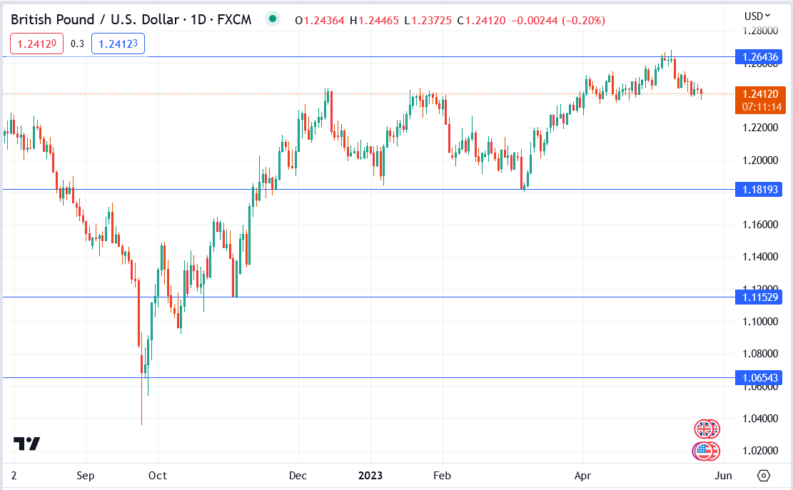 The GBPUSD currency pair was trading down 31.3 pips (0.25%) as the British pound fell against the US dollar.
---
YOUR CAPITAL IS AT RISK. 81% OF RETAIL CFD ACCOUNTS LOSE MONEY.
---