Globalfoundries Inc (NASDAQ: GFS) stock price rallied 9.42% after signing a nonbinding agreement with Ford to increase the automakers short- and long-term chip supply.

The two companies did not reveal the financial details of the agreement with Ford, saying that the talks were in their early stages.
Chuck Gray, Ford's Vice President of vehicle embedded software and controls, said: "We're working to reimagine our supply chain. It will really help increase our independence."
Mike Hogan, GlobalFoundries senior vice president and general manager of automotive, said: "The agreement is part of a multipronged approach for the company to improve the supply of chips to the automotive industry."
Adding:
"There will be some near-term expansion of capacity… but this is about building a different future. The automotive industry is fundamental to our strategy."
The two executives made the above comments during a joint phone interview with CNBC.
The deal comes as the global automotive industry struggles with a massive chip shortage that has forced many automakers to slash their production due to the lack of chips.
Many American manufacturers are also looking to reduce their reliance on overseas chip manufacturers, primarily in China and Asia.
President Joe Biden has urged American companies to relocate their manufacturing from overseas back to the country. Former US President Donald Trump championed this strategy due to his trade war with China.
Investors reacted positively to the announcement pushing Global Foundries stock price higher during premarket trading but had given up most of their gains at writing.
*This is not investment advice. Always do your due diligence before making investment decisions.
GFS stock price.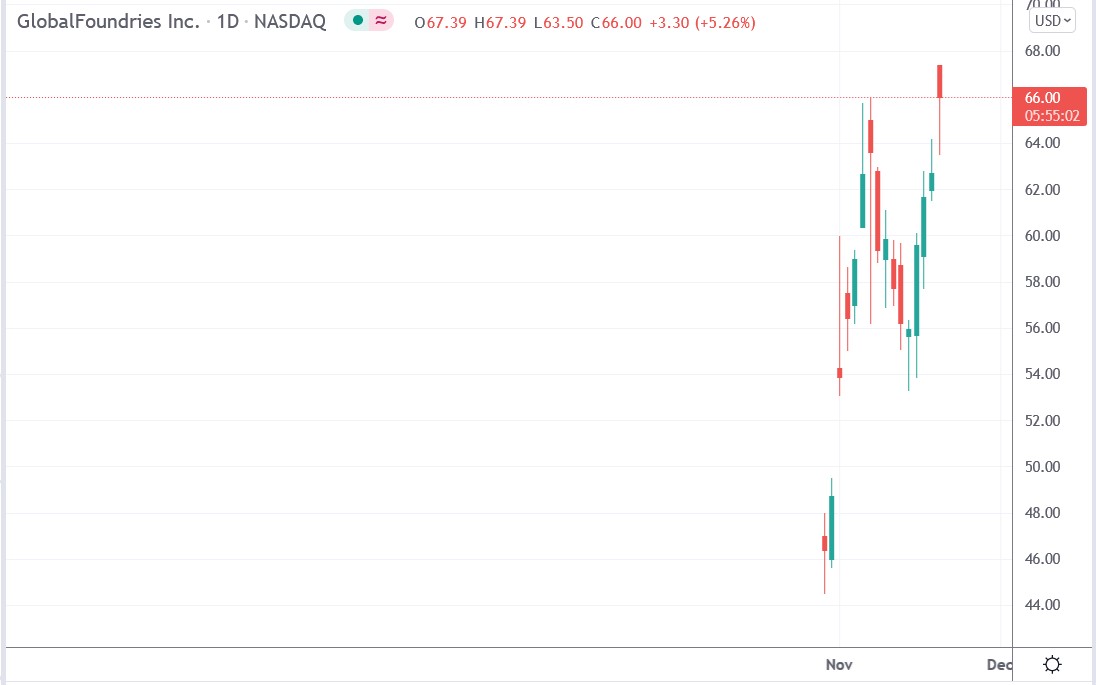 Globalfounderies stock price rallied 9.42% to trade at $68.63, rising from Wednesday's closing price of $62.72.
Should you invest in GlobalFoundries shares?
Tech stocks offer some of the best growth potential, but time and time again, traders and investors ask us "what are the best tech stocks to buy?" You've probably seen shares of companies such as Amazon and Netflix achieve monumental rises in the past few years, but there are still several tech stocks with room for significant gains. Here is our analysts view on the best tech stocks to buy right now.