Key points:
Greenlane Holdings should be up 2000% this morning
It's actually 20% and more down on that theoretical price
The solution to the falling stock price did not, therefore, work
Greenlane Holdings (NASDAQ: GNLN) stock price is down 94.6% over the past 12 months, 99.29% since the IPO and on some tickers will be shown as up 2000% today. As a matter of fact the nominal price has indeed risen but the real price fall is another 20% or so. GNLN is not managing to catch much luck that is. As to why Greenlane is down 95% and change that's because it was part of that frenzy about the cannabis market. Which turns out not to have been a good field to invest in.

GNLN is suffering just as near almost all other cannabis stocks have been. They were launched with high hopes about the legalisation of cannabis state by state across the US, in Canada, varied European markets and so on. The problem is that the much mooted market failed to turn up. One recent piece of research shows that legalisation didn't lead to more dope smokers, but more dope smoking by the same people. The illegal market was efficient enough that everyone who wanted dope was already getting it, there was no great unserved market to capture. That also works more harshly on an accessories supplier like GNLN – those who were smoking illegally aren't going to go out and buy new kit to smoke with.
It's also true that the new legal market has been hit by two other problems. One is that in places like California implementation has been so bureaucratic that the legal dope is more expensive and worse than the still extant illegal supply. The second is that the investment frenzy led to a large number of capital rich companies all trying to chase this new market. Which, as we've noted, rather failed to turn up. So profits – heck, "not large losses" – have been few and far between. It's just not been a good field to invest in.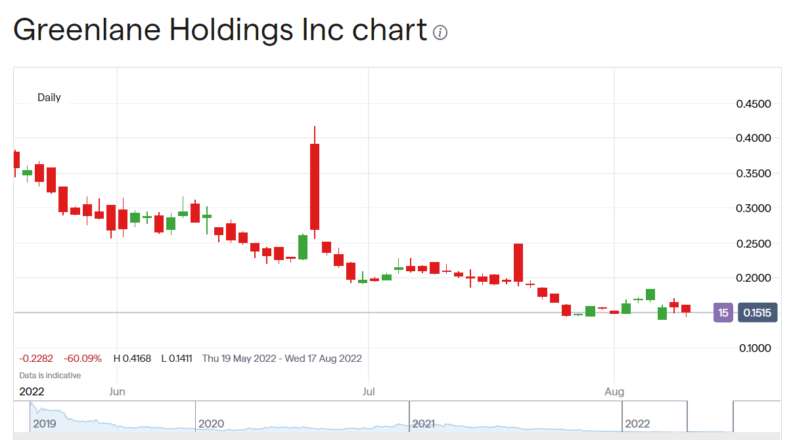 Also Read: Five Best Pharmaceutical Stocks to Watch in 2022
As to the possible 2000% Greenlane stock price rise today. That's actually, as we say, a 20% or more stock price fall for GNLN. The reason is that the stock price fall has taken them below the NASDAQ minimum offer price of $1. They've got to do something about getting that stock price languishing down at $0.15 back up over $1 or they will lose the NASDAQ quote. That would mean off to the OTC markets with their thin liquidity and difficulties in raising capital.
So, as so often, the solution is a reverse stock split – a consolidation to the Brits. For every 20 shares that were owned before market close last night there is now only one. This should lead to a 2000% stock price rise, or a theoretical $3 given the last pre-stock split price. The price is actually around $2.50 – that's a 20% drop from where it should be on only the consolidation. It would appear that traders have been celebrating the retention of the NASDAQ quote by selling. The solution has retained the NASDAQ quote for now, but not really improved matters otherwise.