Key points:
key point
key point
key point
ObsEva (NASDAQ: OBSV) stock is up 33% this morning following a near 7% rise yesterday. This is most odd for a stock which is currently under the protection of the Swiss courts. This is a situation akin to but not exactly like Chapter 11. Yes, it's true, odd things have happened with meme stocks recently but a bombed out pharma company sounds like an odd one of those.

The ObsEva stock price is, even after this recent move, down 88% on the year which is not a performance we ever really want to see. The explanation for the OBSV problem is simply that the FDA didn't licence their lead treatment. This is a pity for a number of reasons, but it is the cause of the current woes. What needs explaining is the current rise in the stock price though. For there's no obvious nor immediate reason for it.
We could look at what the company has recently announced but there's nothing there to explain it. Yes, the Chief Scientist has moved on but that's from the end of July. ObsEva was also able to escape a nasty little prepayment clause in a loan from JGB Management and pay down some of the debt burden, refinance. But that's from a week back and shouldn't be moving the stock price right now. We're just not being told anything which should move OBSV right now.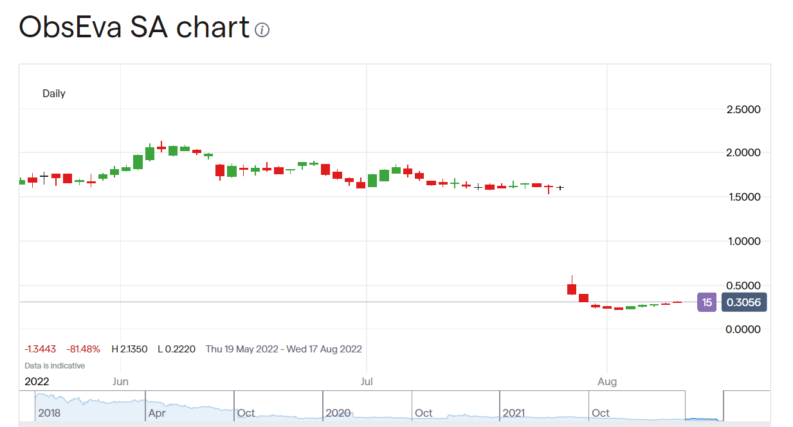 Also Read: The Best Pharmaceutical Stocks to Watch in 2022
The particular and specific problem that ObsEva has is that its lead candidate – a treatment for uterine fibroids – failed to gain FDA approval. This again emphasises the importance of the FDA to pharma stocks. For the EMA (the European equivalent) had approved it for sale. There were distribution agreements ready to go out in the Far East. But without FDA approval none of those go forward. Because that's where all the money is, in the American market. So, no approval for that market and the drug or treatment doesn't go forward.
Which is what makes the OBSV stock price jump today so odd. For as we pointed out about ObsEva the result of that FDA failure to approve was:
Only marketing in Europe doesn't make financial sense, so without being able to gain that US licence that's the end of this linzagolix adventure for ObsEva. It's also, to a certain extent, the end for ObsEva stock itself. For as a result of having to restructure the company is to seek protection from the Swiss courts – something akin to Chapter 11 really – against debt collections and so on.
Such Swiss administration and protection is not exactly the same as American Chapter 11 but it's a similar idea. And the usual outcome – because it the usual reason for going into it – is that there's no equity left for the stockholders. If there were then protection from creditors wouldn't be required.
Yes, it's true, ObsEva is not bankrupt but there's no good reason as yet revealed for why the OBSV stock should be rising a third today.