Key points:
Helium One shares edged higher on the Rukwa operations update.
The primary helium explorer is making decent progress on the site.
So, should you buy HE1 shares? Read on to find out.
The Helium One Global Ltd (LON: HE1) share price edged higher after issuing an operational update regarding its Rukwa world-class helium project. In addition, the company updated investors on the progress made in preparation for its 2022 drilling campaign.

The mining company has identified a suitable drill rig, which is currently being audited at a yard in Kenya, with the process being 80% complete. The company has already ordered long-lead items such as drill bits and casing to prepare for the drilling campaign.
Also read: The Best Uranium And Uranium Mining Stocks To Buy.
The audit process has identified multiple parts that need repairs, but luckily no significant failures have been identified.
Investors initially cheered the news, but Helium One shares had given up all their gains at writing as the sellers came in, erasing its earlier gains. The moderate reaction to today's news is that the company is still far from starting production activities a Rukwa.
Helium One further reported signing a deal with a tier-one oil and gas services provider to deliver an integrated drilling services package for the Rukwa project. However, the primary helium explorer has yet to confirm when all the drilling services equipment and staff will be available at the Rukwa site.
David Minchin, Chief Executive Officer, commented: "The challenge of finding a suitable rig for our next drilling campaign at Rukwa Tanzania has been compounded by increasing demand from the large and medium size oil and gas companies resulting in a scarcity of rigs and ancillary well evaluation equipment available for the East African market. These challenges have been largely overcome, and we are pressing ahead with our planned Phase II drilling programme, completing the audit process on the Rig and agreeing on availability for provision of integrated well services."
So, should you buy Helium One shares? The answer largely depends on your investing timeframe. Buying HE1 shares should be a long-term proposition for maximum gains.
*This is not investment advice. Always do your due diligence before making investment decisions.
The Helium One share price.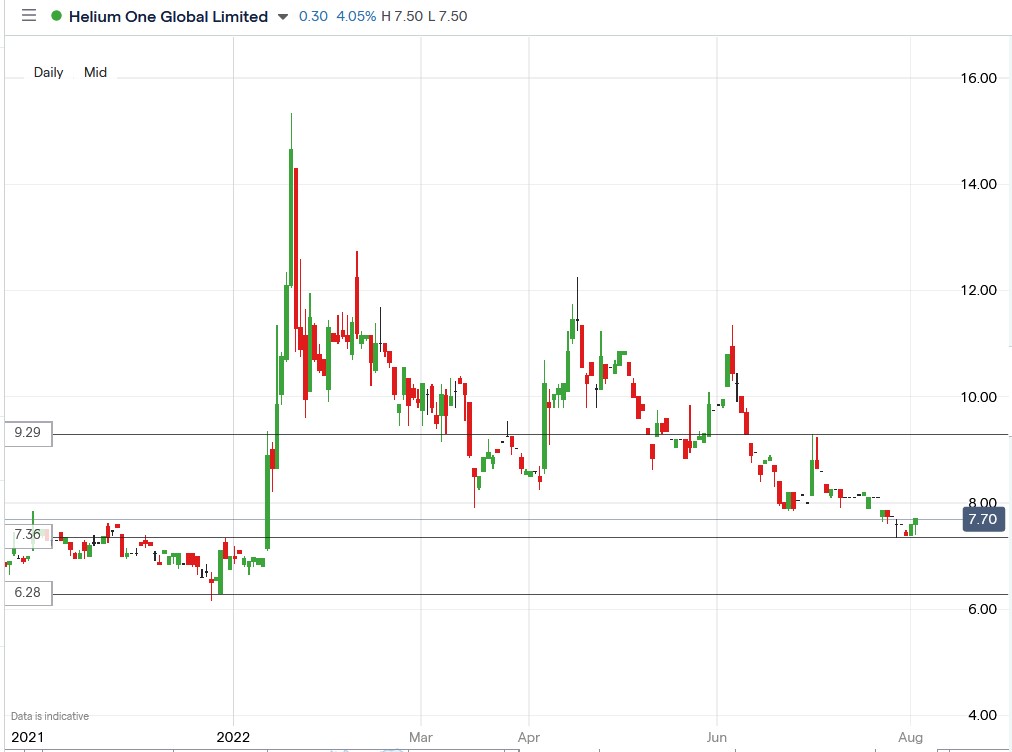 The Helium One share price edged 4.05% higher to trade at 7.70p, rising from Monday's closing price of 7.40p.