Key points:
Aston Martin shares fell 11.4% today despite a lack of news.
The move was part of an expected pullback following a recent rally.
So, should you buy AML shares? Read on to find out.
The Aston Martin Lagonda Global Holdings PLC (LON: AML) share price fell 11.4% today despite the ultra-luxury car manufacturer not making any significant announcements. A few days ago, Aston martin shares were rallying higher despite announcing a massive capital raise.

Investors reacted positively to the fundraising news because it would leave the ultra-luxury car manufacturer with boatloads of cash, eliminating the need for future fundraising activities. The move also demonstrated investor confidence in Aston Martin's management team.
However, as I have warned in previous articles, it is never a good idea to chase a stock higher. In Aston Martin's case, the stock rallied higher for two days, Friday and Monday, before pulling back today.
Also read: Best Breakout Stocks To Buy Right Now.
Investors who use technical analysis to guide their trade entries and exits know that every parabolic rally is usually followed by a pullback that erases from half to three-quarters of the parabolic move.
While the Aston Martin daily price chart below may not show a clear parabolic rally, Aston shares moved from a low of 352p on Friday to a high of 627.10p on Monday, almost doubling evidence that the move was a parabolic rally based on the price data.
Therefore, investors should have expected today's pullback, which provides an opportunity for those who missed out on the initial move to jump in. However, there are no guarantees that AML shares shall rally higher immediately, but the risk is much lower today.
Investors who bought yesterday are now sitting on losses as they wait for the stock to rally higher. Meanwhile, Aston Martin's prospects remain extremely promising as the company executes its turnaround strategy under the leadership of Lawrence Stroll, the company's chairman.
So, should you buy AML shares today? The answer for me is no. I think we could be in for a further pullback before the next rally begins. Therefore, I would like to wait for a few days before buying. However, there is a significant risk that the stock may surge higher without me, but that is the nature of investing.
*This is not investment advice. Always do your due diligence before making investment decisions.
Aston Martin share price.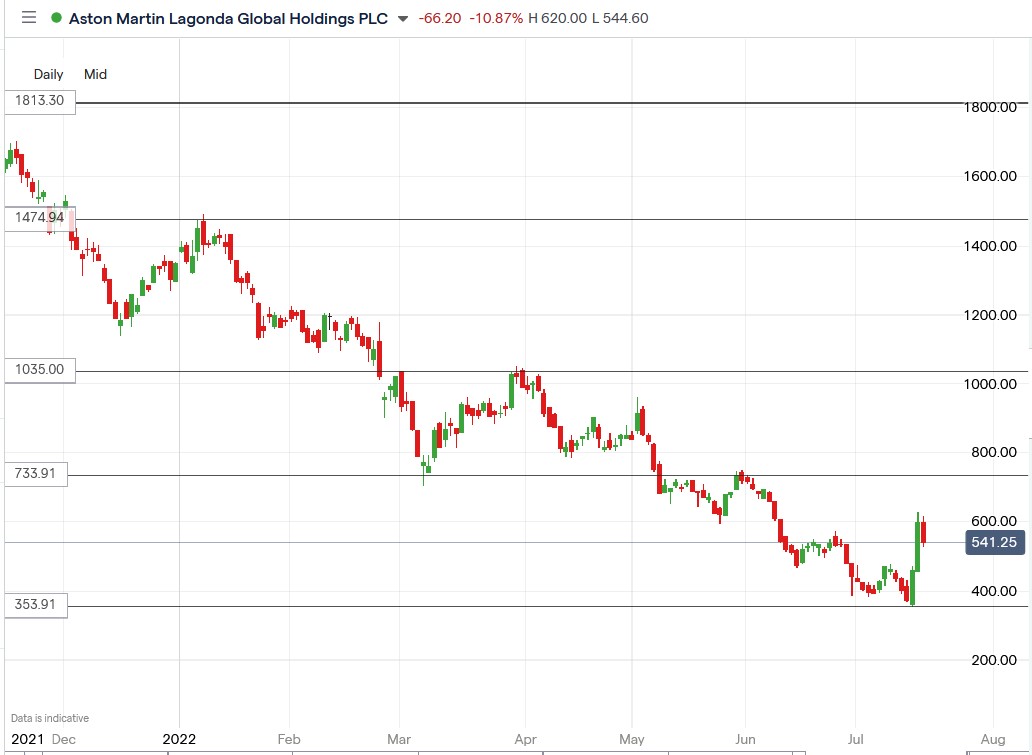 The Aston Martin share price fell 11.41% to trade at 527.7p, falling from Monday's closing price of 595.7p.