Key points:
Polymetal is not directly sanctioned
But the Petropavlovsk and Evraz problems show there still can be problems
For Poly, it might be share registration that becomes the problem
Polymetal (LON: POLY) is, as we know, not directly sanctioned. Nor are any of the major investors, the business line, the mining sector or even gold in any meaningful sense. And yet, as other companies find detailed problems in the middle of the sanctions regime, we do have to wonder how long Polymetal shares are going to be able to dance through the minefield. We have before us that ghastly example of Petropavlovsk (LON: POG) which just had the administration hearing yesterday. Their problem at POG was that they weren't sanctioned either, but their bank was. So, they couldn't deliver gold to the bank, as per the working capital loan contract, nor could they pay the bank off to get out of the contract. Busteroonie.

Polymetal doesn't face this particular problem but as we've noted before POLY shares are being affected by sanctions worries. Both AUCOY and POYYF, the American Depositary Share schemes, are suspended. Many American investors are not allowed, by their brokers, to purchase POLY in London. These are not "proper" sanctions at all, perhaps rather more misunderstandings by financial market intermediaries. But we do have to deal with the world as it is.
Similarly, the business itself isn't directly affected by sanctions. But there are indirect effects. Russian refinery bars are no longer good delivery to either London or Chicago – but Polymetal markets in Asia. Certain subcontractors no longer work in Russia so less efficient – and the same thing, more expensive – locals have to be used. There's rouble inflation and so on – none of which are crippling, but the details all add up.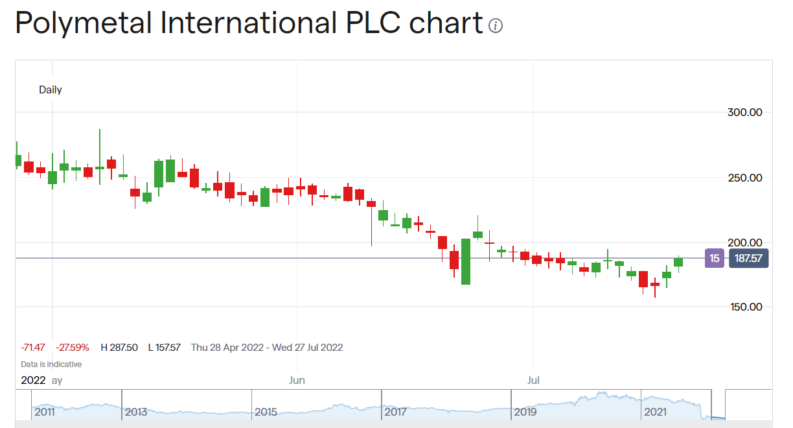 Also Read: The Five Best Gold and Gold Mining Stocks to Buy Now
The problem is, therefore, not direct sanctions but the indirect effects that might, by happenstance or coincidence, affect Polymetal. At which point we get a reminder from Evraz of how complex this area can be. They are directly sanctioned – the Abramovich connection – so it is indeed different. But they've just announced that their share registrar will no longer work with or for them. Given the Evraz share suspension perhaps not the greatest of problems but still. The company is having to take on the work itself – and advising all Evraz shareholders to gain a paper copy of the certificates.
Now, this doesn't directly affect Polymetal of course. And yet – Euroclear no longer talks to NDS, the Russian equivalent. So Polymetal has no way of speaking to the roughly 20% of the shareholder base which is in Russia. Nor, obviously, of distributing any dividend to that 20% Russian holders.
This does matter. On Thursday we get the Q2 production numbers. Then a month later the H1 results. And either at that point, or perhaps toward the end of September, we get the decision on the H1 dividend and also the payment – or not – of the suspended final dividend from the spring. Whether or not Polymetal can distribute the dividend(s) to such a substantial part of the shareholder base could well be one of those issues they take into account when deciding to pay it or not.
The point here is that Polymetal, while not being directly sanctioned, does have probelms with sanctions. Complicated problems as both Evraz and Petropavlovsk, in their different ways, show.