Key points:
Rolls Royce share plunged 19% despite upbeat FY 2021 results.
Investors were spooked by the CEO's departure and board changes.
The CEO's departure in the middle of a turnaround plan is not good.
The Rolls-Royce Holding PLC (LON: RR) share price plunged 19% despite the company reporting excellent full-year earnings results where it registered a small underlying operating profit of £414 million.

The plane engine manufacturer also told investors that it had achieved cost savings of approximately £1.3 billion a year earlier than initially expected, but this was not enough to appease investors.
In comparison, Rolls-Royce registered a whopping annual loss of £3.1 billion. Hence, today's results show that the business has improved significantly during the past year.
The manufacturer generated £10.9 billion in underlying revenues, which was slightly below 2020's restated figure of £11.43 billion, but this was not the main reason behind today's selloff.
Investors were spooked by news that the plane engine manufacturer's CEO, Warren East, had communicated to the board that he intends to relinquish his role at the firm by the end of 2021.
After being appointed to its board nine years, Warren has been Rolls Royce's CEO for the past eight years. It is never a good sign when the CEO of a company decides to voluntarily step down, indicating that he has no confidence in the firm that he is leaving.
Rolls Royce is losing its CEO, but it is also losing multiple directors from its board, including Sir Kevin Smith, a Senior Independent Director and Chair of the Science & Technology Committee.
Other non-executive directors leaving the company include Irene Dorner, the current Chair of the Remuneration Committee and Employee Champion and Lee Hsien Yang.
The departure of the current CEO and multiple board members creates uncertainty around Rolls Royce's future since the management team is in the middle of a massive restructuring plan created and executed by the departing team.
Investors are worried that the current turnaround plan may not be completed by the next CEO, who might have other plans for the company.
Warren East, Rolls Royce CEO, said: "It is a privilege to lead Rolls-Royce – it's a job which I thoroughly enjoy. There have been challenges, but we have built on the cultural and organisational improvements we have made to work through them, deliver on our commitments and create a better business. We have simplified the Group, fundamentally improved our underlying operations and long-term driven change. Rolls-Royce is a dramatically different business today:"
We will have to wait and see how the search for a new CEO goes and whether the company shall remain on the current track as it fights to return to profitability.
*This is not investment advice. Always do your due diligence before making investment decisions.
Rolls-Royce share price.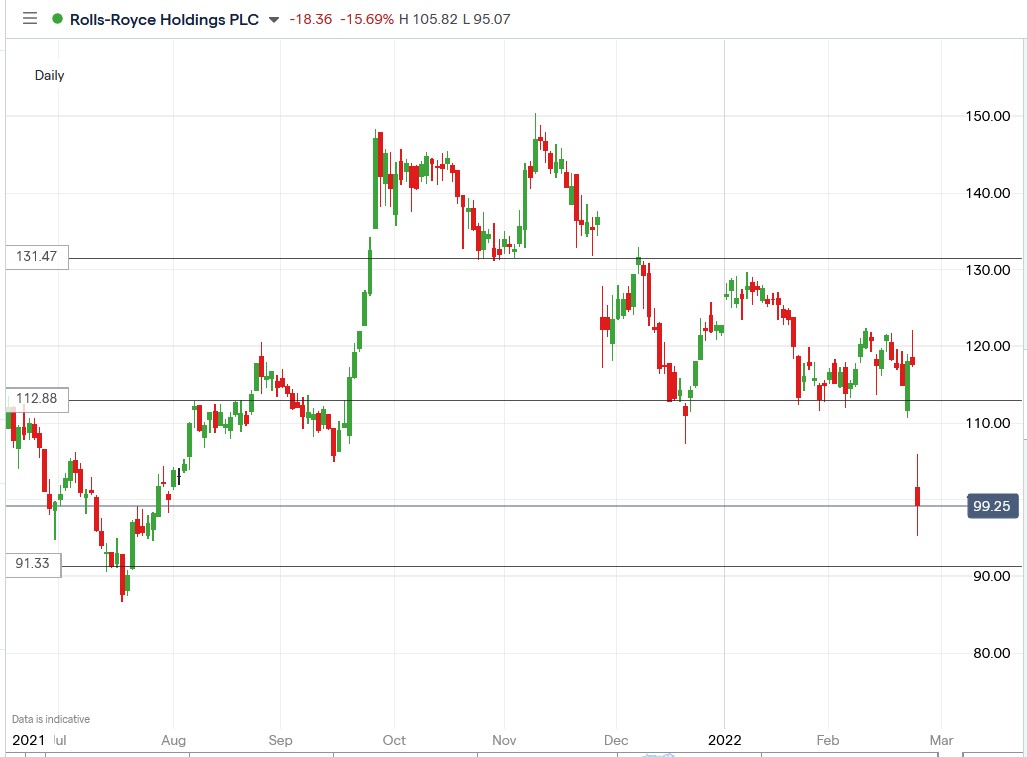 Rolls-Royce's share price plunged 19.03% to trade at 95.20p, falling from Wednesday's closing price of 117.58p.