The International Consolidated Airlines Grp SA (LON: IAG) share price fell 2.79% despite releasing its Q4 and full-year 2021 financial results, which beat analysts' expectations.

The airline group which operates the British Airways, Aer Lingus and Iberia airlines reported a surge in passenger numbers during the fourth quarter, which was 58% of the traffic recorded in Q4 2019, and an improvement from the 43% figure recorded in Q3.
IAG full-year passenger numbers were 36% of the figures reported in 2019 before the coronavirus pandemic struck.
The airline group revealed that the emergence of the Omicron variant had a short-term negative impact on passenger numbers. Still, bookings for March and the easter holidays had recovered as most people became used to the virus variant.
IAG generated total revenues of €8.455 billion, representing an 8.3% improvement to the 2020's €7.806 billion in revenues. Revenues generated from passengers were €5.835 billion, a 5.9% increase to 2020's figure of €5.512 billion.
The airline group booked an after-tax loss of €2.933 billion compared to last year's €6.935 billion, representing a 57.7% improvement.
However, all the above positive data was insufficient to ensure that IAG shares held on to their gains as they were trading in negative territory at writing.
The main factors behind the decline in IAG shares include the rising crude oil prices that threaten the profitability of most airlines, given the razor-thin operating margins in the airline industry.
Many investors are worried that higher oil prices could plunge most airlines into losses unless they pass on the additional costs to consumers. But unfortunately, most airlines do not have the pricing power to raise their ticket prices significantly.
IAG shares also face another threat in the form of EU rules about airlines operating flights within the EU. The EU aviation rules stipulate that airlines operating flights between EU destinations should be 50% owned by EU citizens.
Therefore, IAG may be forced to spin off British Airways, its biggest airline, leaving British investors as the majority shareholders in BA. In contrast, European Investors become majority shareholders in IAG, which will be left operating Aer Lingus and Iberia.
Therefore, there is significant uncertainty surrounding IAG's future, which explains the decline in its share price, despite the upbeat Q4 and full-year 2021 earnings results.
*This is not investment advice. Always do your due diligence before making investment decisions.
IAG share price.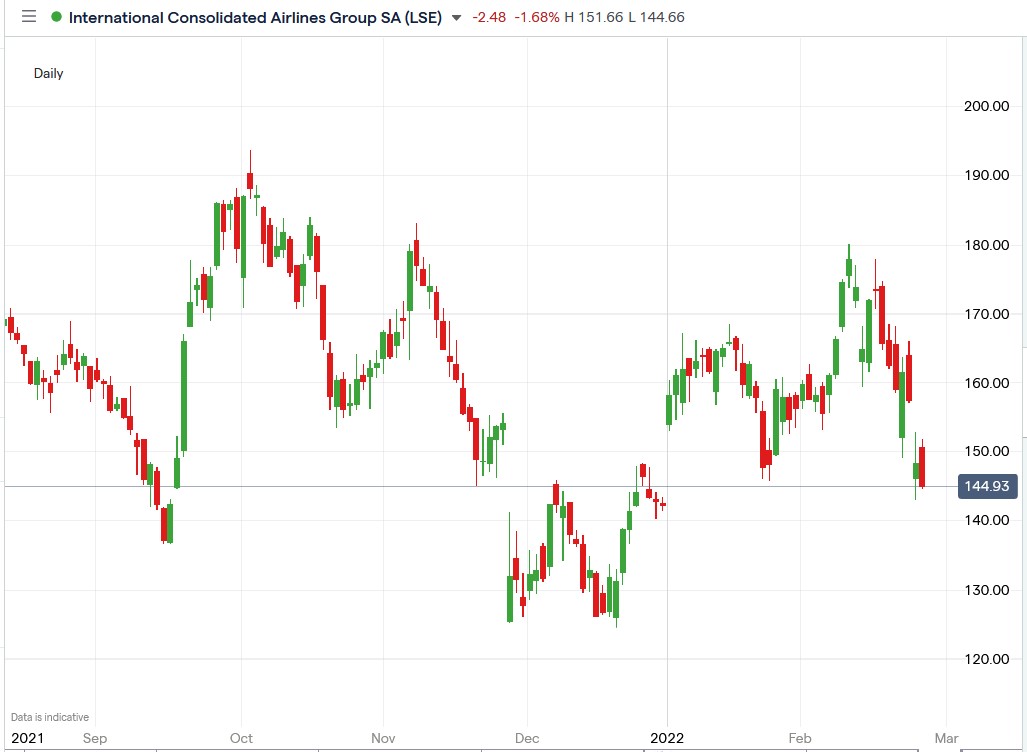 IAG share price fell 2.79% to trade at 144.07p, falling from Thursday's closing price of 148.21p.