The ITV plc (LON: ITV) share price edged 2.45% higher after announcing the acquisition of pet health and wellness company PitPat and adding the firm to its Media for Equity portfolio. ITV's investment will help PitPat build mass-market brand awareness by bringing the brand to millions of viewers.
---
YOUR CAPITAL IS AT RISK. 81% OF RETAIL CFD ACCOUNTS LOSE MONEY.
---
The company paid £3 million for PitPatpet Ltd with the option to pay a further £1 million as part of a share subscription. In exchange, PitPat will get advertising space on ITV's channels and ITVX. The acquisition was made through ITV Adventures Invest's Media for Equity investment fund.
Top Broker Recommendation
YOUR CAPITAL IS AT RISK. 68% OF RETAIL CFD ACCOUNTS LOSE MONEY
PitPat helps pet owners keep their dogs happy, healthy, and safe via their subscription-free GPS tracker, award-winning dog activity monitor, and well-portioned dog food. The company is regarded as a disruptor within the $250 billion global traditional pet industry.
The company has innovative technology, super-personalised services and unrivalled data, making it unique in such a massive industry.
Sheena Amin, Director of ITV AdVentures, said: "PitPat is a truly innovative, customer-centric brand bringing the insights of data, monitoring and tracking to help pet owners, and I'm thrilled that the company is becoming part of ITV's Media for Equity investment portfolio. PitPat is at an important inflection point in its scaling journey, having created a market-leading product for both dog activity monitors and GPS trackers."
Founder & CEO of PitPat, Andy Nowell, said: "We're delighted to welcome ITV AdVentures as an investor at this exciting growth stage for the business. Their extensive viewers,hip and strategic media expertise will enable us to reach a nation of dog lovers and drive significant category awareness, cementing PitPat as the go-to brand for pet parents. We have been thoroughly impressed by their collaborative approach and are confident they will be an instrumental partner in our growth."
*This is not investment advice.
ITV share price.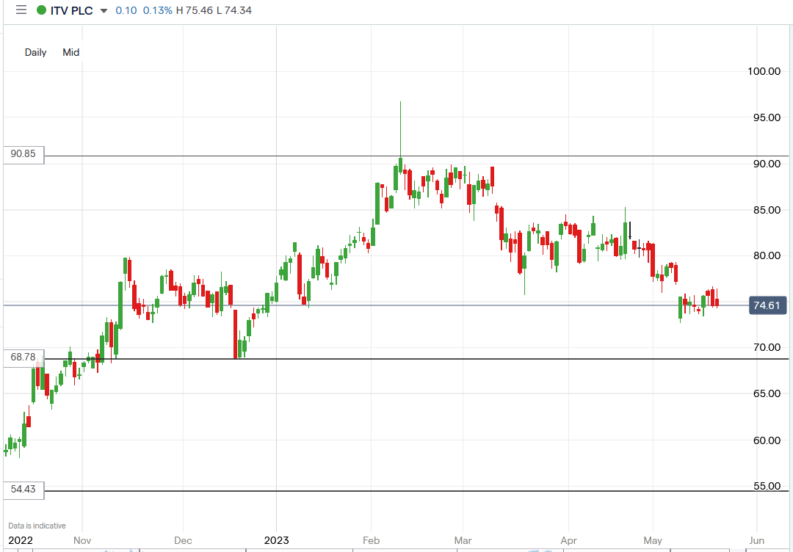 The iTV share price edged 2.45% higher to trade at 76.44p, from Monday's closing price of 74.61p.
---
YOUR CAPITAL IS AT RISK. 81% OF RETAIL CFD ACCOUNTS LOSE MONEY.
---