The JD Sports Fashion PLC (LON: JD) share price fell by 5.05% after releasing the unaudited preliminary results for the 52 weeks that ended 28 January 2023 compared to the results for the 52 weeks to 29 January 2022. 
---
YOUR CAPITAL IS AT RISK. 81% OF RETAIL CFD ACCOUNTS LOSE MONEY.
---
The multinational sports fashion retailer generated sales worth £10.125 billion, marking a significant improvement to the £8.563 billion it made in 2022. However, the company's gross profit margins shrunk slightly to 47.8% compared to 49.1% last year.
Top Broker Recommendation
YOUR CAPITAL IS AT RISK. 68% OF RETAIL CFD ACCOUNTS LOSE MONEY
The company's performance in the past year came despite significant leadership changes as a new Chairman was appointed, and a new CEO followed months later to revamp the company's top leadership and lead it in a whole new direction.
Andrew Higginson, JD Sports' Chair, said: "In July 2022, I had the great privilege of being appointed the Chair of the JD Group. This followed the departure of Peter Cowgill, who had led the business so successfully for the previous 18 years. I found a business with a strong leadership team, committed staff and a supportive majority shareholder in Pentland."
The Chairman added that the company's profit before tax and adjusted items of £991.4 million for the current period, which marked an improvement to the £947.2 million recorded in 2022, was evidence of the excellent progress made by the company towards achieving its goals.
The Chair also thanked the company's employees for their dedication to the brand's customers despite the leadership change last year in July 2022, when he took over as the new chair after the resignation of Peter Cowgill, who had led the business for the past 18 years.
JD Sports also got a new CEO in September 2022, Régis Schultz, who joined the group as the new Chief Executive Officer (CEO) with a vision for a new and distinct chapter in the company's growth story and presented his vision to both the market and colleagues in February 2023.
The critical objectives for the next five years include double-digit revenue growth on average annually, double-digit market share in key regions, double-digit operating margin, and cash generation from operating activities of £1 billion annually.
*This is not investment advice.
JD Sports share price.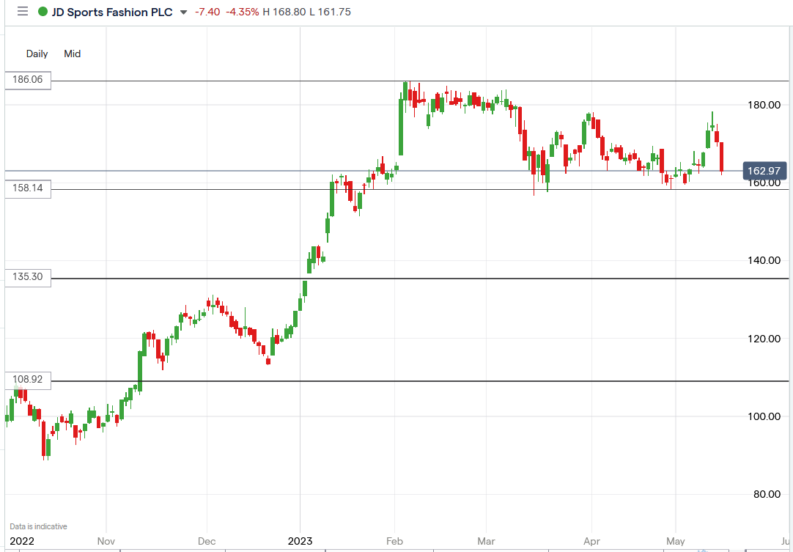 JD Sports share price plunged 5.05% to trade at 161.82p, from Tuesday's closing price of 170.43p.
---
YOUR CAPITAL IS AT RISK. 81% OF RETAIL CFD ACCOUNTS LOSE MONEY.
---