Shares of British construction firm Kier Group plc (LON: KIE) are up 35% in May and are trading near resistance. Can the shares break out and rally higher?
The company's fundamentals support a bullish outlook, given that it recently raised £241 million via an accelerated bookbuild that included a private placement and open offer of 284million new shares at 85p each. Yet, its share price did not drop.
Kier Group's Places division was awarded a £75 million contract by the Hammersmith & Fulham Council to deliver capital works projects across 17,000 housing units over an initial period of five years with the possibility of extension.

Kier Places is expected to deliver remedial fire-works including risers, sprinklers and external façade remediation combined with high-value, complex voids comprising extensions, kitchen and bathroom replacements and new window installations.
The above is the latest in a series of contracts won by Kier Group, including the Area 3 maintenance and response (M&R) contract awarded to its highways division by Highways England. The contract worth £190 million is valid for eight years up to October 2029.
Kier Highways has worked with Highways England on the Area 3 contract since 2008 and will be expected to deliver maintenance and operational response for the strategic road network, including technology assets, in Hampshire, Surrey, Oxfordshire, Wiltshire and parts of Buckinghamshire.
Kier Group was facing an uncertain future at the start of the year. Still, the recent contract wins have significantly improved its financial position and turned my outlook for the firm from negative to neutral.
The group is selling its Kier Living division for £110 million to Foster BidCo, which should unlock more funding for the company. The deal should close in June as part of Kier Group's strategy to simplify its business, making it more competitive and profitable.
While I'm bullish on Kier Group, I would not open any new positions at current prices, given the latest rally. I would be waiting for a pullback or decisive break above the 121p resistance level.
Kier Group share price.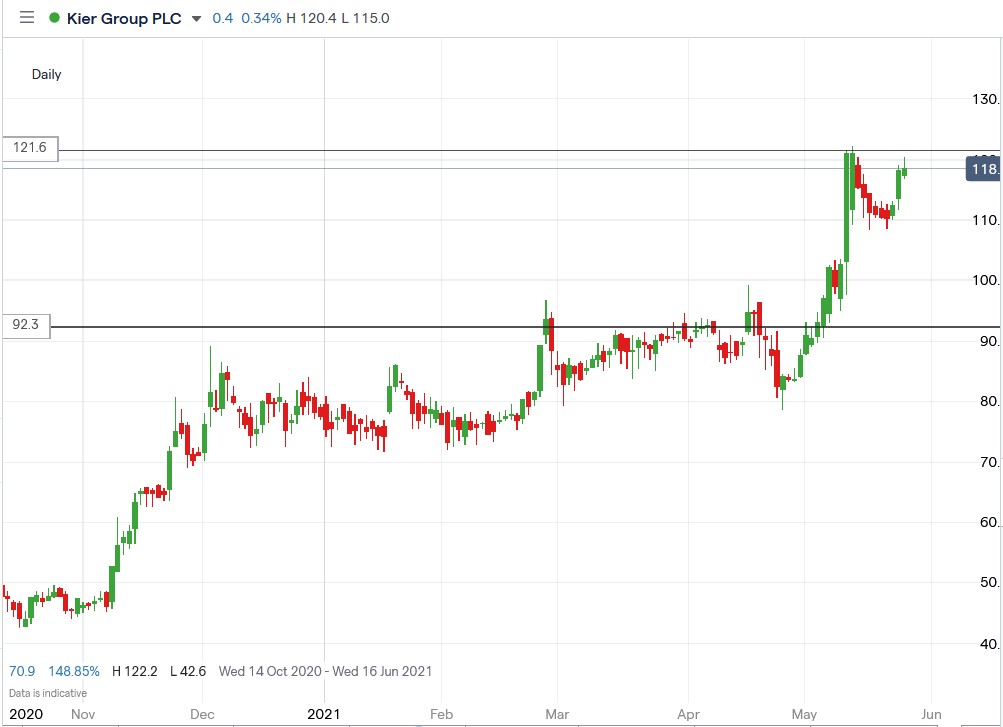 Kier Group shares are up 35% in May, rising from a low of 88p to its current trading price of 118.8p.
Should You Invest in Kier Group Shares?
One of the most frequently asked questions we receive is, "what stocks are best to buy right now?" It's a wide-ranging question, but one that we have answered… Our AskTraders stock analysts regularly review the market and compile a list of which companies you should be adding to your portfolio, including short and longer-term positions. Here are the best stocks to buy right now