Latest

21:05


US Market Close
Dow Jones   +0.89%  26,664
S&P 500       +0.69%  3,293
Nasdaq         +1.47%   10,902
So, US equities follow their European counterparts in closing the day higher.
That's all from us for the evening. See you tomorrow!
Today

20:57


Workhorse Group Shares

Workhorse Group's share price has had a great day, up 24.48%, trading at $19.32 after Lordstown Motors, which WKHS owns a 10% stake in, entered into a definitive merger agreement with DiamondPeak Holdings.
Today

20:42


Pitney Bowes (PBI) Stock Up +40%

$PBI

Pitney Bowes shares are trading 45% higher at $4.85 per share after the company announced it has won a government contract worth $5 million for its shipping and mailing technology.
Today

20:06


Virgin Galactic Shares

$SPCE

Virgin Galactic shares are up 6.90%, trading at $24 per share after the company signed a non-binding Memorandum of Understanding with Rolls-Royce to collaborate in designing and developing engine propulsion technology for high-speed commercial aircraft.
Today

19:38


More US Market Movers

Here are some more US market movers so far today (Yes its a bit of a slow news day)…

Riot Blockchain +39%

Jumia Technologies +35%

Highway Holdings +23%

Qualcomm +4%

Eastman Kodak -32%
Today

17:33


Marathon Patent Group (MARA) Stock Surges

Marathon Patent (MARA) stock is up over 100% at $4.06.

We are yet to see any news, but DDTG's Dave Portnoy told his followers to "Get in on MARA early."

As you can see below, the amount of Robinhood traders that bought into the stock today has skyrocketed.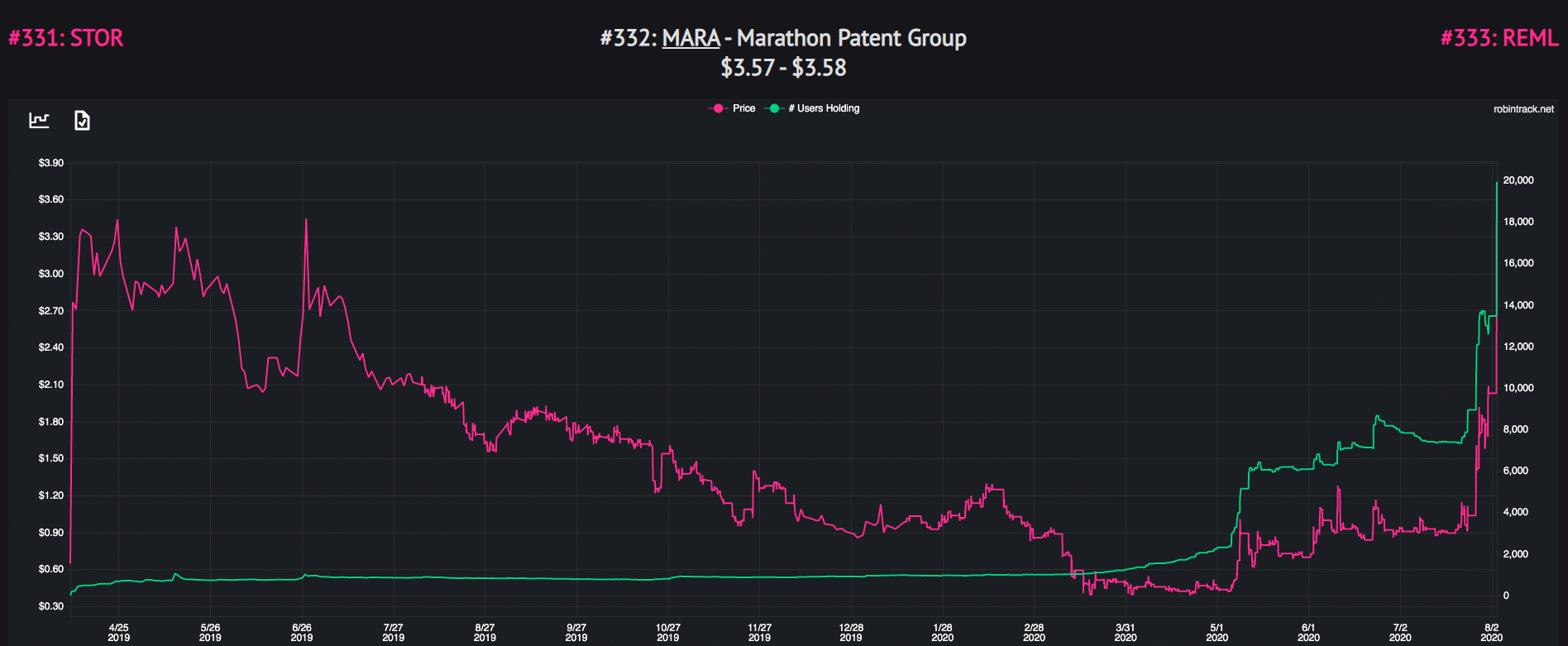 Via robintrack.net
Today

16:54


Varian Medical Systems (VAR) Stock

NYSE:VAR

Varian Medical Systems stock is trading 21.85$ higher at $173.91 after the company announced on Sunday that it will be acquired by Siemens Healthineers for $177.50 per share, $16.4 billion.
Today

16:39


European Equities Close
FTSE 100            +2.26%  6,031
DAX                     +2.67%  12,641
EUR Stoxx 50    +2.36%  3,249
An extremely strong day for European equities. US equities are still going strong.
Today

16:38


AstraZeneca Stock Price Rises

AstraZeneca shares are trading higher, possibly due to vaccine hopes…

Shares are up 2.81% at $57.35 per share
Today

16:09


US Stock Movers

Datasea +99%

Marathon Patent +77%

ADT +72%

Cymbay Therapeutics +39%

Immunic +26%

Tiziana Life Sciences -20%
Today

15:25


DPHC Stock Climbs

Shares in DiamondPeak Holdings jumped over 12%  after it entered into a merger agreement with Lordstown. The combined company will remain listed on the NASDAQ under the new ticker symbol "RIDE".

Shares are currently trading at $11.37, +11.04%
Today

15:23


US Equities
Dow Jones  +0.71%  26,616
Nasdaq        +1.11%   10,864
S&P 500     +0.69%  3,293
Today

14:39


DataSea Stock Price

$DTSS

After opening up over 200% higher, Datasea Inc is now trading +160.82% at $5.06 after the company announced it has signed its first agreement in Beijing to install its proprietary monitoring system.
Today

13:48


ADT Stock

ADT stock is now up 68.41% after the deal with Google…

Here is more on the story – BORR DRILLING (BORR) STOCK JUMPS AFTER FRESH RIG AWARDS
Today

11:36


Mitchells & Butlers

Mitchells & Butlers shares have plummeted so far today, dropping 8%.

We are yet to see any news on why, but it could be to do with talks in the UK over the weekend that bars and pubs could close so that schools can reopen.

MAB's share price is currently at 142.6 GBX, down 6.82%.
Today

11:04


Google to Invest In ADT

Google will invest $450 million to acquire a 6.6% ownership in ADT
Today

10:51


Versarien Share Price

LON:VRS

Versarien shares have soared higher this morning after the company launched its first graphene-enhanced protective face mask.

Shares are currently trading at 44 GBX, +7.32%
Today

10:21


TikTok UK

According to Reuters, TikToks' parent company, ByteDance's bid to relocate from Beijing to London has been approved by the UK government.
Today

10:19


Apple Buys Mobile Startup Mobeewave

According to Bloomberg, Apple has bought Canada-based contactless mobile payment firm Mobeewave for $100 million
Today

10:13


European Market Gainers

Nordex +16%

Navya +15%

Riverstone Energy +15%

LleidaNetworks Serveis Telematics +5%
Today

08:23


European Equities
FTSE 100                    -0.55%    5,865
DAX                             +0.42%   12,364
EURO STOXX 50     +0.08%  3,176
Today

08:17


HSBC Shares Fall

HSBC's share price has fallen 3.84% so far after profits plunge in the second quarter.

Currently trading at 329.05 GBX
Today

07:38


Morning Preview

Good morning traders.
Overnight Chinese equities were positive along with the Nikkei, while the ASX and Hang Seng are down. A mixed session overall.
Over the weekend there was more talk about the US banning TikTok and other Chinese apps with US President Donald Trump confirming he may ban TikTok and is looking at alternatives.
Trump has backed Microsoft possibly buying out TikTok, with Microsoft stating that they have until the 15th of September to complete talks.
In FX markets we have seen the US dollar gain some strength in the last half an hour with the EURUSD now at 1.1753
In today's calendar, we have EA manufacturing, UK Manufacturing, and US manufacturing PMI's.
Some of the names on the earnings calendar today include KLA, Mckesson, AIG, Virgin Galactic and Marathon Petroleum