Latest

21:05


US Markets Close
Dow Jones  +0.62%    26,830
S&P 500      +0.36%    3,306
Nasdaq        +0.35%    10,941
Have a good evening/night, all!
Today

20:41


Tilray Inc

$TRLY

Tilray Inc stock has surged over 16% so far today and is currently trading at $8.63.

We haven't seen any stock-specific news, although Benzinga is reporting unusual options activity on the pharmaceutical and cannabis company's stock.
Today

19:59


Stock Performance

Here is my favourite graphic on how stocks are performing so far today…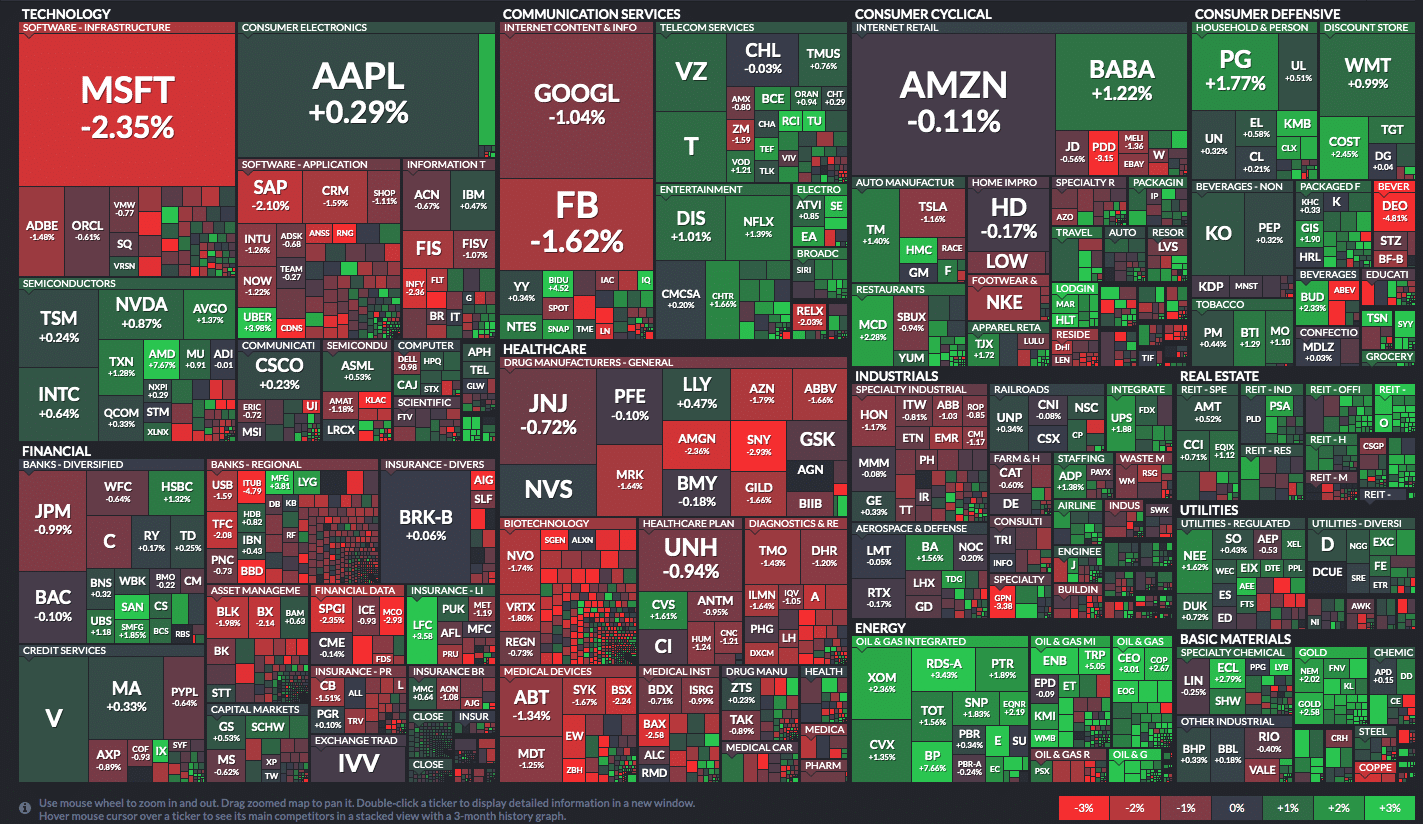 Today

19:50


Precipio Inc

Well, Precipio has had quite the day.

The company issued a press release that highlighted the launch of its coronavirus antibody test in its CLIA lab and saw its stock soar.

Its has now pulled back and is trading 28% higher at $4.05.
Today

17:03


Microsoft/TikTok

An update from Fox Business News Network on Microsoft's potential purchase of TikTok…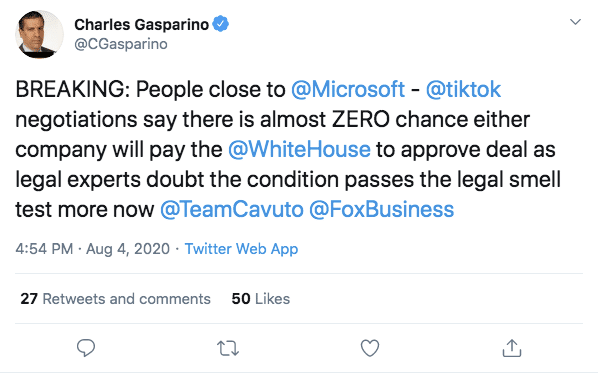 Today

16:37


European Equities Last Look
FTSE 100                   +0.05%  6,035
DAX                            -0.41%    12,595
EURO STOXX 50     +0.18%   3,254
Today

15:53


Nikola (NKLA) Stock

$NKLA

Nikola's share price is up +7.71% at $39.31.

The company is reporting its Q2 earnings later after the close.
Today

15:39


Virgin Galactic

$SPCE

Virgin Galactic shares are trading lower, down 11.2% at $21.32 after the company reported worse than expected Q2 EPS results on Monday.

Virgin Galactic also announced a proposed public offering of 20.5 million shares of common stock.
Today

15:32


SINTX Technologies

$SINT

SINTX Technologies shares are trading over 20% higher at $2.57 after it was announced that the company will be developing antimicrobial face masks with O2TODAY.
Today

15:28


Uber

$UBER

Uber shares are trading higher, up 4.52% so far today at $32.62.

It could be in anticipation of the company's Q2 earnings report on Thursday.
Today

15:04


Blink Charging Stock Surges

$BLNK

Shares in Blink Charging Co are surging after the company announced a deal for the deployment of electric vehicle charging stations with Cushman & Wakefield.

Its share price is currently at $12.45, up 18.12%
Today

15:02


US Equities

A little bit flat in the US right now…
Dow Jones   +0.02%  26,670
S&P 500       +0.03%3,294
Nasdaq         +0.17%  10,921
Today

13:47


US Premarket Movers

SilverSun Technologies +390%

Alterity Therapeutics +180%

ZHONGCHAO +55%

DiamondPeak Holdings +33.3%

DBV Technologies -34.4%

Mallinckrodt -34%
Today

13:25


SilverSun Technologies

SilverSun Technologies shares have exploded higher premarket after the company announced it will acquire Prairie Technology Solutions Group.

Currently trading at $11, +304.41% higher
Today

13:20


European Markets Lunchtime Look
FTSE 100                   +0.14%
DAX                             -0.59%
EURO STOXX 50     -0.23%
Today

11:26


Amazon's Deliveroo Investmet

The CMA has cleared Amazon's 16% investment in food delivery company Deliveroo.
Today

10:50


Nio Shares

$NIO

Nio shares are up 4.48% premarket after positive July deliveries.
Today

09:39


European Stock Gainers
AA +12%
Inventiva +11%
Mynaric  +9%
Natwest +2%
Open Orphan +2%
Today

08:52


JD Sports Share Price

JD Sports share price is trading higher, up 1.5% at 621.1 GBX.
Today

08:30


European Equities
FTSE 100                 -0.22%   6,018
DAX                           -0.08% 12,636
EURO STOXX 50   +0.24%  3,256
Today

07:59


BP Cuts Dividend

BP has cut its dividend for the first time in a decade from $0.105 to $0.0525 per share after reporting a record $6.7 billion loss.
Today

07:45


Morning Preview

Good morning all…
After positive moves in European and US equities, Asia-Pac markets followed suit with the Nikkei and ASX closing over 1% higher and the Hang Seng is currently over 2% higher.
The RBA kept its interest rates unchanged, as expected.
There were positive comments from US House Speaker Pelosi on the stimulus deal.
Today'calendar is a little thin, but we have Spanish Unemployment data, Canadian manufacturing PMI, and US factory orders.
Some of the names on the earnings calendar today include BP, Fidelity National Financial, Disney, Beyond Meat, Prudential, Allstate, Activision and Planet Fitness.