Latest

21:01


US Markets Close
Dow Jones  +1.39%   27,201
S&P 500      +0.64%  3,327
Nasdaq        +0.52%  10,998
Still haven't seen any concrete news on Biofrontera. If we do see anything we will add it to the updates this evening or tomorrow.
That's all from me, have a good evening all!
19:57


Biofrontera Stock

Biofrontera Stock has more than quadrupled in price from $5.60 to where it is now trading at $29.10, over 400% higher.

It had reached as high as $55 per share!

Now, we've done some digging and honestly haven't been able to come up with much of a reason why other than they have filed an SEC form 6-k that foreign private issuers of securities are required to submit.

The purpose of this form is that it is used to relieve the burden of dual reporting for certain non-issuers.

However, I'm not so sure that is the reason for the enormous move, If I found out any more information I will be sure to update you all!
19:55


US Stock Performance

Its pretty green across the board today on the Finviz.com heatmap…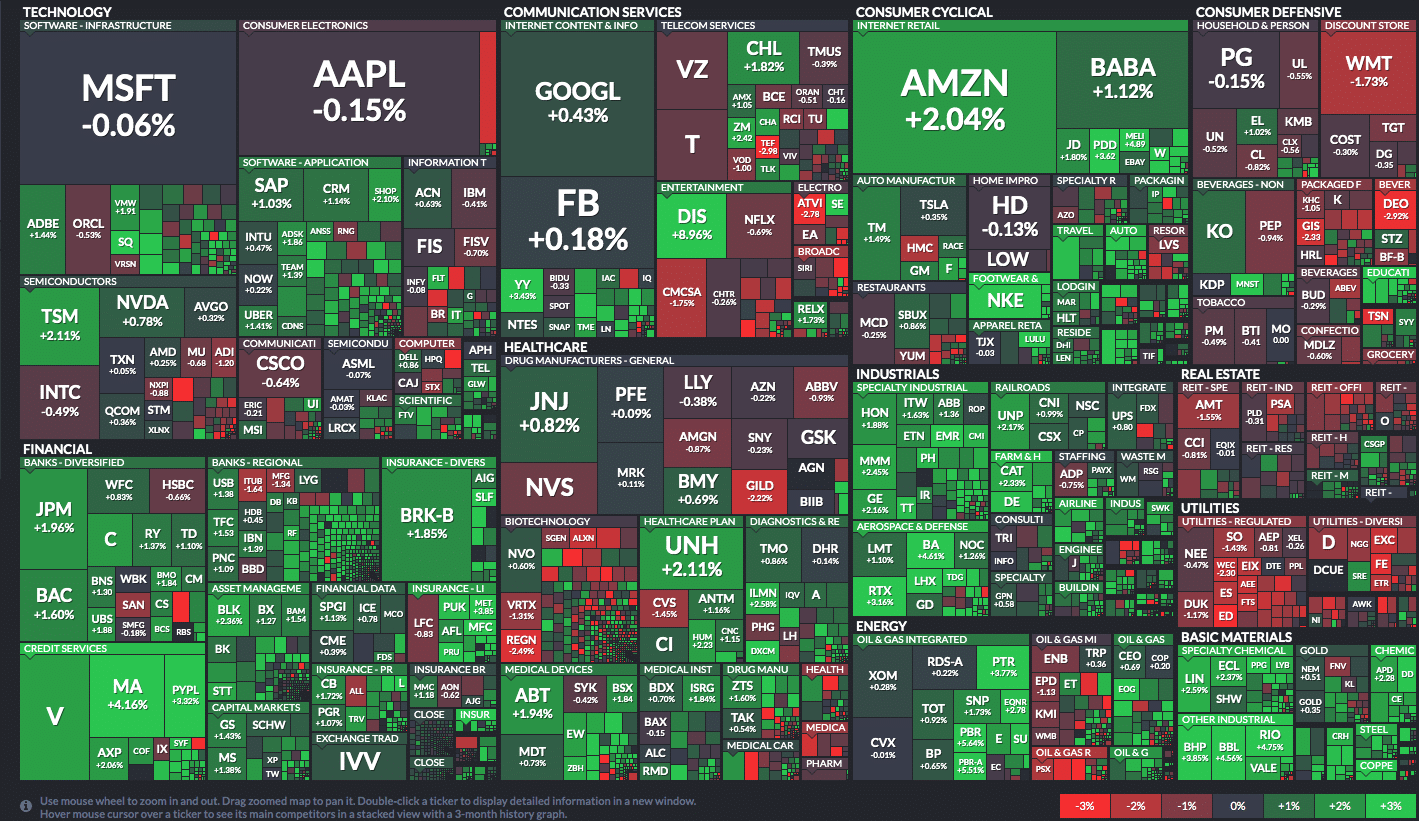 19:52


Izea Stock

Right, I am back from my break…

$IZEA

Izea Worldwide stock has surged over 30% after the company announced the launch of its Brandgraph Pulse feature for Microsoft Teams.

Currently up 29.58% at $1.84
16:51


Riot Blockchain

Riot Blockchain shares are up 24.12%, trading at $4.24.

Yet to see any stock-specific news.
16:36


European Equities Last Look
FTSE 100  +1.10%  6,102
DAX   +0.39%  12,650
EURO STOXX 50   +0.41%  3,267
16:35


Fiverr Stock Price

Fiverr Stock has surged after its Q2 earnings report. It is currently trading at $118.97, 14.15% up on the day.
16:32


Myos Rens

Myos Rens (MYOS) stock surged over 100% higher today…

Here is the story detailing what happened:  MYOS STOCK POPS AFTER 114% NET REVENUE INCREASE
15:46


Johnson & Johnson

Johnson & Johnson is the latest company to clinch a deal with the US government to supply its coronavirus vaccine, with the company agreeing to domestically manufacture and supply 100 million doses of its vaccine candidate once it is approved.

$JNJ shares are currently up 0.7% at $148.25.
15:18


IMV Inc

IMV shares are up 6.78% at $5.51 after the company announced it has received C$4.75 million funding from the Canadian government for a COVID-19 vaccine phase 1 clinical study.
15:13


US Equities

We had some technical difficulties here, so apologies for the lack of updates, but here's how the main three US equities are performing so far…
Dow Jones  +0.96%   27,085
S&P 500      +0.59%   3,325
Nasdaq         +0.36%  10,980
12:58


ADP Employment Change

One news point I forgot to mention earlier is the US ADP employment change that comes out at 13:15.

Previous was 2369k, expected to come in at 1550k.
12:49


Carnival Corp

Carnival Corp shares are trading 4.5% higher premarket at $14.36 as investors look to be watching for a rebound in travel demand.
12:06


European Equities Lunchtime Update
FTSE 100  +1.01%
DAX  +0.72%
EURO STOXX 50   +0.71%
11:06


Ironridge Resources (IRR)

Ironridge resources shares have popped higher after the company reported extremely high-grade drilling results at its Ebilassokro and Ehuasso sites in the Ivory Coast which is part of its Zaranou Gold Project.

Shares are trading at 19.4p, 21.12% higher.
10:11


Aston Martin (AML)

Aston Martin Lagonda PLC shares have moved higher after Deutsche Bank upped its price target from to 45p for the stock.

It is currently trading at 58.85p, 3.24% higher.
09:02


European Market Movers

Hastings Group Holdings +17%

Morgan Sindall Group +11%

Bank of Ireland +10%

EasyJet +7%

Prosiebensat +6%
08:34


European Equities
FTSE 100                +1.26%  6,110
DAX                         +1.01% 12,727
EURO STOXX 50  +1.10%   3,290
A strong start to the day.
08:17


Hochschild Mining (HOC)

Shares in Hochschild mining have surged 6.71% higher to 296 GBX.

The jump in HOC shares follows moves higher in both gold and silver.
07:30


Morning Preview

Good morning traders…
Asia-Pac markets were mixed with the ASX and Nikkei down, while the Hang Seng is trading higher.
China's Caixin services PMI came in below expectations at 54.1 (prev 58.4 exp 56).
Gold has continued higher, way above the $2,000 level and is currently trading at $2025 after reaching a high of $2031.
Disney shares rose 5% post-market after the company said it has 100 million streaming subscribers and plans to launch a new streaming service.
Looking at today's calendar we have European and UK Markit services PMI's, European retail sales, Canada's balance of trade, US balance of trade, and US Markit services and ISM non-manufacturing data.
On the earnings calendar, there are names such as CVS Pharmacy, Wayfair, Office Depot, Wendy's, The New York Times Company, Energizer, Discovery, Etsy, Roku, ADT, and Fitbit.