Latest

20:27


US Markets Close
Dow Jones  +0.17%  27,434
S&P 500  +0.06%  3,351
Nasdaq  -0.87%  11,010
A bit of a flat end to the week, although the tech-heavy Nasdaq had a bit of a fall.
I hope you all had a positive week. Have a good weekend!
20:58


AMC Entertainment Stock Moves Higher

AMC Entertainment Stock is up over 14% at $4.75 per share after the company said that it expects all international theatres to resume operations in the text two to three weeks.
20:19


Stamps.com

Stamps.com shares are up 16% at $304.73 after the company reported better than expected Q2 EPS and sales.
19:37


OpGen Inc

OpGen Inc stock is trading 53% higher at $3.36 per share after the company announced they have a 10 minute Covid-19 test kit that has been granted Emergency Use Authorisation by the FDA.
18:46


US Stock Performance

Heres how US stocks are performing so far today. Some of the big names not doing too well…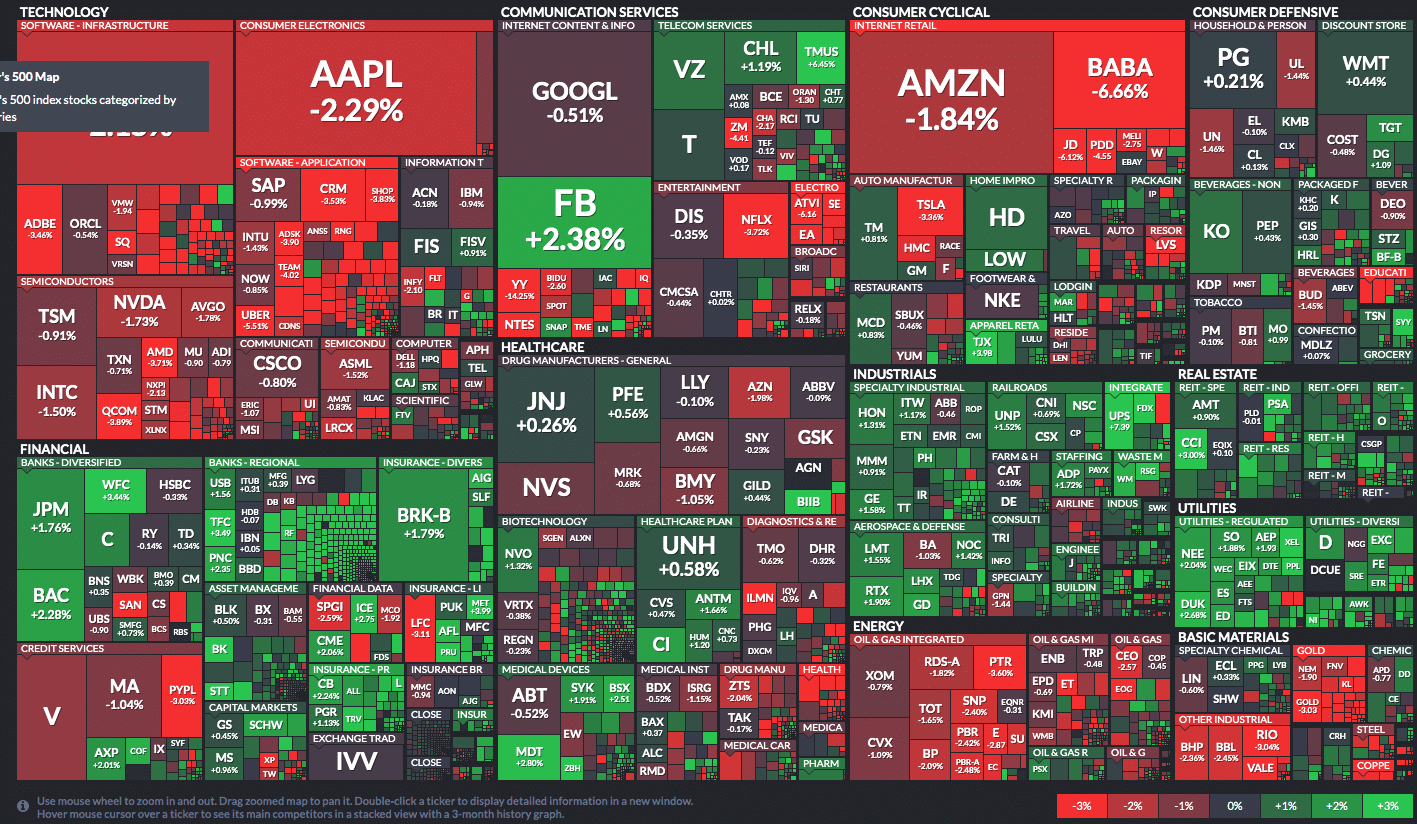 Via Finviz.com
17:04


Alteryx Shares Plummet

Alteryx shares are trading 27% lower at $122.11 after the company issued Q3 and Fiscal 2020 sales guidance below analyst estimates.
16:36


European Equities Close
FTSE 100  +0.07%  6,031
DAX   +0.61%  12,668
EURO STOXX 50   +0.35%  3,251
The FTSE just about finishes positive for the day after a last-minute jump.
15:26


US Market Movers

Conduent Inc +87%

Kazia Therapeutics +55%

AnPac +45%

Sirius Intl Insurance Group +40%

Alteryx  -26%

Theravance Biopharma -8%
15:22


US Equities

Right, I am back in action after a small break, apologies. Let's take a look at how US equities are performing…
Dow Jones  -0.54%  27,237
S&P 500      -0.29%  3,339
Nasdaq         -0.30% 11,075
Gold has plummeted as well…
Maybe I should have continued my break!
13:43


Non Farm Payrolls

Non-farm payrolls July: 1763k vs exp 1620k

US unemployment rate July: 10.25 vs exp 10.5%
13:40


Biogen Shares

$BIIB

Biogen Inc shares are trading higher, up 11.65% premarket, after the company announced the FDA has accepted its Aducanumab Biologics License Application for Alzheimer's Disease with priority review.

Current price (premarket): $310
12:03


European Equities Lunchtime Update
FTSE 100  -0.04%
DAX     +0.10
EURO STOXX 50    -0.03$
11:21


Go-Ahead Group Shares

Go-Ahead Group's share price has plunged over 4% to 571.5p per share.

The company yesterday announced they would be delaying the release of annual results by 14-days due to COVID-19 disruptions.
09:53


US Dollar - Morgan Stanley

Morgan Stanley has said that the US dollar is now at its most oversold level in over 40 years. Turns tactically neutral from its previously bearish stance.
09:43


European Movers

Scapa Group +38%

Hikma Pharmaceuticals +10%

Carmat +8%

Midwich Group +8%

Aston Martin Lagonda +6%

Global Fashion Group +6%
08:49


European Equities
FTSE 100   -0.06%   6,023
DAX    -0.13%  12,575
EURO STOXX 50   -0.20%   3,234
07:20


Morning Preview

Good morning all…
Despite the positive close on Wall Street yesterday Asia-Pac markets traded lower. The Nikkei closed -0.46% lower, while the ASX closed down -0.62%.
US President Trump signed executive orders banning US residents from doing business with TikTok's parent company ByteDance and WeChat who are owned by Tencent.
Trump had a busy evening, he also confirmed there would be aluminium tariffs placed on Canada.
US Airline stocks got a lift yesterday after the State Department lifted its travel advisory against all international travel, moving to country-specific travel advice.
US stimulus talks are still at a standstill
On the calendar today we have already had German balance of trade and industrial production data (both above expectations), later today we have Canadian employment numbers, US non-farm payrolls, and Canada's Ivey PMI.
Some of the names on the earnings calendar today are Arbutus Biopharma, Noble Energy, Canadian Solar, Meridian Bioscience, Ventas, and Noble Midstream Partners.