Latest

21:04


US Markets Close
Dow Jones  +1.05%     27,976
S&P 500  +1.37%         3,388
Nasdaq  +2.13%           11,012
Tesla shares closed 13% higher…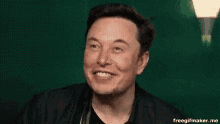 That's all from me for today, have a good evening all!
19:57


India Globalization Capital Share Price

$IGC

Has anyone taken a look at IGC shares today?

Its stock price is up over 200%, trading at $2.04 per share.

Here is the full story on the move: IGC STOCK SOARS OVER 200% AFTER FDA APPROVAL
19:28


Tesla Stock Surges

Tesla's share price is up 15% at $1577.68 today…

As I'm sure you are all aware, the surge in its share price has come after the company announced a 5:1 stock split.
18:16


US Stock Performance

US stocks are performing well…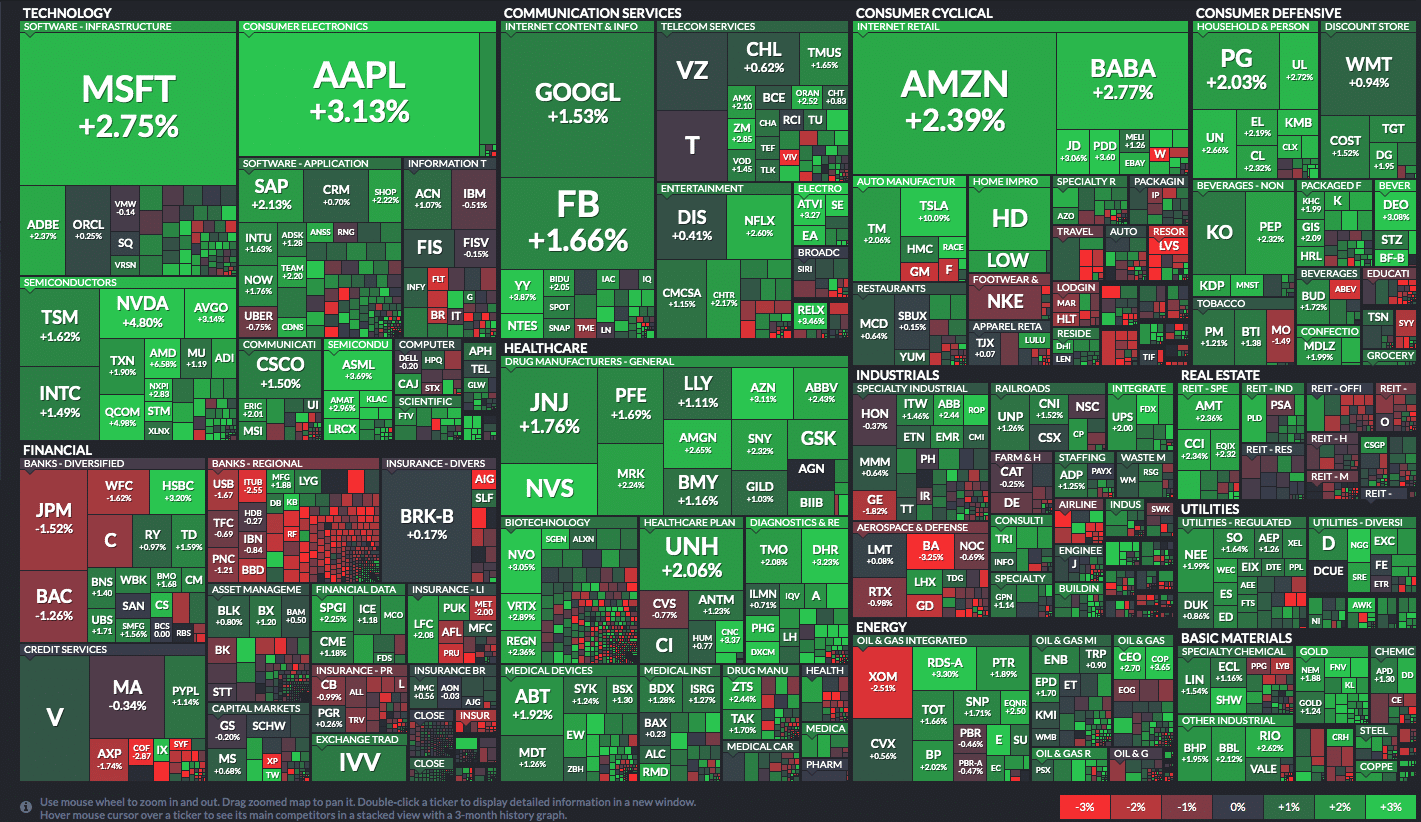 Via Finviz.com
16:54


Nasdaq

The Nasdaq is now up 2% as tech stocks rebound following Tuesday's selloff.
16:37


European Equities Close
FTSE 100  +2.11%  6,284
DAX  +0.83%  13,054
EURO STOXX 50  +0.97%  3,364
16:16


Qualcomm All-Time Highs

Qualcomm is up 4% today, trading at $113, back up at all-time highs.

QUALCOMM SHARE PRICE SURGES AFTER HMD INVESTMENT WITH GOOGLE & NOKIA
16:14


US Stimulus Bill

White House Speaker Pelosi says 'we're miles apart' on any deal.
15:40


Boxlight (BOXL) Shares

$BOXL

Boxlight shares are trading 22% higher at $2.48 after the company announced a strategic partnership with Samsung for the US education market.
14:50


Moderna Shares

Moderna shares are trading over 3% higher at $71.05 after the company announced it has secured a $1.5 billion supply agreement with the US Government for 100 million doses of its mRNA vaccines against the coronavirus.
14:48


US Equities First Look
Dow Jones  +0.81% 27,910
S&P 500   +0.97%  3,366
Nasdaq   +1.35%  10,926
12:39


European Equities Lunchtime Update
FTSE 100  +1.25%
DAX  -0.02%
EURO STOXX 50  +0.32%
11:00


Avast Shares Plummet

Shares in cybersecurity firm Avast have plummeted despite a strong first-half performance.

Its shares are trading at 561p, -6.50%.

In its report the company said it had:
Strong overall performance in line with expectations
Adjusted Revenue at $433.1m up 1.5% at actual rates, with organic growth of 6.6%
Adjusted fully diluted earnings per share ('EPS') up 11.8% to $0.16 (versus $0.15 at HY 2019)
Final dividend in respect of 2019 paid in June 2020 of 10.3 cents per share; total dividend for the year of 14.7 cents per share, up 8.1%3. Declared interim dividend payable in October 2020 of 4.8

 

cents per share, up 9.1%
10:23


M&G Plc

M&G Plc shares have jumped nearly 4% to 180.10p per share despite reporting its pre-tax profits had fallen by more than half in the first six months of the year.
09:42


European Stock Movers

Sunrise Communications  +25%

Horizonte Minerals +23%

Freenet +14%

Westwing Group +9%

SDL Plc +7%

Asos +6%
08:33


Mitchells & Butlers (MAB)

Mitchells & Butlers share price has fallen over 1% so far, down to 180.6.

We are yet to see any stock-specific news.
08:28


European Equities
FTSE 100  +0.61%  6,191
DAX  -0.03%  12,942
EURO STOXX 50  +0.21%  3,339
07:30


Morning Preview

Morning all…
Asia-Pacific markets traded lower following Wall Streets down day yesterday.
Spot gold continued to sell-off, reaching as low as $1862, over $200 below its 6th of August high. Silver also fell over 3%.
The  RBNZ kept rates on hold.
US Senator Kamala Harris has been picked as Joe Biden's running mate.
In data released this morning, UK GDP fell by 20.4%, confirming a recession, although it looks to have already been priced in when looking at GBPUSD.
On the rest of today's calendar, we have European industrial production, and US inflation data.
On the earnings calendar, we have names such as Cisco, Lyft, Arcos Dorados, Applied Industrial Technologies, and Brinker International.