Latest

20:58


US Markets Close

Dow Jones +0.62 %  26,552

S&P 500     +1.25%    3,258

Nasdaq       +1.35%    10,542

A strong day for US equities.

That's all from me for today, see you tomorrow!
Today

20:49


Electric Vehicle Stocks

A couple of the other electric vehicle manufacturers are moving higher as well…

Solo Electrameccanica is up 16%, while Ayro has had a small move of 4.41% higher.
Today

20:32


Kandi Technologies $KNDI

Kandi Technologies stock has catapulted higher following a press release from the company that highlighted its formal launch of electric vehicles on the US market.

Kandi's share price is up 138.5% at $9.23 per share.
Today

20:09


US Stocks Update

A mostly green day for US stocks!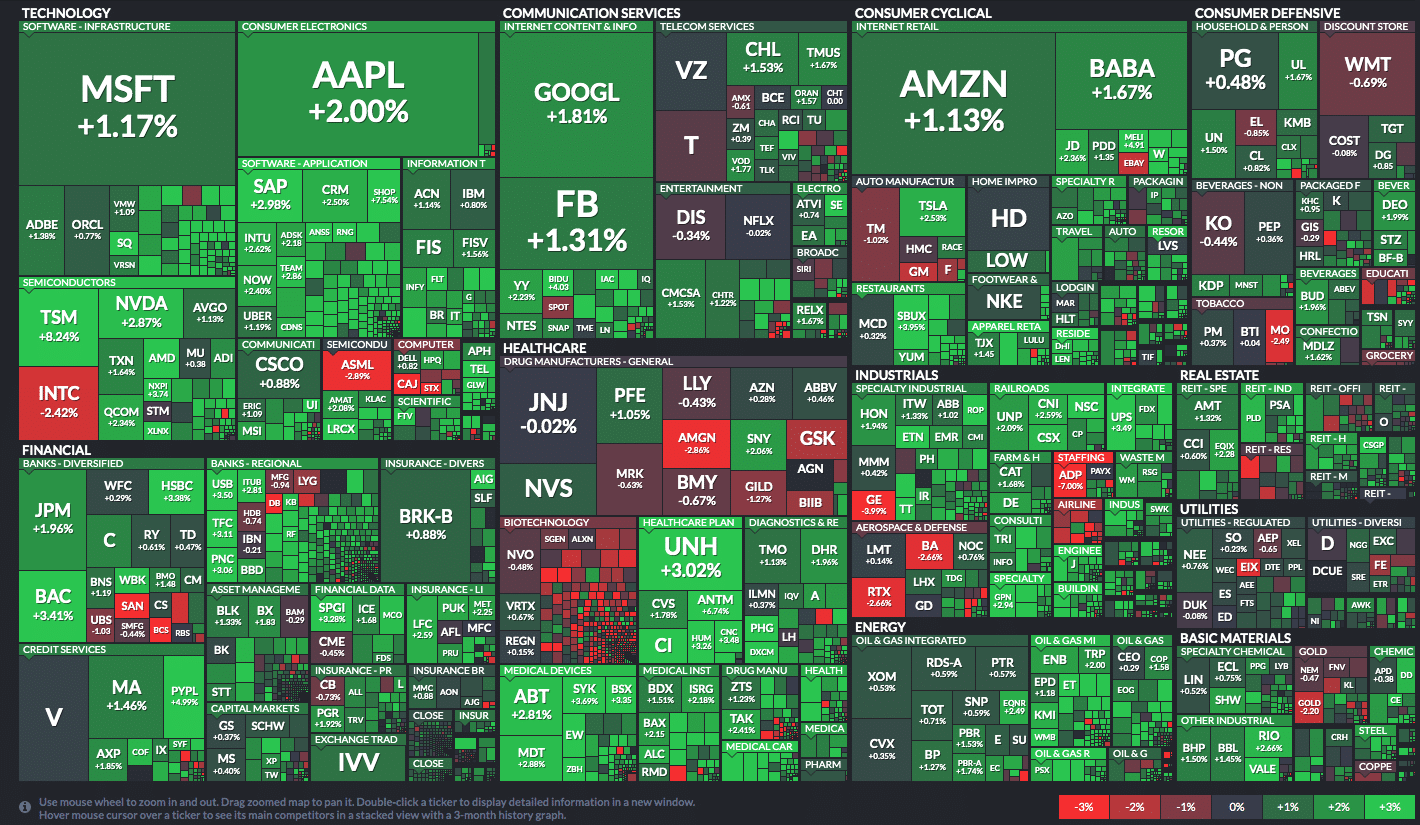 Via Finviz.com
Today

19:59


Fed Chair Powell

Fed Chair Powell has said that household spending appears to have recovered about half of earlier decline

He also said that the coronavirus pandemic has left a 'significant imprint' on inflation.
Today

19:05


Fed Interest Rates

The Fed has kept interest rates at 0.25%…

For anyone interested in the full statement, here it is: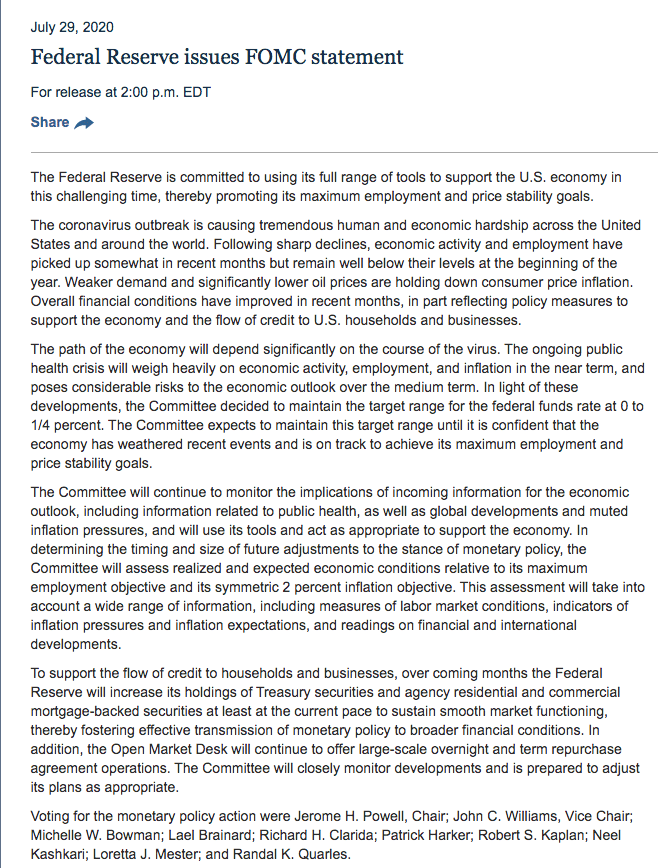 Today

18:38


Blink Charging Stock

$BLNK

Blink Charging Co is up 37.74% so far today after the company announced it will collaborate with EnerSys to develop 'high power inductive/wireless and enhanced DC fast charging systems with energy storage options for the automotive market.'
Today

17:18


Fed Interest Rate Reminder

Just a reminder to all that there will be a Fed interest rate decision at 19:00 BST, and press conference at 19:30 BST.
Today

16:43


Boeing Share Price

Boeing shares are down -4.18% after the company reported a lower than expected Q2 EPS and sales results.

Boeing also announced it is cutting production on the 787 and 777 programs along with ending its 747 jet production.

Currently trading at $163
Today

16:03


Tupperware Brands Stock

Tupperware Brands stock is trading 54% higher after the company reported better than expected Q2 EPS and sales results.

Currently trading at $15
Today

15:53


Eastman Kodak Shares

Just a small update on Eastman Kodak $KODK…

They are now trading up 301.76%, down about 40% from the highs of the day.

Just a small move then!
Today

15:14


Penn Stock

$PENN stock has had a climb here. Currently up 9.01% at $36.19.

DDTG Global will be happy!
Today

15:12


US Equities First Look

It's a positive start for US equities…

Dow Jones  +0.32%  26,464

S&P 500  +0.66%  3,239

Nasdaq  +0.98%  10,503
Today

13:30


European Equities Lunchtime Look

I'm late with this one, I know, sorry…

FTSE 100 +0.31%  6,148

DAX  -0.01% 12,834

EURO STOXX 50  +0.14%  3,308

DAX is letting the team down!

In reality, it's mixed across Europe, with the IBEX 35 and FTSE MIB also down so far today.
Today

13:27


Shopify Shares Trade Higher Premarket

Shopify's share price has surged 8% premarket after the company reported better than expected Q2 EPS and sales results.
Today

11:40


Eastman Kodak Shares

Eastman Kodak shares are trading higher premarket following comments from US President Donald Trump that the US had reached a "historic" deal with the company.
Today

10:12


European Market Movers

I.M.A +12%

Loopup Group +10%

Sopra Steria +9%

Hargreaves Services +8%

Cineworld -11%
Today

09:48


Cineworld Share Price

Cineworld shares are down over 11% so far today.

It could be down to continued coronavirus spikes in the US delaying theatre openings.
Today

08:28


European Equities First Look

FTSE 100  -0.18%  6,118

DAX  -0.23%  12,805

EURO STOXX 50  -0.18%  3,297
Today

07:30


Morning Market Preview

Good morning everyone…
Asia-Pac indices traded very similarly to the previous session with the ASX and Nikkei closing down, while Chinese indices and Hong Kong's Hang Seng index look as though they will close higher.
In FX markets there has been little movement, although the USD has lost some ground.
Stock market news site Benzinga is claiming that there was some suspicious trading activity prior to the announcement of the government loan given to Kodak. Monday saw its stock rise 25% before the announcement on Tuesday when it then saw an over 200% move.
The US stimulus bill is still being discussed, although there are reports that republicans are deeply divided over the package.
Looking at today's calendar we have the Fed's interest rate decision and press conference after, and the US pending home sales.
On the earnings calendar today, we have names such as Boeing, Facebook, Qualcomm, Bunge, ConMed, and General Motors