The Loyalty Ventures Inc (NASDAQ: LYLT) stock price soared 86.6% despite the company's ongoing chapter 11 bankruptcy process and looming voluntary delisting of its stock from the Nasdaq Global Select Market.

---
YOUR CAPITAL IS AT RISK. 81% OF RETAIL CFD ACCOUNTS LOSE MONEY.
---
Today's rally was driven by increased buying of the company's stock, as over 8.9 million LYLT shares had changed hands at the time of writing. The continuous buying drove the rally in LYLT stock as retail buyers stepped up and bought the shares.
Top Broker Recommendation
YOUR CAPITAL IS AT RISK. 68% OF RETAIL CFD ACCOUNTS LOSE MONEY
The rally in Loyalty Ventures stock is part of an emerging market trend where retail investors bid up the stock prices of companies on the verge of bankruptcy to hurt institutional short sellers by creating a short squeeze. Still, such rallies rarely last, except for a few assets in 2021.
According to the chapter 11 bankruptcy filing on March 10, 2023, Loyalty Ventures' board of directors filed for bankruptcy after carefully assessing the company's financial position and available options. The board then determined that the bankruptcy filing was best for the company and its key stakeholders.
On another note, the company's Canadian subsidiary, known as LoyaltyOne, Co., sought protection under the Companies Creditors Arrangement Act (Canada) in the Ontario Superior Court of Justice (the "Canadian Court").
LoyaltyOne agreed to be acquired by the Bank of Montreal (BMO), after which BMO will acquire LoyaltyOne's AIR MILES Reward Program (AIR MILES) business. The two companies agreed to enter into a debtor-in-possession ("DIP") facility, under which BMO will provide LoyaltyOne with a $70 million non-revolving secured credit facility.
The filing clarifies that Loyalty Ventures stock will be delisted from the Nasdaq. Hence, it makes no sense for investors to rush in and buy LYLT stock, given the company's precarious situation. However, bankruptcy has not stopped retail investors from buying a company's stock in the past, and I think that Loyalty Ventures will not be an exception.
Still, astute investors will look for value in other stock market segments while steering clear of the short squeezes mounted by retail traders, which hurt them over the long run.
*This is not investment advice.
The Loyalty Ventures (LYLT) stock price.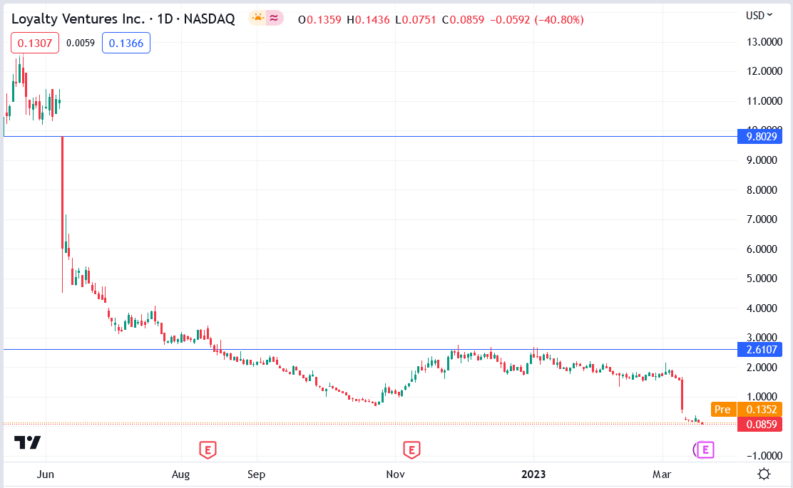 The Loyalty Ventures stock price surged 86.61% to trade at $0.1603, from Friday's closing price of $0.0859.
---
YOUR CAPITAL IS AT RISK. 81% OF RETAIL CFD ACCOUNTS LOSE MONEY.
---