Key points:
Lucid Group (LCID) stock has fallen 60.2% in 2022. Can it recover?
The stock could recover if the firm meets its production targets.
The EV manufacturer has faced challenges ramping up production.
The Lucid Group Inc (NASDAQ: LCID) stock price has fallen 60.2% this year as investors sold shares in cash-burning EV startups and faced significant production bottlenecks. Unfortunately, many EV startups have discovered the hard way that producing vehicles at scale is not an easy task.
EV startups such as Lucid Group are burning through significant cash reserves to scale up their production, especially since they are trying to build and operate vehicle manufacturing facilities instead of outsourcing their production.
Also read: The Best Electric Car Stocks To Buy.
However, many startups acknowledge that it is not easy to ramp up production. For example, Lucid Motors spent $1.5 billion from January to June this year, yet its Greenfield manufacturing plant produced 1,400 luxury saloon cars, which translates to 8 daily.
The group had to lower its 2022 production forecast from 20,000 cars to just 6,500 cars, and even the lower estimates sound pretty optimistic, given that it would have to produce 5,000 cars in the year's second half to meet the target.
Recnet news indicated that Lucid had increased its production capacity, with some sources indicating that it had boosted its daily vehicle production rate to 40-50 vehicles. The EV company plans to raise its production target to 50 to 60 vehicles daily.
While demand for EVs continues to rise, EV manufacturers have found it challenging to meet the higher demand in a market where investors are increasingly growing impatient with unrofitable startups that are soending billions yet still making losses.
Companies such as Lucid Group will reap significant benefits once their manufacturing capacity increases, which could make them profitable as most of their operating costs remain fixed.
Tesla, the market leader, also faced significant challenges when expanding its manufacturing capacity in 2017-2018, when it increased the production of its Model 3 sedans. At the time, many were betting on Tesla going bankrupt as it invested heavily in its gigafactory.
Can Lucid shares recover? The short answer is yes. LCID shares are currently trading within a bottoming range that could fuel a rally higher if it is not broken.
*This is not investment advice.
Lucid Group (LCID) stock price chart.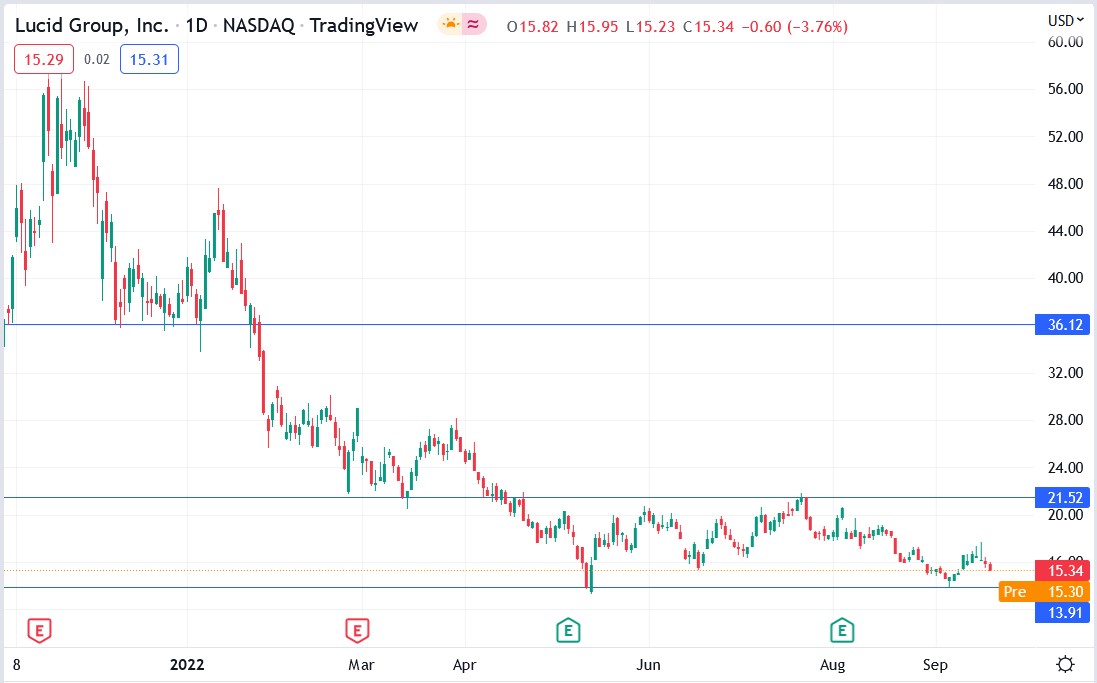 The Lucid Group stock price has fallen 60.21% this year but appears to have bottomed. Can it rally higher?