British brewery, pub and hotel operator Marston's (LON: MARS) said its trading was "materially disrupted" due to Covid-19 related trading restrictions imposed across England, Scotland and Wales in a Q1 Update on Friday.
Marston's stock price hit a high of 79.95p per share so far today, they are currently priced at 79p, up 6.03%.
The lockdowns implemented once more across the UK forced all of Martson's pubs to close, and the company said that because of comments from UK Prime Minister Boris Johnson, about the potential for lifting restrictions as the vaccination programme progresses they anticipate pubs will remain closed for trading until March at the earliest.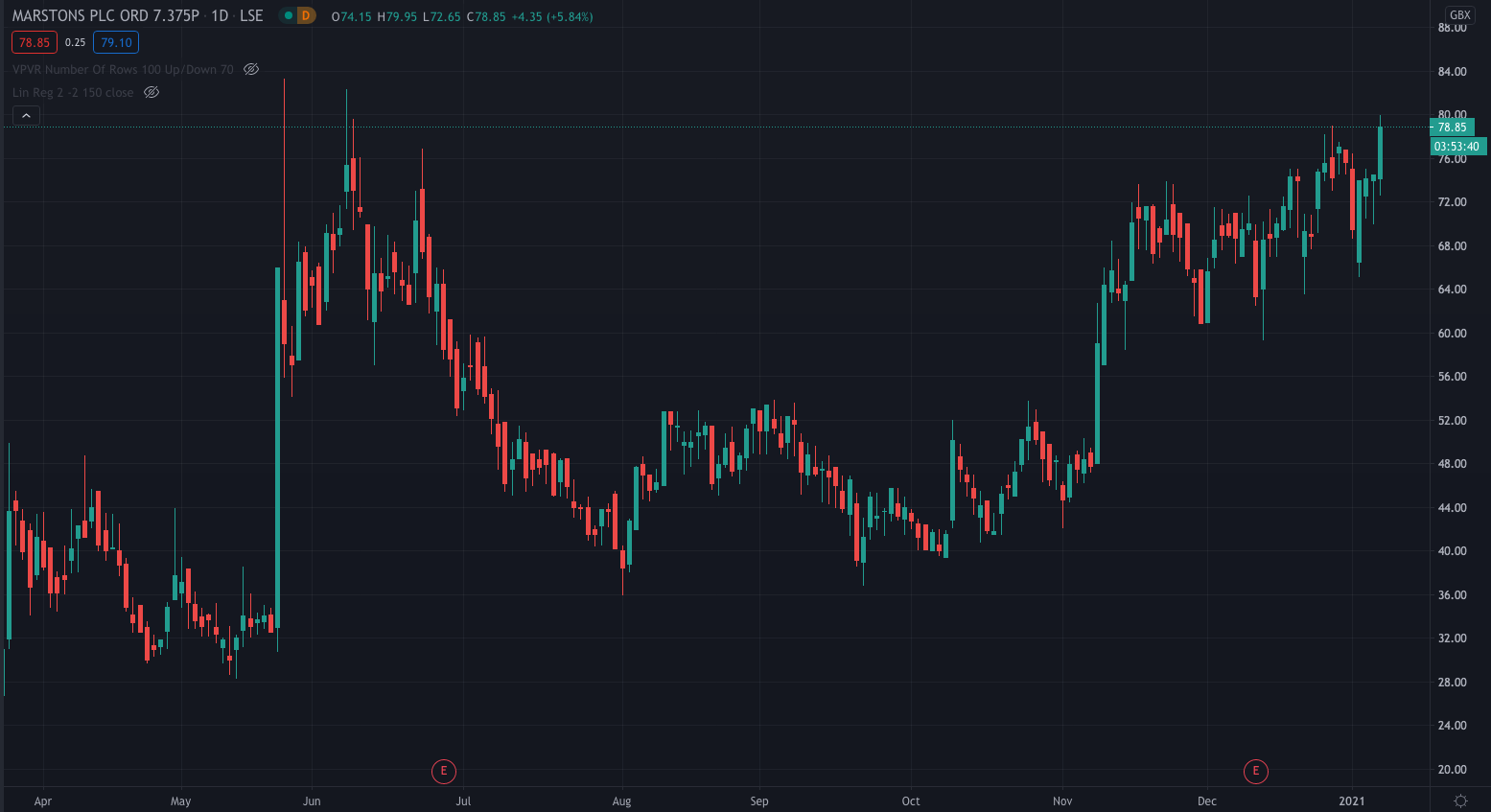 However, despite the disruption to Marston's business, they have received £233 million from a joint venture with Carlsberg UK, which was used to reduce its debt. The profit on disposal of Marston's Beer Company into the joint venture is estimated to be around £280 million and the spot value of the contingent payment to be received in October 2021 is approximately £20 million.
The company also exchanged contracts with SA Brain to operate its portfolio of 156 pubs in Wales, on a combination of leased and management contract arrangements. According to Marston's, the pubs generated a pre-COVID EBITDA of £14 million from which they pay rent of £5.5 million per year, representing a 2.5x rent cover.
"The pub sector has been closed for much of the last nine months and remains in a very difficult position," stated Ralph Findlay, CEO of Marston's.
"Regrettably, there have been casualties across the sector and It is vital that the Government reviews urgently the opportunity to continue to support pubs as we reopen the economy in the coming weeks," Findlay added.
Despite the continued troubles for the sector and Marston's business, they have a significantly strengthened balance sheet following the joint venture with Carlsberg and what looks to be the necessary cash flow to continue to manage the current economic climate.
The company said it expects consumer demand to be healthy once the restrictions are lifted and its pubs, which are mainly located in suburban areas, will be well-positioned.