Key points:
Mobiquity stock soared 69.3% on A-Nation data and advertising deal.
The companies did not disclose the financial details of the partnership.
Investors cheered the news to bring A-Nation's tokenized films to the world.
The Mobiquity Technologies Inc (NASDAQ: MOBQ) stock price soared 69.3% after inking a deal with A-Nation to see it provide advertising services to the latter.

Mobiquity will use its data and programmatic advertising services to promote brand awareness for A-Nation's cryptocurrency, NFTs and upcoming motion picture releases.
Crypto entrepreneur Kade Vu of A-Nation has decided to partner with Chuck Russell, a film producer, writer and director, to create motion pictures that utilize cryptos to propel the filmmaking industry to a decentralized future.
Russell's primary mission will be to use his decades of experience in film to generate equity and transparency in the industry via his partnership with A-Nation.
Furthermore, A-Nation intends to sell NFTs directly linked to characters, cast, behind-the-scenes, a day on the set, and even the red carpet events that will all be available on the A-MARKET marketplace.
The partnership will also include a launchpad named A-PAD that will help projects onboard the benefits of the blockchain. Investors cheered the revolutionary partnership, as evidenced by Mobiquity's share price rally.
The financial details of the partnership were not revealed by Mobiquity, a Platform-as-a-Service (PaaS) company that offers data and advertising services. However, the firm has one of the audience databases available to marketers in the US and globally.
A- Nation is an innovative film company that intends to produce tokenized films that will apply blockchain technology to the traditional film industry. In addition, the firm intends to build an ecosystem that allows for monetizing everything in the film industry.
Sean Trepeta, Mobiquity Networks' President, said: "We are thrilled to have been selected by A-Nation to promote their brand. We are excited to be a part of this groundbreaking model that can transform the film industry."
Chuck Russell, A-Nation's Chairman, said: "We are very fortunate to have found a partner like Mobiquity to help build awareness around our tokens, NFTs and films. We believe Mobiquity's robust platform for data and advertising combined with their proprietary Crypto-Core and Crypto-Curious segments will help us reach our target audience more effectively."
Mobq stock price.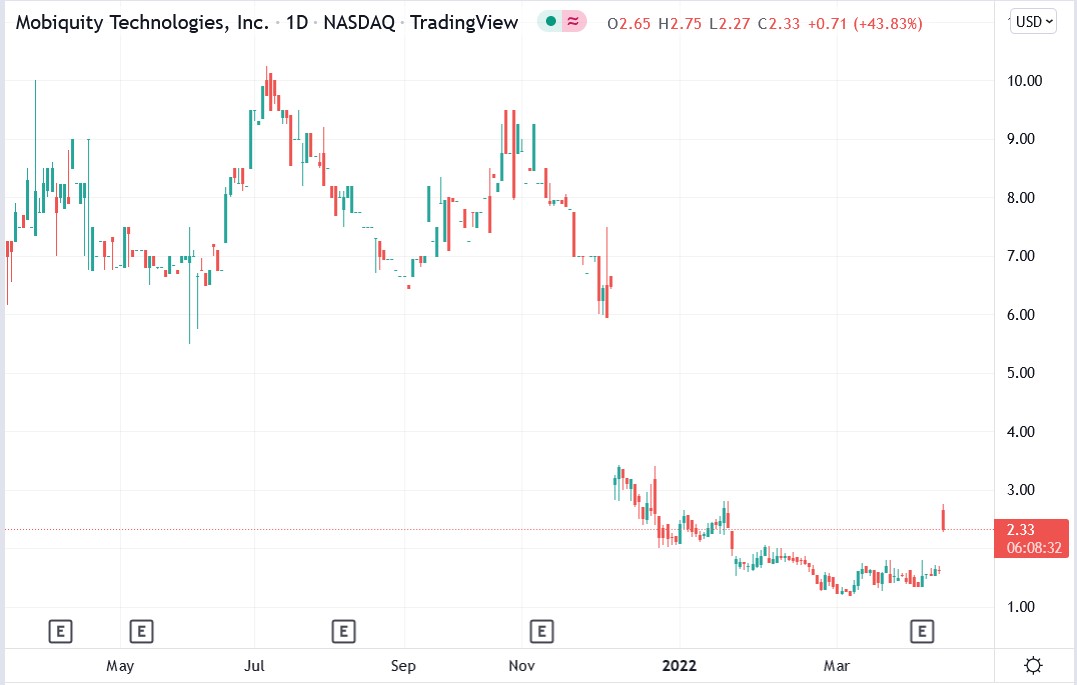 Mobiquity stock price soared 69.33% to trade at $2.76, rising from Tuesday's closing price of $1.63.