Key points:
Ripple prices have fallen 7.77% in one week as its recent rally subsides.
The XRP network has significant uses in global cross-border payments.
However, ripple's future largely rests on the outcome of its SEC lawsuit.
The Ripple price has fallen 7.77% in the past week after an over 10% rally in the past month. Many investors would like to know the most likely next step in Ripple's price action and how they can trade it.

Ripple is one of the most versatile cryptos widely used across the global financial services industry, but its trading price has never reflected its broad applicability to our daily lives.
Some analysts believe that Ripple's use cases far outnumber Ethereum, yet the crypto continues to trade way below the $1 mark in one of the biggest mysteries within the cryptocurrency industry.
Ripple Labs is the company behind the Ripple cryptocurrency and the RippleNet blockchain technology, which can be used for global payments. The company has been in a long-drawn-out legal battle with the US Securities and Exchange Commission (SEC) about the issuance of its XRP tokens, which the SEC claims are securities.
The company recently said it would be listing its shares on the US stock markets once its suit with the SEC is resolved since it expects the courts to rule in its favour.
Ripple Labs noted that global demand for its RippleNet global payments system was growing, having processed transactions worth over $10 billion in 2021 despite losing its biggest customer, Moneygram, shortly after being sued by the SEC.
Ripple's future performance largely rests on the outcome of the court case. Here's what we think will happen to the XRP price in the meantime.
Ripple price prediction
The daily chart below shows that Ripple prices have pulled back to the 0.78174 support level after breaking below the trendline underpinning the latest rally.
If Ripple manages to hold above the support level, we can expect it to rally higher and challenge the 0.89176 resistance level, marking its recent highs. Furthermore, a break above this level would bring the 1.000 round level into play, marking a significant milestone for the cryptocurrency in its recovery from its late January lows.
The recent rally in the crypto sectors seems to be waning, and investors should tread carefully at current levels to avoid being caught up in a downtrend in case one begins.
As for the bearish scenario, Ripple prices would have to break below the 0.78174 support level and head to the 0.69827 support level. A break below the second level would bring its January 2022 lows into play at the 0.59583 support level.
*This is not investment advice. Always do your due diligence before making investment decisions.
Ripple daily price chart.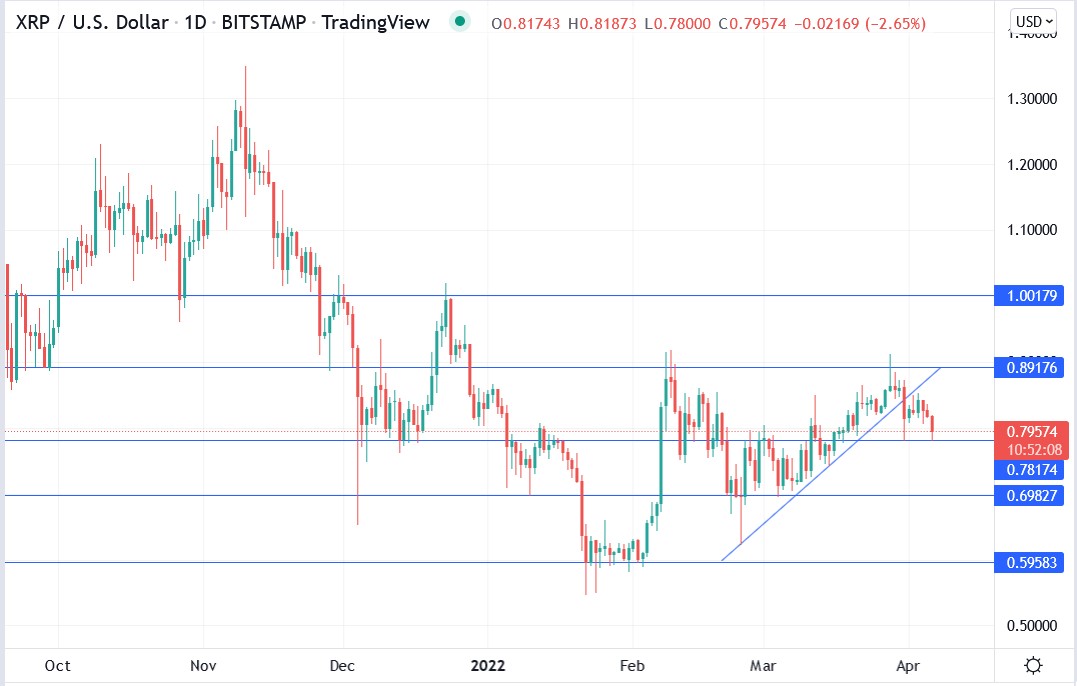 Ripple price has risen 10.24% in 2022 but recently fell over 7.77% in one week. What's next?