Nextdoor, Inc. (NYSE: KIND) rallied 52.8% on its first day as a publicly-traded company as investors bought the social media company's shares following its merger with Khosla Ventures Acquisition Co. II, a special purpose acquisition company (SPAC).

The merger was first announced in July and was formalised in mid-September before today's final listing on the New York Stock Exchange (NYSE). The company's shares surged higher as investors piled in.
The social media company that specialises in creating networks within neighborhoods has 33 million weekly active users. Still, its audience monetization is low at $1.61, having generated $52.7 million in Q3 2021, representing a 66% annualised growth.
Nextdoor's smaller size represents significant growth potential, which could justify its lofty valuation, but investors buying at current prices may face further dilutions because the company is still unprofitable.
However, the social media company's growth potential is relatively high compared to other leading social media applications with hundreds of millions of users or even billions of users.
I would not buy Nextdoor shares at current prices since they seem a bit overvalued. I would look for significant pullbacks before jumping in. I also believe there are other better value stocks out there with better valuations.
*This is not investment advice.
Nextdoor stock price.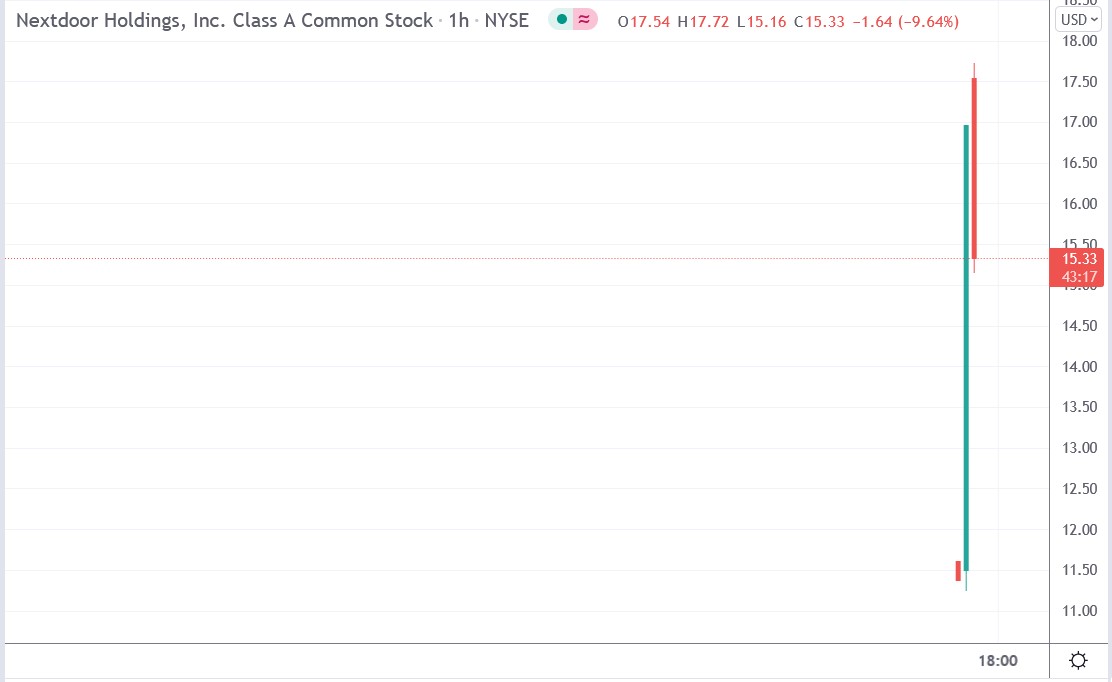 Nextdoor stock price soared 52.84% to trade at $17.73, from Khosla Ventures Friday closing price of $11.60.
Should you invest in Nextdoor shares?
Tech stocks offer some of the best growth potential, but time and time again, traders and investors ask us "what are the best tech stocks to buy?" You've probably seen shares of companies such as Amazon and Netflix achieve monumental rises in the past few years, but there are still several tech stocks with room for significant gains. Here is our analysts view on the best tech stocks to buy right now.