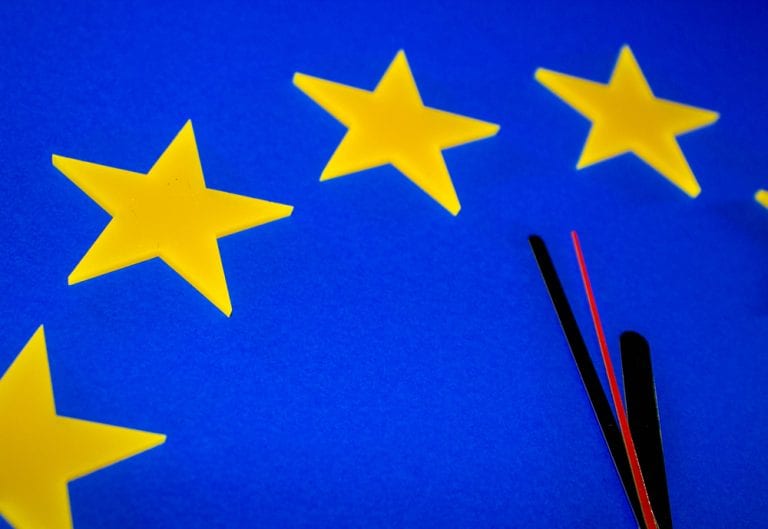 Prime Minister Johnson announces Wednesday that he is to prorogue parliament
Limiting time for any possible Brexit extension makes the 31st October Brexit deadline more likely
Property prices in London are being slashed as sellers look to beat the deadline
A survey finds estate agents are the UK's most stressed profession
With the October 31st Brexit deadline now appearing more likely to be applied, some markets are finding they are already operating in a 'virtual' post Brexit environment. The UK property market involves a transaction period of weeks and months, so those active in it are already forced to factor in the Brexit deadline, which is now only 63 days away. Their countdown also has to factor in the chances of that Brexit being the no-deal version.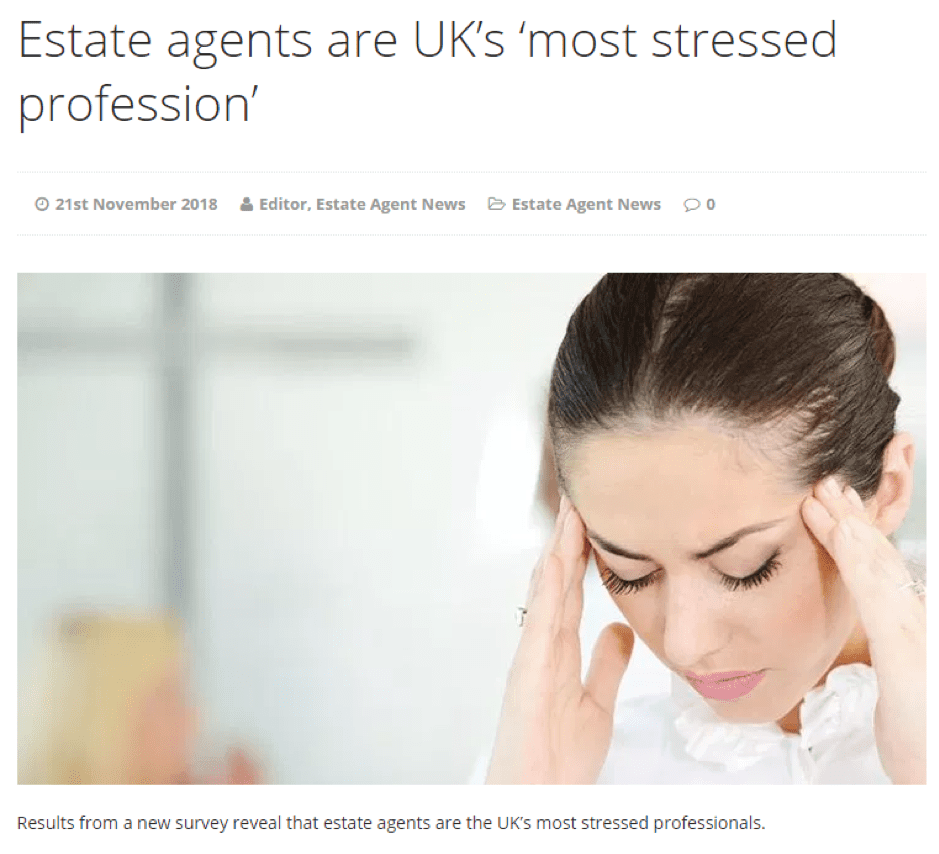 This time it really is different
Wednesday's surprise move by Boris Johnson caught most off guard. Even the speaker of the house, John Bercow, was caught napping. His prediction from June now forms a classic example of why investors should currently be prepared for every eventuality. Speaking of potential prorogation, he said:
"That's simply not going to happen it's just so blindingly obvious that it almost doesn't need to be stated, but apparently it does and I have done."
Source: Business Insider
In the space of 24 hours, the prime minister has moved discussion away from the dynamics required for the opposition parties to form a new government, to how many days until Brexit. It's a significant change in mindset and pressure is mounting – even at 10 Downing Street and Conservative Party HQ, where Brexit Countdown clocks are reported to have been causing staff much anxiety.
London Property
A report out from property firm Nested suggests 29% of London homeowners with properties on the market are reducing their asking prices. These attempts to get house sales over the line prior to the 31st October means that over £2bn of price cuts have so far occurred in the London Metropolitan region.
Around 11% of properties currently for sale in London (12,078) have had a price drop of more than £37,800 – the average annual London salary. The cuts are appearing across the whole capital with those seeing the greatest reductions including Westminster, Kensington & Chelsea, Wandsworth, Camden and Tower Hamlets.
A further 18% of properties for sale have seen a price drop of more than 10%.
Crucially, these price drops are on listed asking prices – the number that appears on the online portal and doesn't factor in the realised price once that further negotiations have taken place.
The nested dashboard shows that the average number of offers that fall through is also spiking. Around 25% of offers over the last 12 months didn't lead to a sale but that same metric stands at 30% over the last three months.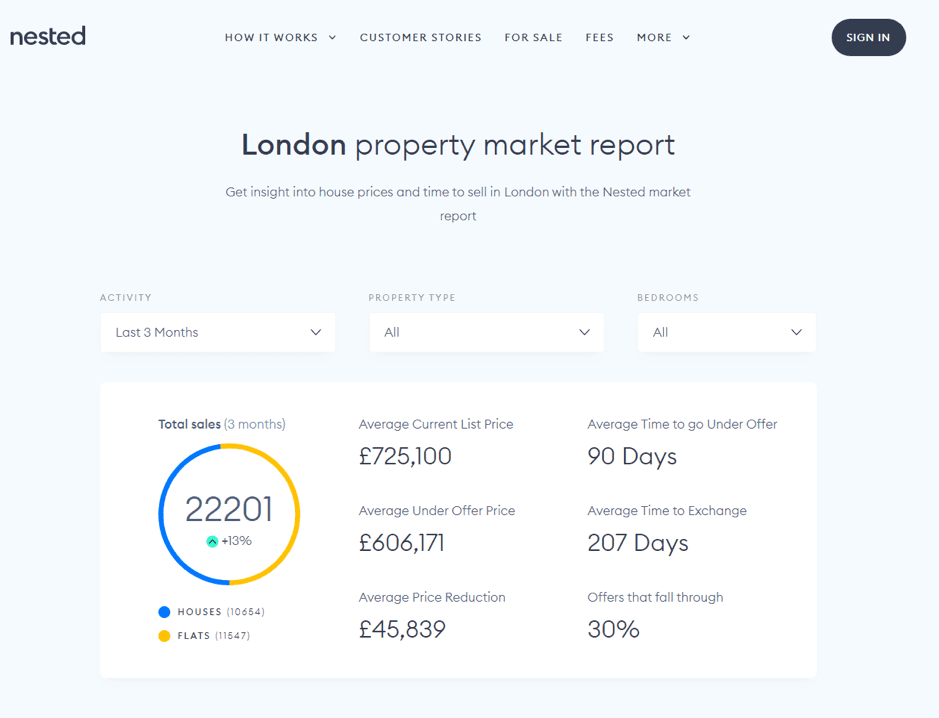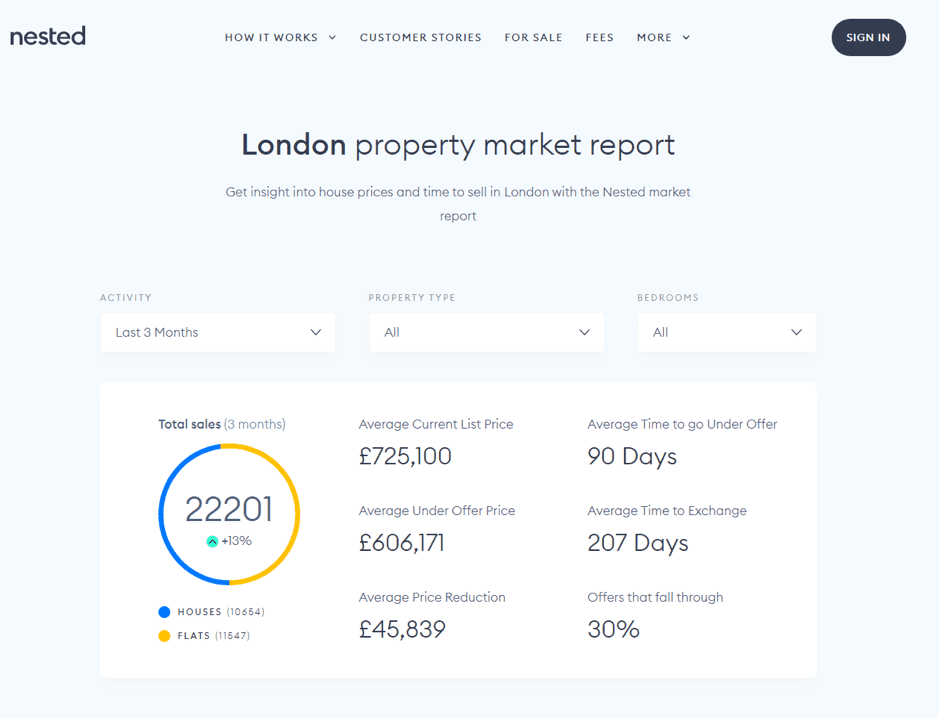 The law of unintended consequences
Devotees of the law of unintended consequences are likely in for a treat as the full ramifications of any of the Brexit processes become apparent. So far, stockpiling issues have been relatively easy to predict, but possibly on a scale that some might find surprising. The Guardian reports that the super-rich are importing more luxury cars ahead of the Brexit deadline in order to avoid tariffs that might be introduced after 31st October. More than 3,800 luxury cars were imported in the past year, a 16% increase on the previous 12 months, according to the law firm Boodle Hatfield.
"A no-deal Brexit could mean luxury car imports become 32% more expensive overnight,"Fred Clark of Boodle Hatfield said."There is a possibility that moving cars into and out of the UK will become more difficult if the UK leaves the EU with no deal. More individuals are now taking that risk seriously and bringing vehicles into the UK from the EU."
Source: The Guardian
It's not quite the stock-piling that 'Project Fear' foretold. Yoghurt, however, is an item that might be in short supply in November. The online site Wired.co.uk spoke with Chris Elliott, founder of the Institute for Global Food Security at Queen's University, Belfast who said that:
"The UK imports nearly all the yoghurt it eats… as a result, supermarket shelves may become barer in the weeks after Brexit – and you could have to switch to dry cereal."
Source: Wired
Property – a leading indicator
The majority of the population already has a large percentage of its total net wealth in property assets. Applying the principles of risk management and diversification means few would be recommended to scale up on property bets. However, that shouldn't discourage an in depth analysis of the sector, as it is an important driver of the economy as a whole.
Anyone taking property prices as a leading indicator, and London property prices as the most important ones to consider, will take note of the below chart.
All dwellings – annual house price rates of change, year to June 2019, by English region: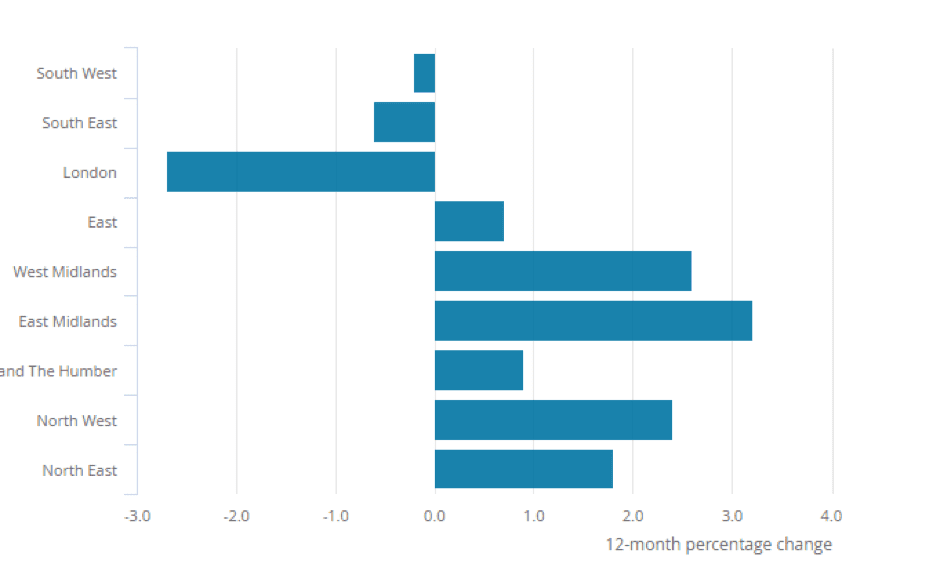 The share price of real estate firm Countrywide PLC is also worth attention. Whilst the FTSE 100 index is still showing a gain of approximately 7% for 2019, Countrywide PLC has seen its share price almost half.
Countrywide PLC (LSE: CWD) / FTSE 100 – Year to date pricechange: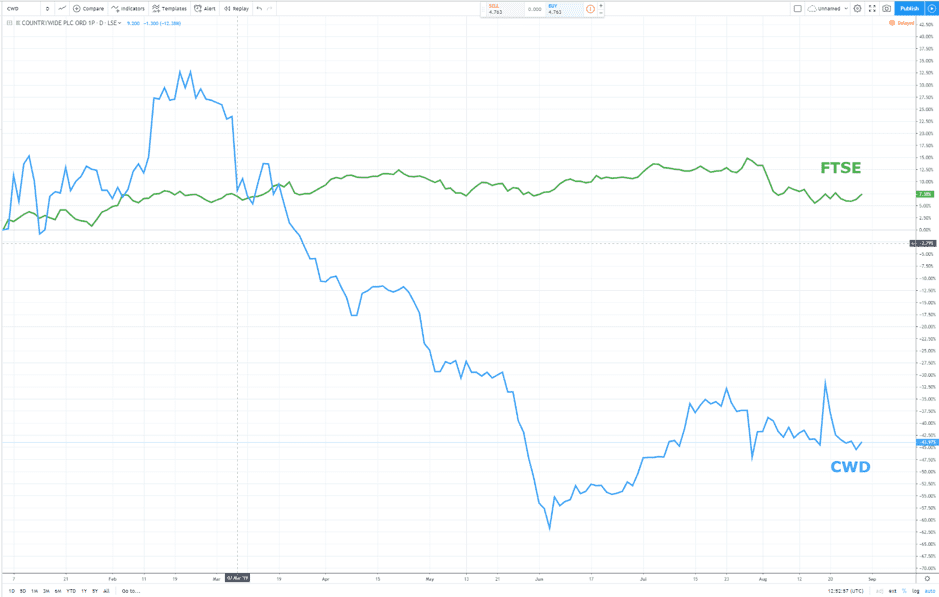 As mentioned, most investors already have more than enough exposure to the property market but there could be some contrarians seeing a possibility for stocks in the same sector as CWD to rally. This goes against the trend and the increase in geo-political risk levels, and the increased competition from cheaper online rivals – but the strategy can point to three catalytic trigger events.
The first is that the weaker pound will make UK property more attractive to foreign investors who may be currently holding off buying due to the political uncertainty. London agent Lee Pendleton describes foreign buyers as "piling in" and engaging in a "feeding frenzy". He claims his agency is "currently handling the purchase of 75 units in south-west London as part of a single transaction worth in excess of £40m." (Source: Estate Agent Today)
The second is that CWD relies on transaction volumes not property prices. Falling prices could reflect sellers are done with holding out for prices, which might no longer be realistic.
The UK property market has been in limbo since 2016 and some certainty of movement, regardless of the actual direction, may help volumes pick up.