Pets at Home Group PLC (LON: PETS) share price rallied 7.98% after releasing its half-year earnings results which saw pre-tax profits soar 81.3% to £70.6 million.

The company noted that the surge in its revenues and profits was driven by the growth in pet ownership across the UK, as many people acquired pets to get them through the pandemic lockdown months.
Pets at Home revealed that its revenues rose 18% to £677.6 million during the six months to October 7. The higher revenues were driven by a 21.9% surge in retail sales on a like-for-like basis, a 21.5% increase in online sales and a 26.2% surge in like-for-like sales in its veterinary services division.
Luckily for the company, it is set to keep benefitting from the rising pet ownership trends as pet owners choose to buy the premium foods and products sold by the company to pamper their pets.
Pet owners also need veterinary services and will keep using the company's vet services into the foreseeable future for routine checkups, vaccinations and occasions when their pets fall sick.
Pets at Home Group also revealed that revenues within its grooming division also rose 62.2% as pet owners invested in their pets overall appearance as they showed off their pets to friends and the public at large.
The company singled out its omnichannel business model and societal trends towards pet humanisation, pet premiumisation and renewal as the main factors behind its excellent results.
Peter Pritchard, the Pets Home Group CEO, said:
"Our business has never been more robust,"
"Our pet care strategy continues to deliver, we continue to take market share and improve spend per customer, and the benefits of our investment in capacity and capability are really starting to deliver.
"Notwithstanding some near-term, industry-wide challenges, we continue to grow ahead of our plans and, based on trading year to date, we are on track to report a record year of sales and profit growth."
Investors cheered the pet company's outstanding results, evidenced by the firm's impressive share price gains today. I expect the company to hold on to its gains driven by positive investor expectations.
From a technical perspective, the Pets at Home share price bottomed yesterday at the 460p level before today's rally. However, I expect further gains if the level holds in the coming days.
However, the company's share price has to break above the 500p level to unlock higher prices in future.
*This is not investment advice. Always do your due diligence before making investment decisions.
Pets at Home share price.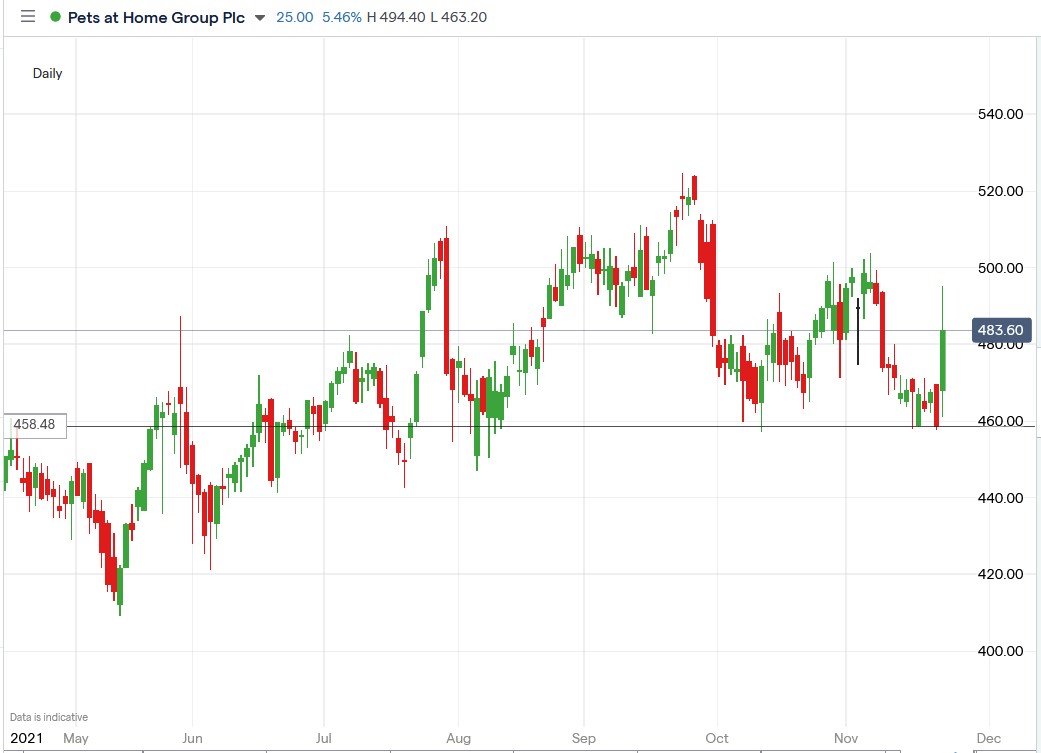 Pets at Home share price rallied 7.98% to trade at 495.20p, rising from Monday's closing price of 458.60p.
Should you invest in Pets at Home shares?
If you're a smart investor, you will know that having large-cap stocks in your portfolio is vital. They are more mature companies, considered safer investments, trade with less volatility, have greater analyst coverage, and in most cases, have a steady dividend stream. Due to the current market environment, we think now is the perfect time to add large-cap stocks to your portfolio. But which large-cap shares should you buy? Our stock analysts regularly review the market and share their picks for some of the best large-caps to invest in.