Key points:
Phoenix Global Has Jumped 27% this morning
PGR's delisting happens tomorrow
Is there still a margin left in this?
Phoenix Global (LON: PGR) might be all over now – or there could be one last Hurrah! in this story. Or perhaps a little cheer rather than a full throated Huzzah that is. The PGR share quotation gets cancelled tomorrow which leaves us as investors with a choice to make. Not a huge one, not a grand one, but one all the same. That there is this choice is why Phoenix Global (not to be confused with Phoenix Copper) shares have jumped 27% this morning.

As to the background here, Phoenix Global Resources was a play on the fracking of the Vaca Muerta shale formations in Argentina. Or as we've amused ourselves calling it, fracking the dead cow. As always there was a certain amount of risk attached to such an adventure. One is simply being in a natural resource in Argentina – the country doesn't have the world's greatest record of protecting the interests of foreign investors. Another is that of course a new field may or may not have the geology to allow successful fracking. It's also true that distance makes that global rise in gas prices pretty much an irrelevance to what might be made out of gas in Argentina.
So, significant risk attached to the project. But then comes the next part of it. Which is that the already major shareholder has launched a takeover offer for the shares in PRG it doesn't already own. Given that they've received sufficient acceptances that cash offer now goes unconditional, even compulsory, and the Phoenix share quotation will be cancelled.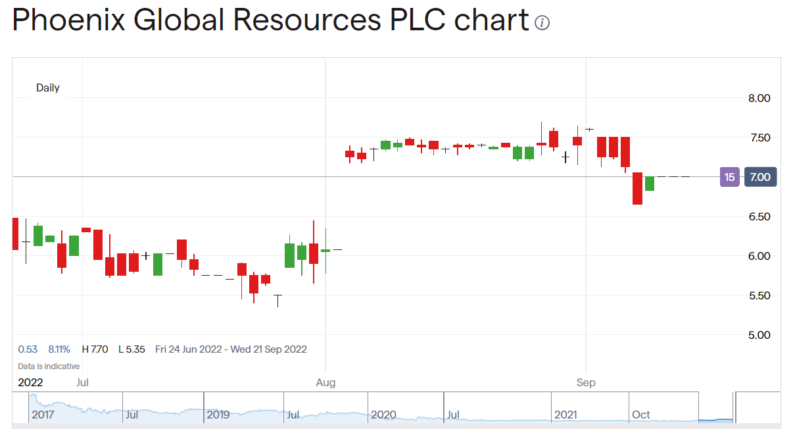 Also Read: Five Best Green Energy Stocks In 2022
The cash offer is at 7.5 pence. The last announcement we had was that acceptances were well over 90%: "Following settlement of the transfers of the Ordinary Shares for which acceptances have been received, which is expected by 12 September 2022, Mercuria will be interested in 2,556,485,970 Ordinary Shares, representing 92.74 per cent. of the Company's issued share capital" The standard rule is that once they've gone over 90% then they can force us to tender our shares to them. And we'd not want to be minority shareholders in what is now a private, unlisted, company anyway.
So, the cancellation is that valuation point – at 7.5 pence. The PGR shares opened this morning at 5.5 pence – although with quite a spread on it, to be fair. That's an opportunity. Buy and wait – eventually at least the cash will come through for stock tendered into the offer. With the Phoenix shares at 7 pence (right now, at pixel time) that has mostly closed up and gone away. But, dependent upon your own calculations of the time value of your money that last half pence might be worth chasing, might not be. If we assume that it is certain, is risk free (not entirely true of course) and that matters take not too long then that would be well above the current inflation rate. It would be a real return. On the other hand we might well say we can do better deploying capital elsewhere.