Key points:
Polymetal is thinking of disposing of the Russian assets
This would solve any of the residual indirect problems from sanctions
There's another valuation point to come, the decision over the dividend
Polymetal (LON: POLY) shares soared 30% yesterday and today on the news that POLY might have solved its sanctions problem. Or at least that there's a plan to perhaps and maybe be able to solve them. As we all know Polymetal is not directly sanctioned nor are any of the major investors, directors nor even the business line itself of gold mining. As we've noted before about Polymetal though there are indirect effects of sanctions upon the company.

The situation is entirely different from that of Petropavlovsk (LON: POG) which has been driven bust by those sanctions side effects. There the bank, Gazprombank, was sanctioned, meaning that POG could not meet working capital contract terms, nor refinance. So, driven into administration by those sanctions, even as not directly sanctioned.
For Polymetal there are operational implications of the sanctions – again as we've said about POLY before – like having to use local and less efficient contractors, changes in rouble interest rates and so on. But the basic business of gold mining and marketing production in the Far East is unchanged. Even the declaration that Russian refinery bars are no longer good delivery to the London and Chicago markets doesn't really matter as that was never the destination for production anyway.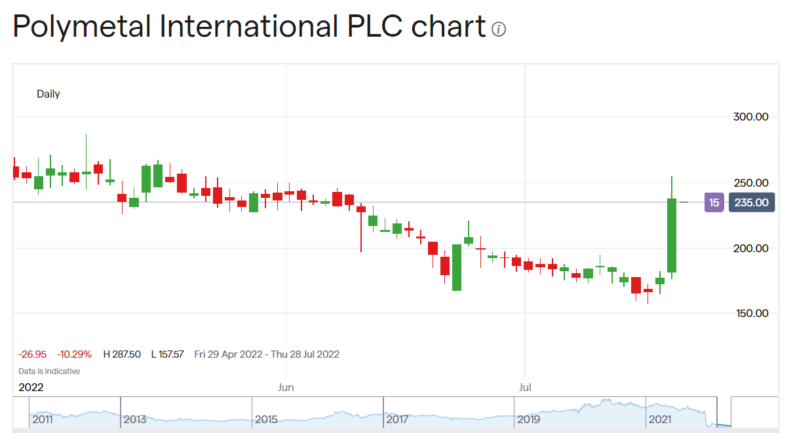 Also Read: 5 Best Gold and Gold Mining Stocks To Buy Right Now
However, one of the important things about Polymetal is that there's a split in the business. Just under half is in Kazakhstan – which is not involved in the current unpleasantness in any way – and the rest in Russia. Given events – and the possible implications of any future sanctions – it has long looked likely that splitting the company into two could be value additive. POLY hasn't just announced that this is exactly what they're going to do, rather, they've said that they're further along the road of being able to do so. Which is what has produced the 30% jump in the Polymetal share price.
The specific plan currently under consideration is to sell off the Russian assets and leave Polymetal as a Kazakhstan focused miner. As they say "increase the likelihood of the Company's ability to re-enter all the relevant equity and sustainability indices and regain a significantly wider institutional audience." For example, POLY's two ADS programs, POYYF and AUCOY are currently suspended, many American brokers will not allow US customers to purchase POLY in London either. Being resolutely non-Russian would aid in those issues at the very least. It's also likely that the shorn company would get back up into the FTSE250 at least.
So this news is value additive and so the value has risen. Which leaves us with pondering what comes next. The Q2 production report is due imminently, possibly tomorrow. That will show how those other sanctions issues are affecting the underlying business. Then in another month there's the likely decision on whether to pay the suspended final dividend from last year and the half year one for this. It's not obvious which way those decisions will go but that's the next likely valuation point for Polymetal.