Key points:
The Proshares UltraPro short QQQETF (SQQQ) is up 117.5% in 2022.
The ETF could be headed higher if the Nasdaq keeps falling.
However, it is not advisable to hold SQQQ as a long-term investment.
The ProShares UltraPro Short QQQ ETF (NASDAQ: SQQQ) stock price is up 117.5% in 2022 and seems to be headed higher amid a broad selloff in the Nasdaq, which is the underlying index tracked by the 3X short ETF.

The ETF has done exceptionally well on the back of Nasdaq's selloff since it aims to replicate a -3X the Nasdaq's movements. Therefore, SQQ tends to rise when the Nasdaq is falling. In addition, as a leveraged ETF, SQQQ's gains and losses are magnified since they tend to be significantly those of the Nasdaq in the opposite direction.
Before you start regretting why you did not buy SQQ stock earlier in the year, you should remember that it is an inverse leveraged ETF, which usually tends to lose value over long periods.
Another reason it might not be prudent to buy and hold SQQQ over long periods is the relatively high fees charged by the ETF compared to its peers. The high fees will reduce your overall returns from holding the ETF.
Savvy investors expect a stock market rally driven by the VIX buy signal generated earlier this week. If such a rally materialises, SQQQ stock will likely plunge lower as the Nasdaq rises.
However, a short-term rally does not mean the SQQQ rally is over. Instead, we must see a tangible shift in market conditions led by lower inflation levels and a rebound in consumer spending. Unfortunately, the current market environment does not support such a rosy outlook.
Therefore, as much as we are waiting for a short-term rally in stocks, this does not mean that the markets have finally reversed course and are now headed higher. Instead, any rally is likely to be a relief, given the current oversold market conditions.
Investors who regret missing out on SQQQ's gains may miss out on further gains in future once the Nasdaq rally ends and the tech-heavy index starts falling again. Still, one should not hold SQQQ as a long-term investment.
*This is not investment advice. Always do your due diligence before making investment decisions.
SQQQ stock price.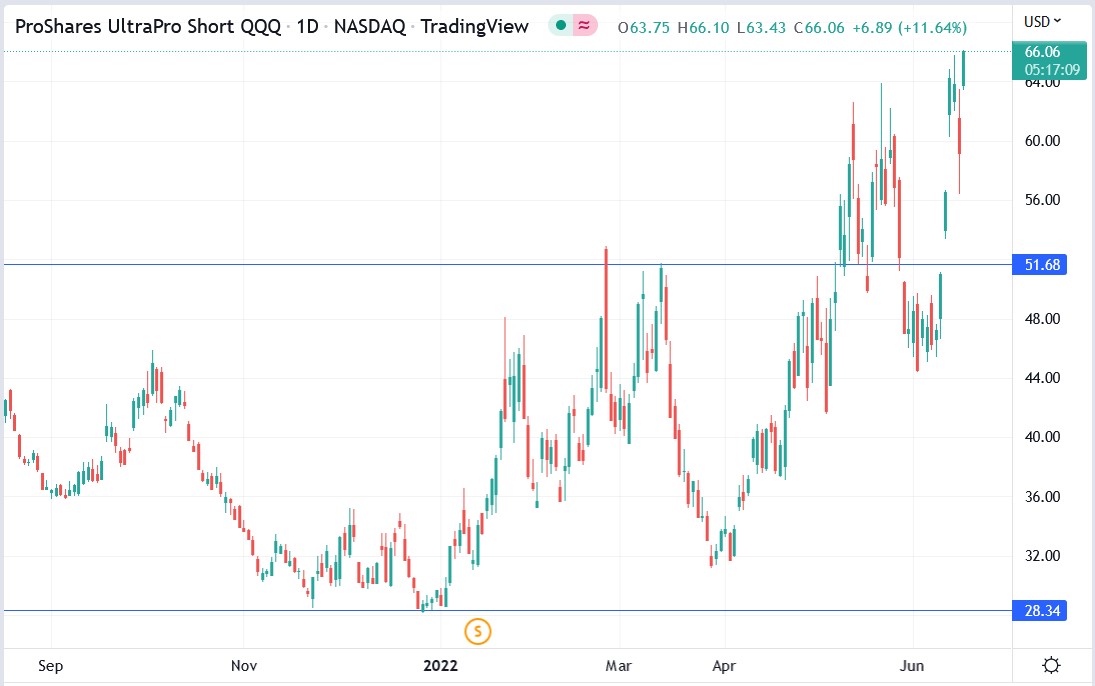 SQQQ stock price was up 11.64% to trade at $66.06, rising from Wednesday's closing price of $59.17.