Key points:
The VIX stock price hints at a short-term market rally.
As a contrarian indicator, investors should buy when the VIX is high.
Savvy investors should buy stocks in anticipation of the rally.
The VIX (INDEXCBOE: VIX) is regarded as a contrarian indicator such that an elevated VIX reading usually indicates that investors are highly bearish about the market's short-term prospects. In contrast, a low VIX reading usually indicates that investors are optimistic about the markets.

Looking at the VIX daily chart below, you can see that I have highlighted an upper zone marked by $34.77 and $37.47. Every time the VIX came into this range, it quickly fell back and triggered a stock market rally that lasted from a week to about three weeks, as tracked by the S&P 500.
The VIX chart below shows that the VIX index crossed into the highlighted region on Monday, June 13, 2022, and quickly fell back. This action triggered a buy signal for contrarian investors anticipating a short-term rally in the stock market.
The VIX has now closed below $34.77 for two consecutive days and does not seem to have the momentum to push back above the level, indicating that the time is right for some bullish trades. One of the best ways to play this buy signal is to buy ETFs tracking the broader indices such as the S&P 500, the Dow Jones and the Russell 2000.
Investors could also buy individual stocks that are oversold despite being fundamentally solid, which could benefit from a broad market recovery. Again, the key is choosing an asset you are familiar with and riding the short-term rally likely triggered by the latest VIX setup.
Traders scared of the current bearish sentiments being peddled by most TV hosts, and other talking heads should remember that the best trades are usually the hardest to pull off. As every savvy investor knows, the best time to buy is when there's blood in the streets.
However, there are no guarantees that we will get such a rally this time since we can never be sure of future market movements. All we can do is predict what could happen and make our bets as savvy traders.
*This is not investment advice. Always do your due diligence before making investment decisions.
VIX stock price.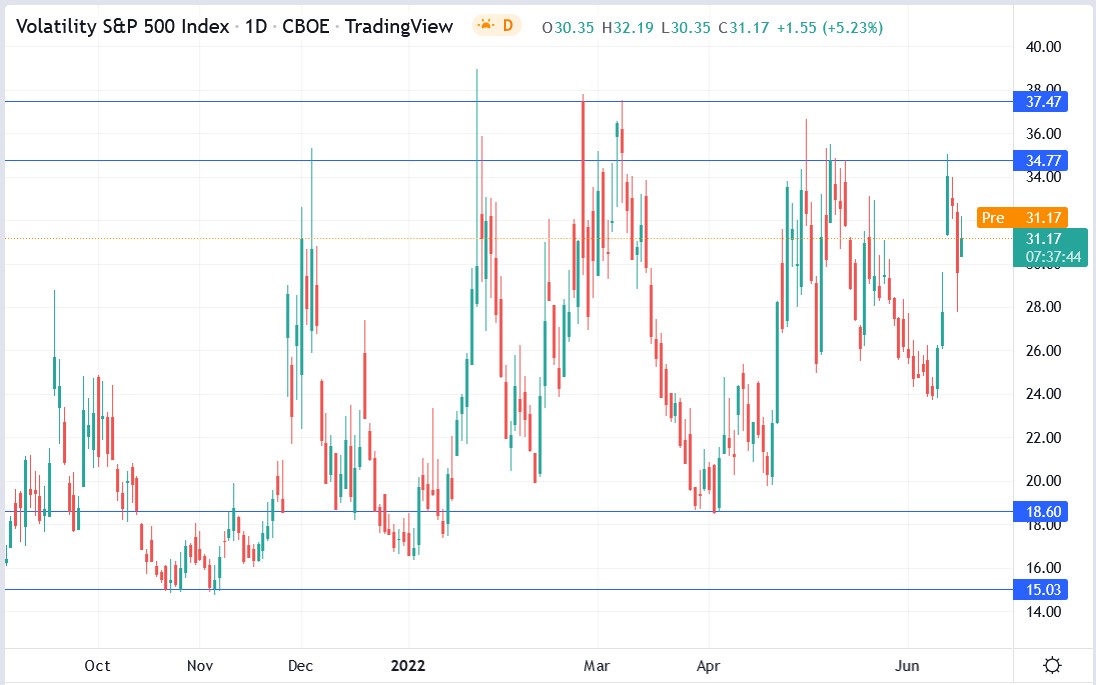 The VIX stock price recently touched the $34.77 resistance zone and could be headed lower.