The Quadrise PLC (LON: QED) share price rallied 12.9% after announcing that it had signed a joint development agreement (JDA) with BTG Bioliquids BV (BTL), a specialist in renewable biofuels to generate stable bioMSAR™ emulsions that incorporate BTL's proprietary technology.
---
YOUR CAPITAL IS AT RISK. 81% OF RETAIL CFD ACCOUNTS LOSE MONEY.
---
BTL has proprietary technology that turns abundant forestry and agricultural residues, including sawmill waste, into fast pyrolysis bio-oil (FPBO), a homogenous energy carrier. FPBO can be used as a direct substitute for fossil fuels or further upgraded into an advanced biofuel. Three plants produce FPBO using BTL's technology in Finland, the Netherlands and Sweden.
Top Broker Recommendation
YOUR CAPITAL IS AT RISK. 81% OF RETAIL CFD ACCOUNTS LOSE MONEY
The JDA allows Quadrise and BTL to partner and determine if BTL's FPBO can be a potentially cost-effective renewable fuel source in Quadrise's bioMSAR™ solution. The JDA allows Quadrise to supply MSAR® blending technology at BTL's licensed plants or biorefineries subject to further agreements with BTL or their licensees.
BTL and Quadrise plan to jointly conduct a research programme to invent stable bioMSAR™ emulsions that incorporate BTL's FPBO. Once the successful laboratory formulations of FPBO-bioMSAR™ emulsions are generated at the Quadrise Research Facility, they will be tested on disease engines during the next 12 months.
Third-party testing will then follow if both companies agree on the same to determine if the new fuel can be used for marine applications. The tests will also accelerate the development of bioMSAR™ Zero.
Jason Miles, Quadrise Plc's CEO, said: "Quadrise is delighted to have signed this JDA with BTG Bioliquids. Advanced biofuels derived from woody biomass remain potentially the most price-competitive net-zero biofuel solutions. This joint collaboration fits well with our plans to commercialise bioMSAR™ with MSC Shipmanagement and others, as well as advancing our programme to supply net-zero bioMSAR™ by 2030. BTG Bioliquids' fast pyrolysis bio-oils combined with Quadrise's bioMSAR™ technology should provide a compelling solution for the marine sector.
Gerhard Muggen, BTG Bioliquids' Managing Director, added: "BTG Bioliquids is pleased to have signed this agreement with Quadrise to continue our strategy of cooperating with other companies to develop attractive applications for fast pyrolysis bio-oil. The successful inclusion of fast pyrolysis bio-oils into bioMSAR™ would be a major step in decarbonising the shipping and power industries."
*This is not investment advice.
Quadrise share price.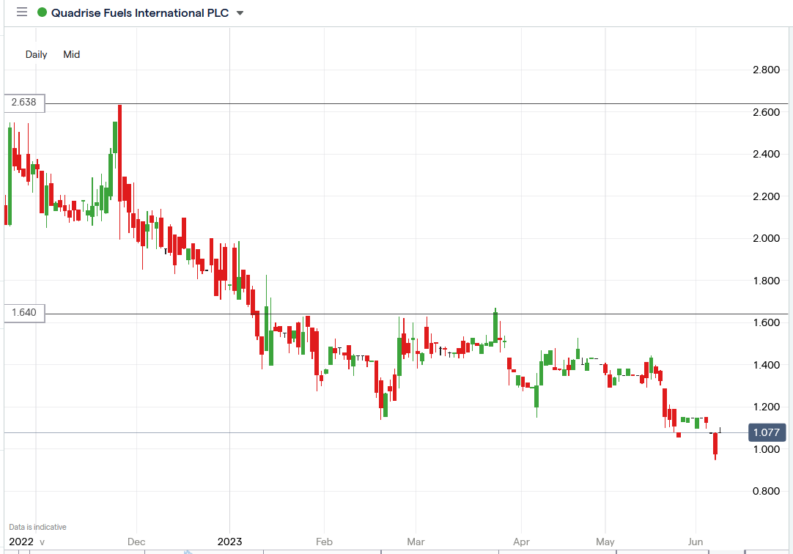 Quadrise shares rallied 12.9% to trade at 1.103p, from Wednesday's closing price of 0.977p.
---
YOUR CAPITAL IS AT RISK. 81% OF RETAIL CFD ACCOUNTS LOSE MONEY.
---