Key points:
Amigo Loans shares spiked 58% higher after High court approval.
The guarantor lender is now one step closer to resuming lending.
Investors cheered the move, but there's still a long way to go.
The Amigo Holdings PLC (LON: AMGO) share price spiked almost 60% higher yesterday after the High court approved its new business scheme during yesterday's sanction hearing.

The move, widely expected, now paves the way for the guarantor lender to resume lending activities within the next nine months, provided it can raise the needed funding.
AMGO shares traded lower today as investors expect more from the company, including how it plans to resume lending activities. Furthermore, the UK's Financial Conduct Authority (FCA) has to okay any plans.
Amigo Loans has eased lending activities in November 2020 due to the economic uncertainty caused by the coronavirus pandemic but was unable to resume lending after numerous complaints from former customers who accused the lender of mis-selling its loans.
As mentioned in previous articles, demand for Amigo's guarantor loans is still high, given its target market of high-risk creditors largely unserved by traditional lenders. In addition, the number of lenders in the sector is not high; hence, Amigo will likely attract many clients once it is back in business.
The lender had gotten the backing of some institutions last year before the High court rejected its first scheme of arrangement. Hopefully, these deep-pocketed shareholders will come to its rescue once again as it seeks new funding to return to lending activities.
Meanwhile, investors have to be patient with the company as it plans its next move, but the resumption of the trading of its shares on the LSE after a day's suspension is a good first sign.
*This is not investment advice. Always do your due diligence before making investment decisions.
Amigo Loans share price.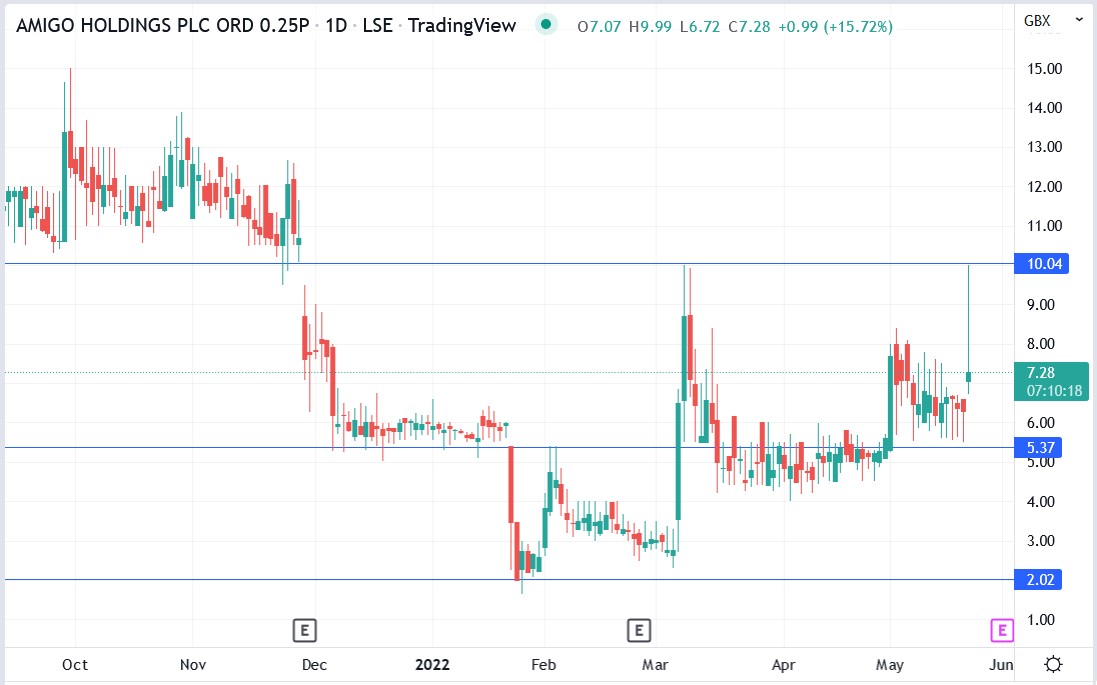 Amigo Loans shares spiked 58.7% higher to trade at 10.00p, rising from Friday's closing price of 6.30p.