The Quhuo Ltd – ADR (NASDAQ: QH) stock price soared 142.8% despite the lack of significant news releases from the SaaS company, which operates across multiple Chinese cities. However, the firm released a minor video update about its operations, which could have triggered the rally. 
---
YOUR CAPITAL IS AT RISK. 81% OF RETAIL CFD ACCOUNTS LOSE MONEY.
---
Quhuo released a video detailing its next steps, which include expanding to more rural areas. In addition, the video highlighted the company's desire to transition from a provider of delivery services to a provider of operational services through its SaaS+ platform, allowing it to incorporate more services into its platform.
Top Broker Recommendation
YOUR CAPITAL IS AT RISK. 68% OF RETAIL CFD ACCOUNTS LOSE MONEY
Investors reacted positively to the video, as evidenced by the rally in Quhuo stock. Today's video is part of a series of videos posted by the company on its Twitter page, attracting significant attention from retail shareholders who have bid up its share price.
Still, the number of viewers of Quhuo's videos does not match the number of shares that have changed hands, with the figure standing at 4.77 million at the time of writing. The high number of shares sold indicates that investors may be reacting to some of the company's previous news releases that tend to be seen by more people.
Quhuo's last press release was about its partnership with Baidu to utilise the recently released ERNIE Bot to help improve its service offerings. The company intends to leverage ERNIE's wide-ranging capabilities to deliver accurate, logical, and fluent user responses.
The strategic collaboration demonstrated Quhuo's commitment to harnessing cutting-edge AI technology to power various business functions, including front, middle, and back-office activities. The company intends to keep innovating on its existing tech solutions.
Quhuo also filed its annual report on April 21, 2023, which was in line with expectations keeping the company compliant with the Nasdaq listing rules. Today's rally could not have been better, pushing Quhuo's stock price above $3.00.
The company's stock price has been trading around $1.00 for a while and could have quickly plunged below this crucial level were it not for the recent rally. Seeing QH stock trade way above $1.00 for a change will be nice.
*This is not investment advice.
Quhuo (QH) stock price.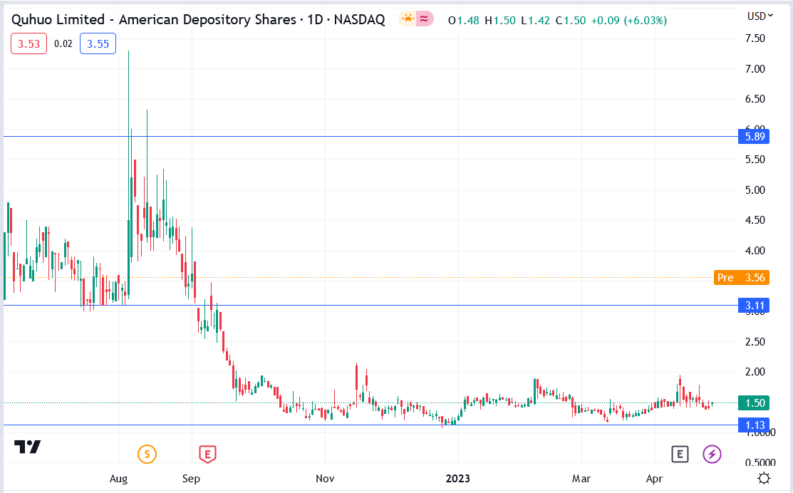 The Quhuo stock price soared 142.81% to trade at $3.63, rising from Friday's closing price of $1.50.
---
YOUR CAPITAL IS AT RISK. 81% OF RETAIL CFD ACCOUNTS LOSE MONEY.
---