Key points:
Quotient is up 64% premarket
There's also significant volume of trade
Trading positions depend upon why this is happening
Quotient Ltd (NASDAQ: QTNT) stock is having another rally, up 64% and variable premarket. The important point here is that this is not just some fat finger trade, nor some trivially sized trade designed to move the ticker. We see 3 million and more shares changing hands already – this is real trade going on. The big question though is why would big trade being going on here?

Our first observation would be that Quotient is down 94% over the past year so it'll take something to move this bombed out stock. There's always the hope that the management are able to stumble upon something profitable of course. Or, given that the NASDAQ quotation is clearly at risk given being below the minimum offer price there could be a reverse stock split. But for either of those we'd expect to see some form of announcement which doesn't seem to – as yet at least – exist.
It's also true that we've seen stock price leaps at Quotient before. Back in June in fact. And as we reported about Quotient then there really was no reason for that stock price jump. For it came off the back of the approval of a CE Mark. Which really isn't something that should produce that sort of price movement. For it's not – not at all – like an FDA approval, it means something else entirely.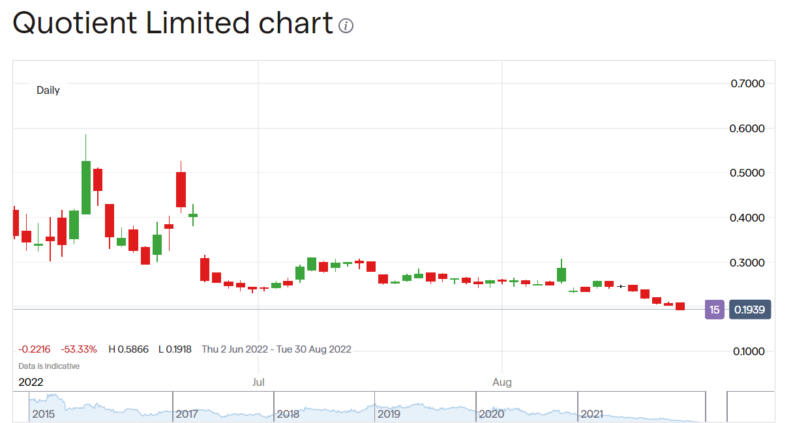 Also Read: 5 Best Pharmaceutical Stocks to Watch in 2022
The difference is that a CE Mark is the company registering to be able to sell the product in Europe. It isn't – not at all – the European Medicines Agency, EMA, giving approval for sale after the drug has been tested. So it's absolutely nothing at all like FDA approval of a drug or treatment. But, along side results, the announcement that Quotient has a CE Mark led to a 95% jump in the stock price.
That Quotient stock price jump quickly faded when it was almost immediately used to issue more stock to keep the show on the road. As we said back then if every price move upward is met with stock issuance then that's likely to place a cap on that stock price.
We might even think that a price movement like today's could lead to the same series of events. Which would indeed put a cap on any such rally.
What might also be worth noting is that recorded trade in the stock has doubled – to near 6 million – in just the time it is taking to type out this piece. Which means that there is indeed real trade going on here. But given that the price has stayed more or less static while volumes traded double means there's some pushback on the idea that the price will continue to soar. At least some are taking the opportunity to either sell out of positions or even put shorts on.
As ever our advice when there's a significant price movement like this. Yes, there's always a temptation to put a momentum trade on. But unless we know why the stock price is moving as it is we cannot judge when that momentum might fail or even reverse. It's the why that matters before deciding upon a trading position.