Key points:
Rolls Royce shares are down 7% on half year results
At some point they become cheap enough to buy in for those possible futures
But what actually is that point of cheap enough?
Rolls Royce (LON: RR) shares are down 7% this morning on the back of the half year results. Revenue is up, underlying operating profits are down and the loss for the period has soared. That's not the sort of cocktail of news shareholders were hoping for to be fair about it. As one source put it "a cocktail of snarled supply chains and soaring inflation" led to these results.

As the results themselves say "Focused on operational and commercial drivers to address risks and deliver better performance" and as ever the art of reading a corporate release is in what is not said. They've not said that things are going great guns, that there's a plan right around the corner to improve matters. Therefore things aren't going great and there isn't that plan. They're working at the margins – to slice costs if possible, to boost revenues where that can be done. There's no grand leap about to happen.
Which is, of course, more than just a pity. The factor that has done most to depress the Rolls Royce share price was of course lockdown. Money is made selling jet engines to airlines, yes it is. But the real cash comes from the maintenance of those, which is charged per flying hour. As most fleets were grounded that killed that revenue flow. Now, as the airlines lumber back into the skies this should improve. But it's the long haul, large jet – where the RR engines are concentrated – business that's taking the longest to recover. So too RR's revenues from this.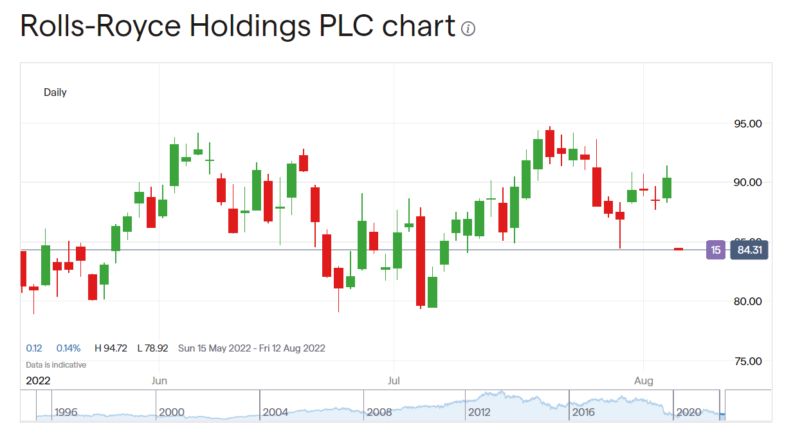 Also Read: How To Buy Rolls Royce Shares
As to the future for Rolls Royce shares. There's a definite thought that at some point they're simply a buy. Even thinking of them as a sort of option on events. One set of thoughts is simply that airline traffic will recover, those billable hours will rise and this will boost the bottom line.
It's also possible to think that there are two very different long term events that will aid the RR share price. One is the modular nuclear business. These little reactors definitely work. The big question is going to be licencing. Will anyone actually allow them to be deployed? That's going to require substantial government backing – not in money, but to get through planning.
The other is something much more ephemeral. It's this Net Zero business. There's one way to reach this, which is that short haul flights be done in battery powered planes. Maybe hydrogen can be used for long haul. Or, of course, everyone just flies a lot less. Any of those is not a positive for Rolls Royce. But it's also possible that synthetic jet fuel becomes an economic reality. It's already being made, but it's expensive. If it becomes cheap then RR, and the current structure of the world's aviation business, can continue as is. Economy synthfuel is the big long term bet for RR – it's worth thinking about probabilities there.