Key points:
Petropavlovsk has just confirmed that there is unlikely to be aa recovery for equity
This emphasises the sanctions risk at Polymetal
Even unintended consequences will not lead to a rule change
Petropavlovsk (LON: POG) has just confirmed a lesson we need to keep in mind about Polymetal (LON: POLY) – that golds, gold miners, can indeed go to zero. Even, in the current situation, entirely profitable gold miners can go to zero. Yea, even in inflationary times when digging the yellow stuff out of the ground can be seen as that grand hedge against government money creation.

The issue is, of course, sanctions upon Russia over the Ukraine. The confirmation is from Petropavlovsk 2010 Limited (LON: 75YX) given that POG is already suspended. In fact, POG is already in administration if we're to be fully detailed about it. The confirmation is that there's likely nothing left for the equity – golds can go to zero: "If and when completed, the sale to UMMC is for a total consideration of more than $600m. The Administrators anticipate that the sale proceeds will be sufficient to pay the creditors in full but without any return for shareholders." The actual release is about how there are court cases to consider and so on but that doesn't concern us as equity investors.
The issue was, of course, those sanctions. Petropavlovsk wasn't sanctioned, the directors weren't the business isn't – but their bank was. The working capital was financed by forward sales of gold to their bank – a usual tactic. Sanctions meant POG could deliver gold to Gaszprombank, couldn't refinance the loan – even if they could – because that would mean paying off the bank and, well, there was no way out. Thus POG entirely busted.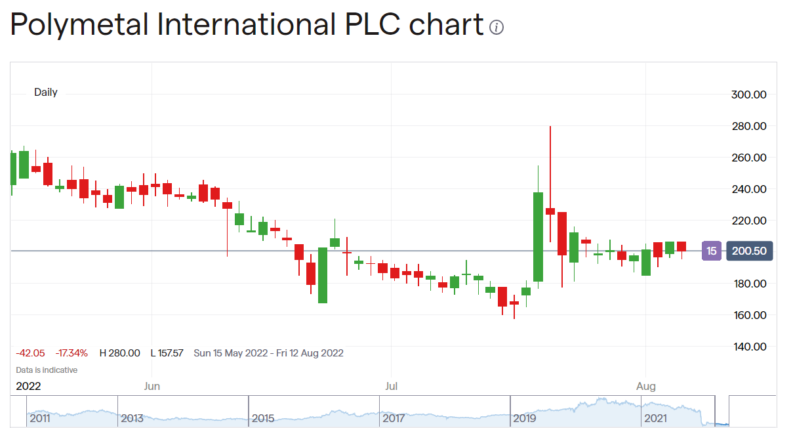 Also Read: 5 Best Gold Stocks To Buy Right Now
Given that markets – and therefore we as traders – are forward looking the lesson to be learned here is about Polymetal and other such shares. Polymetal is also a gold miner. The business is roughly split between Russia and Kazakhstan. POLY is not directly sanctioned – nor is it's bank, any directors and so on – but that hasn't saved it from certain problems. Of course a strong rouble depresses results, sanctions have meant having to use local – less efficient – contractors. The ADR programs (POYYF and AUCOY) have been suspended, it's not possible to contact, as a British company, the Russian shareholder base – Euroclear no longer speaks to NDS. That could make paying a dividend difficult.
There is the plan to split the company into the Russian and Kazakh portions but this is still just a plan. The lesson we need to take from Petropavlovsk though is that we do, in Polymetal, face sanctions risk. The big one being that even if sanctions hit a company which shouldn't be hit – no one did want POG to be killed off just because it used Gazprombank – then they're not going to change the rules in order to prevent this. Those sanctions are as they are and there will be no variances. Unintended consequences, well, tough, eh?
And that is the risk we face at Polymetal. Not that anyone wants to sanction the company but if they do, by chance, then they'll not change course, policy nor the rules.