The SoftBank Group Corp – ADR (OTCMKTS: SFTBY) stock price fell premarket after its Vision Fund investment arm lost money again in the quarter that just ended, despite a rebound in tech stocks. In addition, the lack of a new share buyback program further fueled SoftBank's stock price decline.

---
YOUR CAPITAL IS AT RISK. 81% OF RETAIL CFD ACCOUNTS LOSE MONEY.
---
The company reported its earnings results yesterday, which showed that its Vision Fund still lost money in Q1 2023. The surprising loss was driven by significant markdowns in SoftBank's private investments, even as its public investments, such as Didi Global Inc., rose 20% and Coupang Inc., rose 9%.
Top Broker Recommendation
YOUR CAPITAL IS AT RISK. 68% OF RETAIL CFD ACCOUNTS LOSE MONEY
SoftBank's loss-making entities included ARM, the chip-manufacturing giant, for which SoftBank is considering a massive tech IPO worth as much as $10 billion. Given ARM's lofty valuation, the company sees the exit as an excellent opportunity to generate much-needed cash.
The company had to mark down the valuations of about 350 companies, which mainly had stayed the same during the rough operating period last year as central banks raised interest rates, making it difficult for most growth companies to raise capital.
An analyst noted that SoftBank had yet to mark down the value of many of its companies by more than 20%.
The British chip designer ARM Ltd confidentiality filed for a US listing in April. Many speculate that an actual IPO may be conducted in September this year as SoftBank is busy lining up the banks that shall participate in the IPO, which will be a massive one.
The just-ended quarter marked the end of SoftBank's financial year, where it reported a loss of ¥297.5 billion ($2 billion) in the Vision Fund during the three months that ended in March 2023, compared to the ¥2.2 trillion loss recorded a year earlier.
The Vision Fund lost a total of ¥4.3 trillion for the full fiscal year, almost double the record loss of ¥2.6 trillion incurred the previous year. The company described its performance during the past year as "Total Defense" as its losses ballooned.
The fund lost about $3.9 billion on its private portfolio during the quarter while gaining about $1.9 billion from its public firms.
*This is not investment advice.
SoftBank (SFTBY) stock price.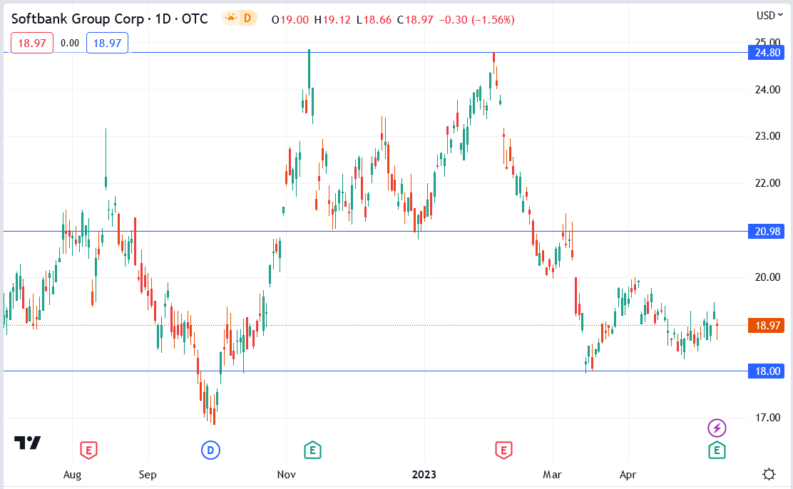 The SoftBank (SFTBY) stock price fell 3.68% in Japan after its Vision Fund lost money despite the tech stock rebound.
---
YOUR CAPITAL IS AT RISK. 81% OF RETAIL CFD ACCOUNTS LOSE MONEY.
---