Key points:
Spotify stock price has fallen 53% in 2022 but could have bottomed.
Morgan Stanley just lowered their price target on the music streaming firm.
So, when is the right time to buy Spotify stock? Read on to find out.
The Spotify Technology SA (NYSE: SPOT) stock has fallen 53% in 2022 but could have recently bottomed, as shown in the daily chart below. However, the question in investors' minds is, what comes next for the company if it has bottomed?

In an investor note issued today, Morgan Stanley analyst Benjamin Swinburne lowered his price target on the music-streaming giant from $170 to $140 but maintained an overweight rating on the company.
Also read: 12 Best Shares To Buy As A Beginner.
Swinburne pointed out that while Spotify has underperformed this year, he still expects the global music streaming industry to keep growing in double digits for the foreseeable future, even with the slowing economic growth.
Turning to the technical picture, we see that Spotify stock has formed a bottoming pattern on the daily chart below. In addition, the music streaming company has been trading sideways since mid-May, when it bottomed at $90.86.
Since then, the stock has been trading in a tight range, with a high of $117 and a low of $90. However, the stock is trading near the top of the range and seems ready to break out and head higher.
A break higher could lead to a rally up to the $159 level, which is above the $140 price target set by Swinburne. Still, this target is reachable if we get a decisive break above the current resistance level.
Later this week, we expect the Federal Reserve to announce its interest rate decision, with many analysts expecting a 75 basis points hike. However, there is also a possibility that the FOMC could go with a 100 basis point hike.
We have seen stocks rally after Fed rate hikes in the past, but there are no guarantees we will see the same this week. As a trader, I would wait for the Fed decision on Wednesday before deciding whether to buy. My buying criteria would be a break above the resistance zone.
*This is not investment advice. Always do your due diligence before making investment decisions.
Spotify stock price.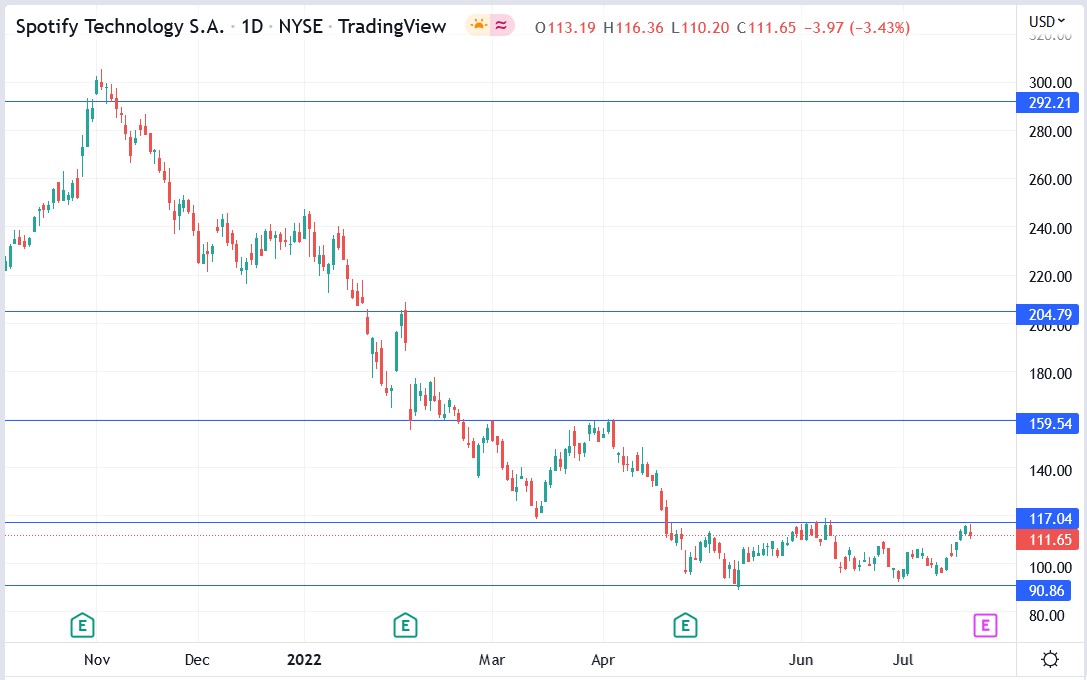 The Spotify stock price has fallen 53% this year but could have bottomed. What's next?