Key points:
GeoVax Labs (GOVX) stock price surged 92.12% despite no news.
The rally was primarily fueled by positive investor sentiment.
So, should you buy GOVX stock? Read on to find out.
The Geovax Labs Inc (NASDAQ: GOVX) stock price surged 92.12% today despite the clinical-stage biotech company not making any announcements. Significant price moves not driven by a news event are usually fueled by investor sentiment.

In GeoVax's case, today's rally in its stock price was driven by significant buying pressure from investors since over 10.6 million GOVX shares had changed hands at the time of writing. Given that GOVX is a penny stock, one does not need much money to pump its price.
Also read: The Best Biotech Stocks Under $5 To Buy Right Now.
For example, GOVX stock was trading slightly above $1 at writing, which is the buying power most individual traders at Hedge Funds and Proprietary trading desks control. Hence, a few traders control the price movements in GOVX stock.
Given its affordable pricing, GOVX stock has also attracted significant attention from retail traders since they can buy a substantial number of its shares compared to stocks trading at higher prices. Hence, we cannot discount the role that retail investors could play in pushing up GOVX's stock price.
The last significant announcement from Geovax Labs was regarding the appointment of John W. Sharkey, PhD, as the vice president in charge of Business Development in mid-June. The biotech company also participated in a conference call hosted by Maxim in late June.
However, there have been no announcements from the company in July, which is why the latest move is primarily driven by positive investor sentiment. So, should you buy GeoVax shares? The answer is not after today's rally. It is never a good idea to chase a stock higher.
The best action is to wait for the stock to pull back or before buying. Remember that significant pullbacks usually follow parabolic (sharp) rallies.
*This is not investment advice. Always do your due diligence before making investment decisions.
GeoVax Labs stock price.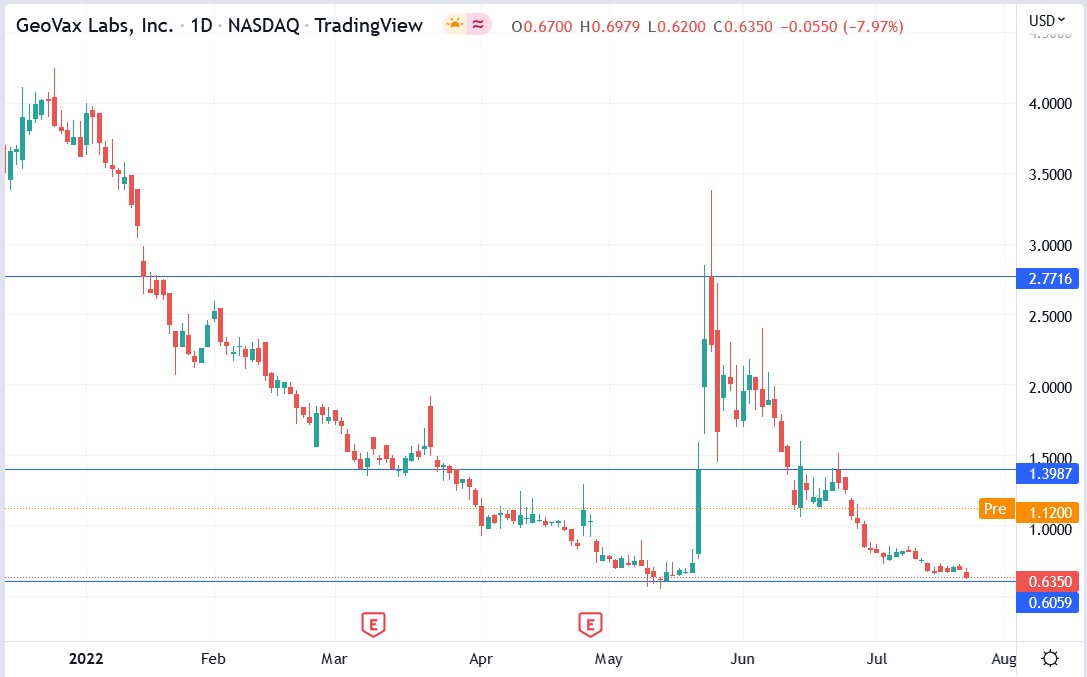 The GeoVax stock price soared 92.12% to trade at $1.220, rising from Friday's closing price of $0.6350.