Key points:
Twitter's price target was today lowered by a Cowen analyst.
The company has the upper hand in its court battle with Elon Musk.
As a result, the firm's prospects are pretty uncertain.
The Twitter Inc (NYSE: TWTR) stock price has risen 8.79% in the past week despite the social media company reporting weaker-than-expected Q2 earnings results. The company's Q2 revenues fell to $1.18 billion, representing a 1% drop compared to last year.

However, the revenues missed analysts' estimates of $1.32 billion by 11%, which was a big surprise. The company attributed the lower profits to industry-wide trends that have seen social media advertising shrink and to the uncertainty triggered by Elon Musk's takeover of the firm.
Also read: Best Cheap Tech Stocks Under $10.
The company is currently suing Musk for cancelling the acquisition, saying that it did not breach any disclosure terms despite Musk citing the presence of bots as the main reason for cancelling the takeover.
Twitter's stock price target was today lowered to $22 by John Blackledge, an analyst at Cowen, based on its Q2 earnings and the lack of guidance for Q3 and the rest of the year.
Many legal experts believe that Twitter has the upper hand in the court case since many do not see the lack of disclosure on accounts created by potential bots as the main reason behind Elon Musk's decision not to go ahead with the acquisition.
It is public knowledge that Elon Musk's net worth took a hit in recent months after Tesla's stock fell significantly, which many believe is one of the reasons why he cancelled the deal to protect his net worth since he was supposed to spend over $20 billion of his fortune on the acquisition.
It could also be argued that Elon Musk was suffering from buyer's remorse following the decline in Twitter's stock price to below $40, yet he agreed to buy the company's outstanding shares for $54.20 per share.
Experts who say that Twitter has the upper hand in the case may be right, given that the company just won a crucial battle over the scheduling of the trial, which is set for October, instead of February as Musk had requested.
A billionaire hedge fund manager is said to have accumulated a significant stake in Twitter in anticipation of Musk losing the case and being forced to buy Twitter for $44 billion.
*This is not investment advice.
Twitter stock price.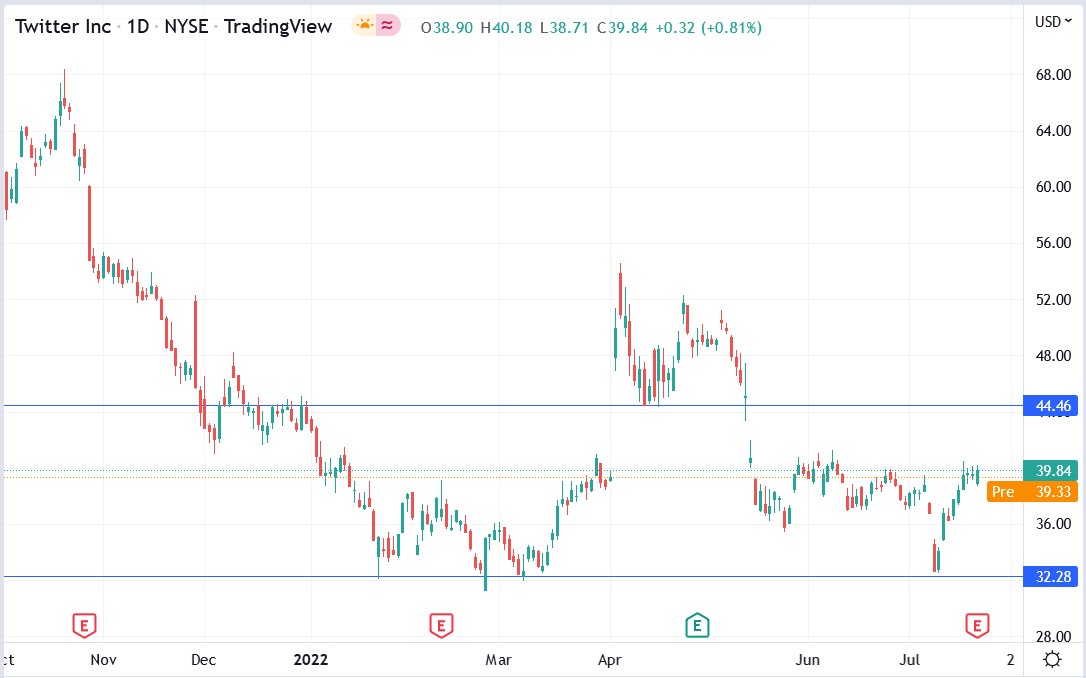 The Twitter stock price has risen 8.79% in one week despite poor earnings. What's next?