Latest

21:05


US Indices Close Lower

US indexes have closed over 1% lower after Trump's tweets regarding the stimulus bill (see post below).

US House Speaker Pelosi has since come out and said that Trump is putting himself before the nation.

DOW          -1.34%

S&P 500    -1.40%

NASDAQ   -1.57%

Risk assets took a hit after the comments with the US dollar also gaining strength.
Today

19:57


Stocks Tumble

Stocks have taken a tumble after President Trump tweeted that he is rejecting the Democrats stimulus proposal and has instructed his representatives to stop negotiating until after the election.

https://twitter.com/realDonaldTrump/status/1313551794623127552

DOW            -0.63%

S&P 500      -0.84%

NASDAQ     -0.98%
Today

17:25


Apple To Hold Special Event

$AAPL: -1.34% $114.94

Apple has announced an event on the 13th of October where it is expected to reveal the new iPhone according to CNBC.
Today

16:44


European Markets Close

European indexes closed higher in positive territory…

FTSE 100     +0.08%

DAX              +0.62%

STOXX 50   +0.42%

IBEX 35       +1.39%

CAC 40        +0.48%
Today

16:26


Boeing Update...

So, since I posted the below Boeing shares have plummeted over 3% to $165.37.
Today

16:10


Boeing Cuts Demand...

$BA: +1.61% $173.92

Boeing cuts its rolling 20-year aeroplane demand forecast by 2% to 43,110 units.

The company also cuts annual passenger traffic growth forecast to 4% from 4.6%.
Today

14:58


Alteryx Shares Jump 27%

$AYX: +27% $145.50

ALTERYX (AYX) STOCK SURGES AFTER UPDATING Q3 REVENUE GUIDANCE

"Data analytics specialist Alteryx (NYSE: AYX) shares have surged 21% after the company upgraded its third-quarter revenue guidance and announced its new CEO."
Today

14:34


US Markets Open

DOW          +0.09%

S&P 500    +0.02%

NASDAQ   -0.08%
Today

14:15


Pioneer Power Solutions Shares Jump 90%

$PPSI

Pioneer Power Solutions is the biggest premarket mover today. Its shares are up 89.17% at $2.97 per share.

We are yet to see any specific stock news.
Today

12:36


Westwater Resources Stock Surges

$WWR: +58% $13.13

Westwater Resources stock has surged premarket on heavy volume after the company praised an executive order signed by US President Donald Trump on the 30th of September that will help the development of Graphite suppliers in the US.
Today

11:02


UK Stock Movers
Gainers:
Marsh & McLennan (MHM) +42.79%
Wishbone Gold (WSBN) +28.39% –  WISHBONE GOLD SHARES SURGE ON NEWS OF PATERSONS ACQUISITION OPTION
Rockhopper Exploration (RKH) +22.68%
Losers:
St James House (SJH) -11.11%
Okyo Pharma (OKYO) -10.37%
Prophotonix (PPIX) -9.63%
Today

09:37


Rockfire Resources Shares Climb 42%

Gold and base metal exploration company, Rockfire Resources (LON: ROCK) shares have surged 42.97% to 1.252p per share after the company provided an update on its diamond drilling activities at the Plateau gold deposit in North Queensland, Australia.

The company said it found that results from a second hole drill have returned the largest gold intersection so far at Plateau.

ROCKFIRE SHARES SURGE 48.7% ON NEW GOLD FINDINGS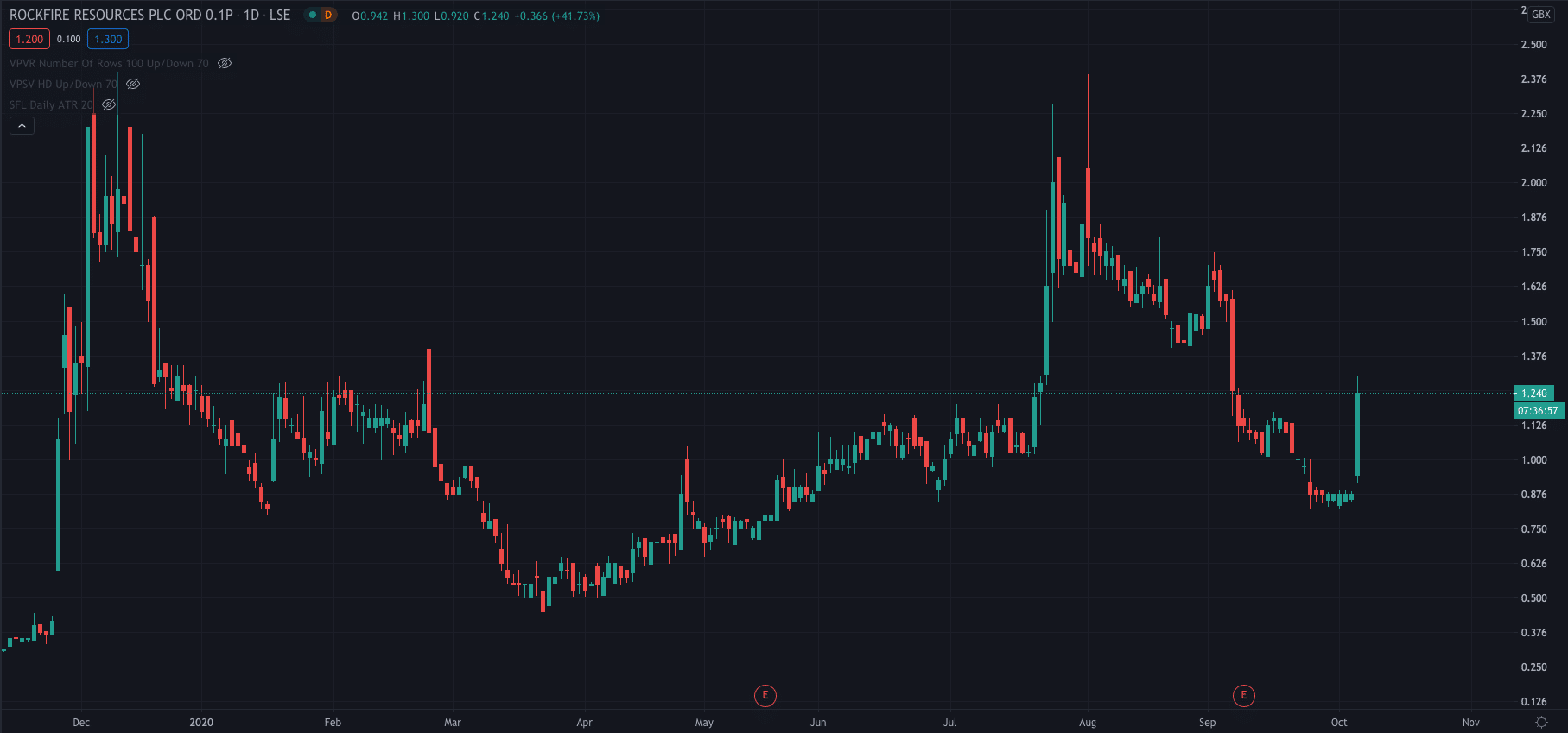 Today

09:08


Watches Of Switzerland Shares Rally

HERE'S WHY WATCHES OF SWITZERLAND SHARE PRICE SKYROCKETED 24% TODAY

"Shares of Watches of Switzerland Group (LON: WOSG) skyrocketed over 24% to record fresh all-time highs after the company raised full-year guidance."
Today

09:00


Volga Gas Shares Surge

Volga Gas (LON: VGAS) shares have surged 22.92% after the company announced a "potentially significant" discovery of a new oil field in its exploration drilling programme.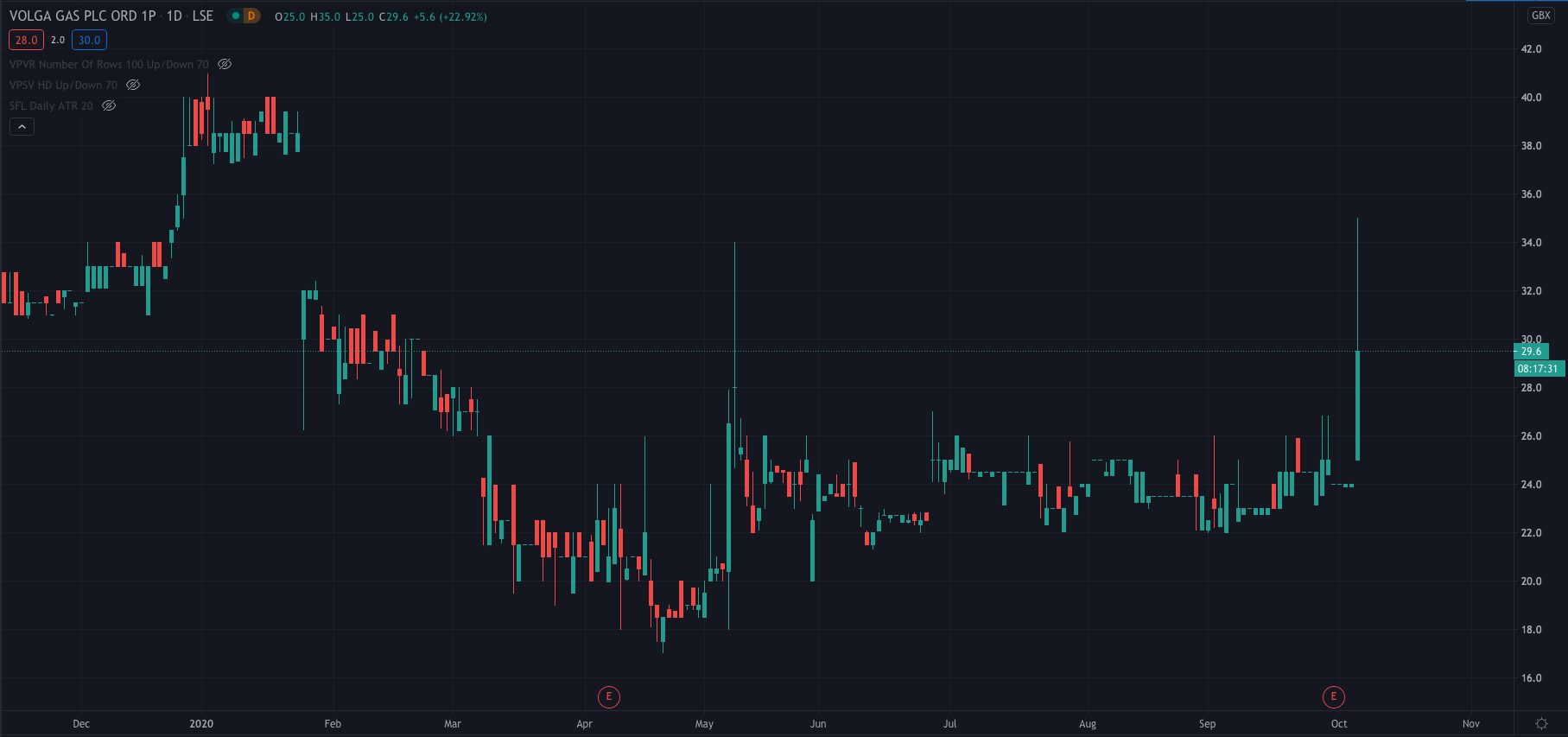 Today

08:43


European Indexes

FTSE 100     -0.52%

DAX              -0.07%

STOXX 50   -0.17%

IBEX 35       +0.47%

CAC 40         -0.06%
Today

07:45


Preview

Good morning all…

-Asian markets traded positively overnight

-US President Trump left the Walter Reed Medical Centre and returned to the White House

-The RBA held interest rates steady at 0.25%. The central bank said that fiscal and monetary support will be required for some time

-A report by Bloomberg stated that the US House Panel will recommend the break up of tech giants

-On today's calendar we have Canadian and US balance of trade data and the ECB President Lagarde will be speaking

-Levi's, Paychex and Landec are reporting earnings today.