Latest

21:05


US Equities Close Positively

DOW          +0.57%

S&P 500    +0.89%

NASDAQ   +1.39%
20:21


US Equities Trading Higher

As we head into the final half an hour of trading US equities are trading positively after US President Trump called for a larger coronavirus stimulus package.

DOW          +0.61%

S&P 500    +0.92%

NASDAQ   +1.30%
19:45


Stimulus bill update...

Trump has said that he wants more stimulus than either side is offering.

A tweet from @Drew_Hammill, US Deputy Chief of Staff for house democratic leader Nancy Pelosi says that Pelosi and Mnuchin spoke for just over 30 minutes, with Pelosi concerned about the lack of a plan to "crush the virus".
17:09


US Stimulus Package

So, an update on the US stimulus package after some news in the last hour…

-Around half an hour ago news broke that Trump approved a revised stimulus package

-Apparently, he met with Mark Meadows and Steven Mnuchin

-Trump then tweeted saying that "Covid Relief Negotiations are moving along. Go Big!"

-Kudlow said that Mnuchin is to meet with Nancy Pelosi to work on the "final touches".

-Kudlow said the package would include Airlines, PPP, and aid for small businesses.

-According to the Wall Street Journal, Mnuchin is to present Pelosi with a $1.8 trillion aid counteroffer
16:44


European Equities Close...

FTSE 100    +0.65%

DAX             -0.01%

STOXX 50  +0.49%

IBEX 35      -0.61%

CAC 40        +0.71%
16:31


US Large Cap Stocks

Apple +1.08%

Amazon +1.98%

Microsoft +1.49%

Alphabet (Google) +1.18%

Facebook +0.05%

Tesla +1.63%

Netflix +2.13%

Gains!
15:43


SpartanNash Stock Up 25%

$SPTN: +25.09% $21.29

SpartanNash shares are up 25% after the company disclosed that it issued warrants to Amazon (NASDAQ: AMZN) as part of a commercial agreement with the company.

As part of the agreement, the company has issued to Amazon.com NV Investment Holdings LLC a warrant to purchase up to an aggregate of 5.4 million shares in the company.

Via Seeking Alpha
14:14


VivoPower Stock Rallies

$VVPR: +35% $13.67

VivoPower International stock has rallied premarket after the company announced that it has signed a definitive agreement to acquire a 51% shareholding in Tembo e-LV.
14:11


US Stock Premarket Gainers

Sanchez Midstream Partners +197.30% – SANCHEZ MIDSTREAM SHARES SURGED 280% TODAY, HERE'S WHY

US Well Services +73.93%

Medigus +50% – MEDIGUS (MDGS) STOCK SURGES, HERE'S WHY…
14:09


Extreme Networks Stock Jumps

"Cloud company, Extreme Networks (NASDAQ: EXTR) has provided an update on its Q1 2021 earnings outlook sending its stock price surging premarket."

Full Story: EXTREME NETWORKS (EXTR) STOCK JUMPS
11:00


Marstons Share Price Jumps 18%...

Marston's shares are up 18% at 49p per share after the company announced that the Competition and Markets Authority have cleared the company's proposed £780 million joint venture with Carlsberg.

The transaction will be completed at the end of October 2020.
10:16


Gfinity Shares Surge

"Shares of Gfinity PLC (LON: GFIN) have surged 31.3% after the company announced that it was looking for a potential buyer. The international esports company based in London decided to start the sales process given its progress over the financial year ended June 30, 2020."

GFINITY SHARES SURGE 31.3% AS SALES PROCESS BEGINS
09:03


Rolls-Royce

Rolls-Royce shares are up another 24% so far today at 242.80p. Its share price has gained over 100% in the last week.

Rolls-Royce has seen heavy buying in the past week after with one senior investment analyst saying that investors are on a bargain hunt. A recent article by a research company also cited Rolls-Royce's role in the transition to clean energy.

Full Story: ROLLS-ROYCE SHARE PRICE IS UP OVER 100% THIS WEEK. HERE'S WHY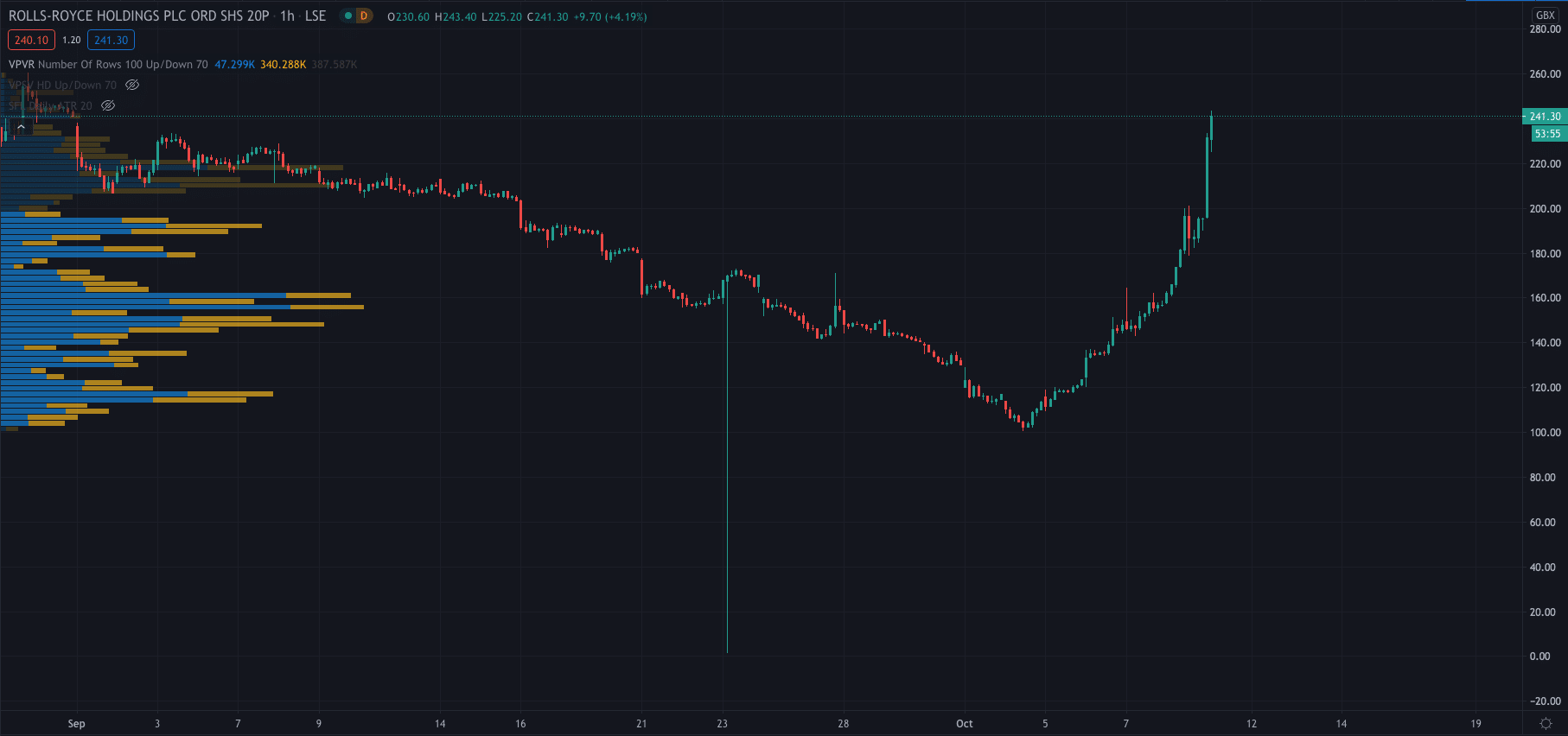 07:45


Preview

Morning people…

-Asia-Pac markets traded mixed overnight

-GameStop shares skyrocketed yesterday, closing 44% higher after announcing a multi-year partnership with Microsoft

-Reports have stated that US President Trump said he is open to a broader relief deal

-Saudi Arabia is reportedly considering cancelling OPEC plans to boost oil output

-In FX markets risk currencies are trading positively this morning, despite a slight pullback

-On today's calendar we have Canadian employment numbers and US wholesale inventories