Latest

21:05


US Markets Finish Positively...

DOW         +0.88%

S&P 500   +1.66%

NASDAQ  +2.56%
19:33


The Nasdaq is Flying

The Nasdaq is on course for its best day in around six months, trading 3.28% higher.

Tech stocks are having a strong day…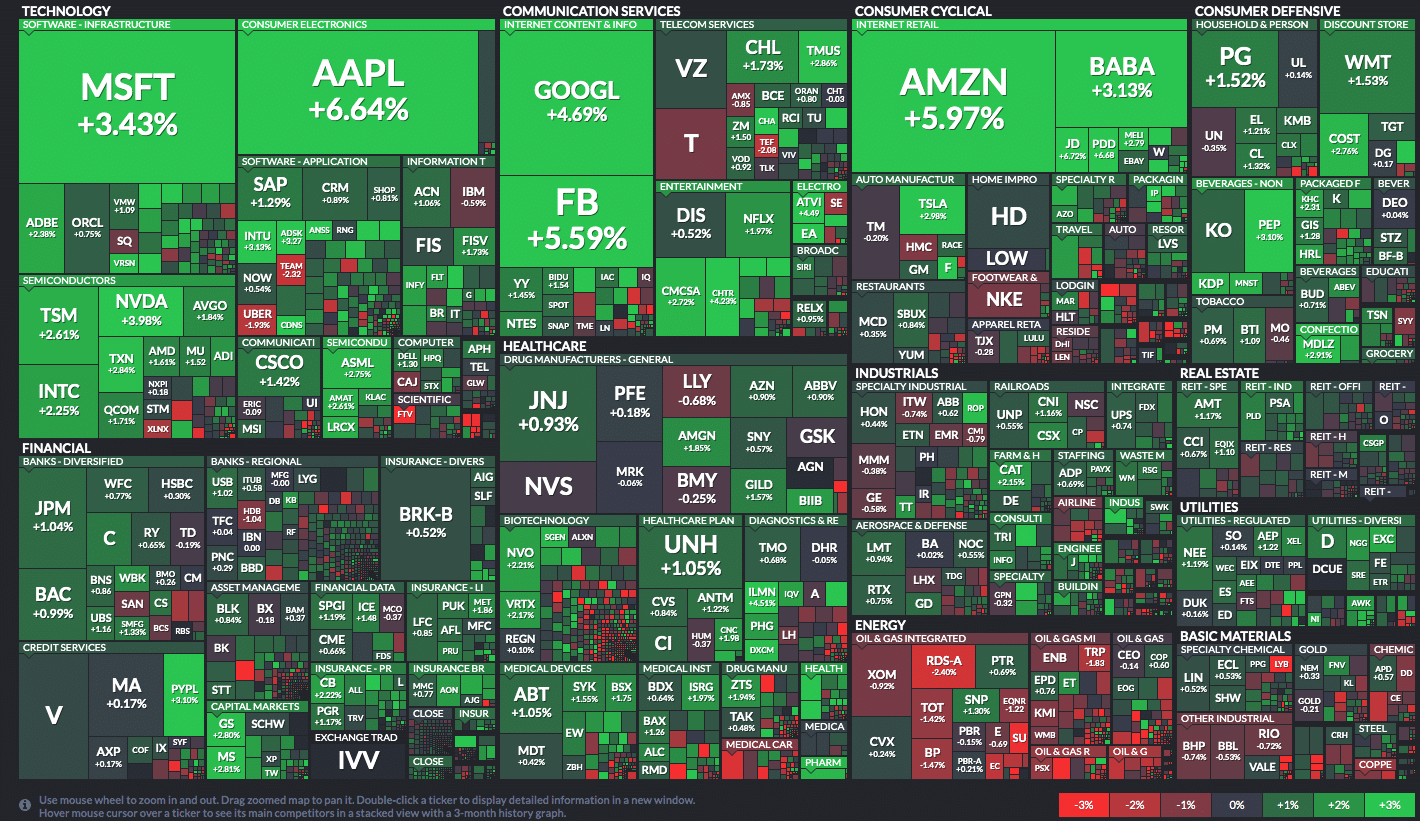 17:07


Apple Shares Rally

Apple's share price has staged a strong rally so far today, currently trading up 5% at $123.02 per share having reached as high as $123.63 earlier in the session
16:54


European Indexes Close

FTSE 100        -0.23%

DAX                 +0.65%

STOXX 50      +0.77%

IBEX 35          +0.00%

CAC 40           +0.66%
16:07


Alphabet (GOOGL) Shares Up 2.44%

$GOOGL: 2.44% $1,547

Alphabet shares are trading higher after an analyst at Deutsche Bank hiked his price target to $2,020 from $1,975: Via CNBC

Google is also expanding the Youtube music experience for TVs.
15:44


US Stock Gainers

Here are the biggest US stock gainers so far today…

Medley Management (MDLY) +289.85%

Apex Global (APEX) +66.61%

Lizhi Inc (LIZI) +55.85%

Acorn International (ATV) +33.67%

Dillards Inc (DDS) +30.96%
14:38


Equities

Shortly after the US markets opening bell, here's how equities are performing…

DOW          +0.46%

S&P 500     +0.83%

NASDAQ    +1.48%

And here's how European indexes are getting on…

FTSE 100    -0.17%

DAX             +0.42%

STOXX 50  +0.62%

IBEX 35       -0.10%

CAC 40        +0.61%
13:14


LMP Automotive Shares Up 23% Premarket

$LMPX

LMP Automotive shares are up 23% premarket at $43.48 after the company announced on Friday evening that it has entered into a definitive agreement for the acquisition of a 70% interest in Atlantic Automotive Group and Atlantic Central Storage in a deal valued at $608 million.

LMP stated that "Upon closing and combined with our currently contracted acquisitions, LMP's revenues are expected to exceed $2.2B on an annualized basis in 2021, with approximately $70M in pre-tax income and expected net income of $4.59 per share, which would likely make LMP a newcomer to the Fortune 1000 list of companies with over 1,600 employees".
1148


Genedrive

"Shares of Genedrive PLC (LON: GDR) surged 8.12% despite the company not making any major announcements. Today's rally marks the third consecutive day that the stock has risen after breaking out of a sideways trading range."

HERE'S WHY GENEDRIVE SHARES SURGED 8.12% TODAY
09:58


Panoply (TPX) Shares Surge

The Panoply Holdings (TPX) shares have surged 17% to 144p per share after the company released a trading update saying that the company performed robustly for the period ending September 30th and that it expected revenue to rise 18% compared to the same period last year.

Panoply also said it was confident of delivering 10-15% like-for-like organic revenue growth for the full year.
09:55


British Airways Chairman to Step Down

"Shares of International Consolidated Airlines Group (LON: IAG), the owner of British Airways, dropped 0.6% to erase earlier gains on news that British Airways Chairman and CEO Alex Cruz will step down."

BRITISH AIRWAYS: HERE'S WHY IAG SHARE PRICE FELL THIS MORNING
09:15


European Equities Mixed

FTSE 100      -0.14%

DAX               +0.15%

STOXX 50     +0.15%

IBEX 35          -0.19%

CAC 40           +0.16%
07:45


Preview

Morning all…

-Overnight Asia-Pac markets traded positively with Chinese indexes making strong gains. However, the Nikkei was the outlier, closing 0.26% lower

-US stimulus bill negotiations have stalled after the latest offer was rejected

-Over the weekend UK Prime Minister Boris Johnson said that Britain is committed to exploring every avenue to reach an agreement

-Boston Red Sox and Liverpool FC owner John Henry is in talks with an investment vehicle for an $8 billion deal that would take his sports group, Fenway Sports Holdings, public

-This morning, news broke that the Bank of England has asked banks about their readiness to implement zero or negative rates. However, it did specify that the central bank "is not asking firms to begin taking steps to ensure they are operationally ready to implement a negative bank rate".

-In FX markets US dollar pairs are mostly trading sideways

-Not much on today's data calendar, although there are speeches from ECB's Guindos and President Lagarde to look out for