Latest

21:05


US Stocks Close Positive...

US indices have closed positively following Moderna's vaccine news earlier today. The Dow Jones Industrial Average closed at an all-time high…

DOW           +1.60%
S&P             +1.21%
NASDAQ    +0.80%

The biggest mover of the day was Alterity Therapeutics. The biotechnology company's share price gained 153.48%, closing at $2.92.

Here is the full story on why its stock surged: ALTERITY THERAPEUTICS (ATHE) STOCK SOARS 147% AFTER US PATENT APPROVAL
Today

20:40


US Stock Performance

Healthcare stocks are overall lower today while energy and financial stocks ook to be the best performers as we head into the last 20 minutes of trading.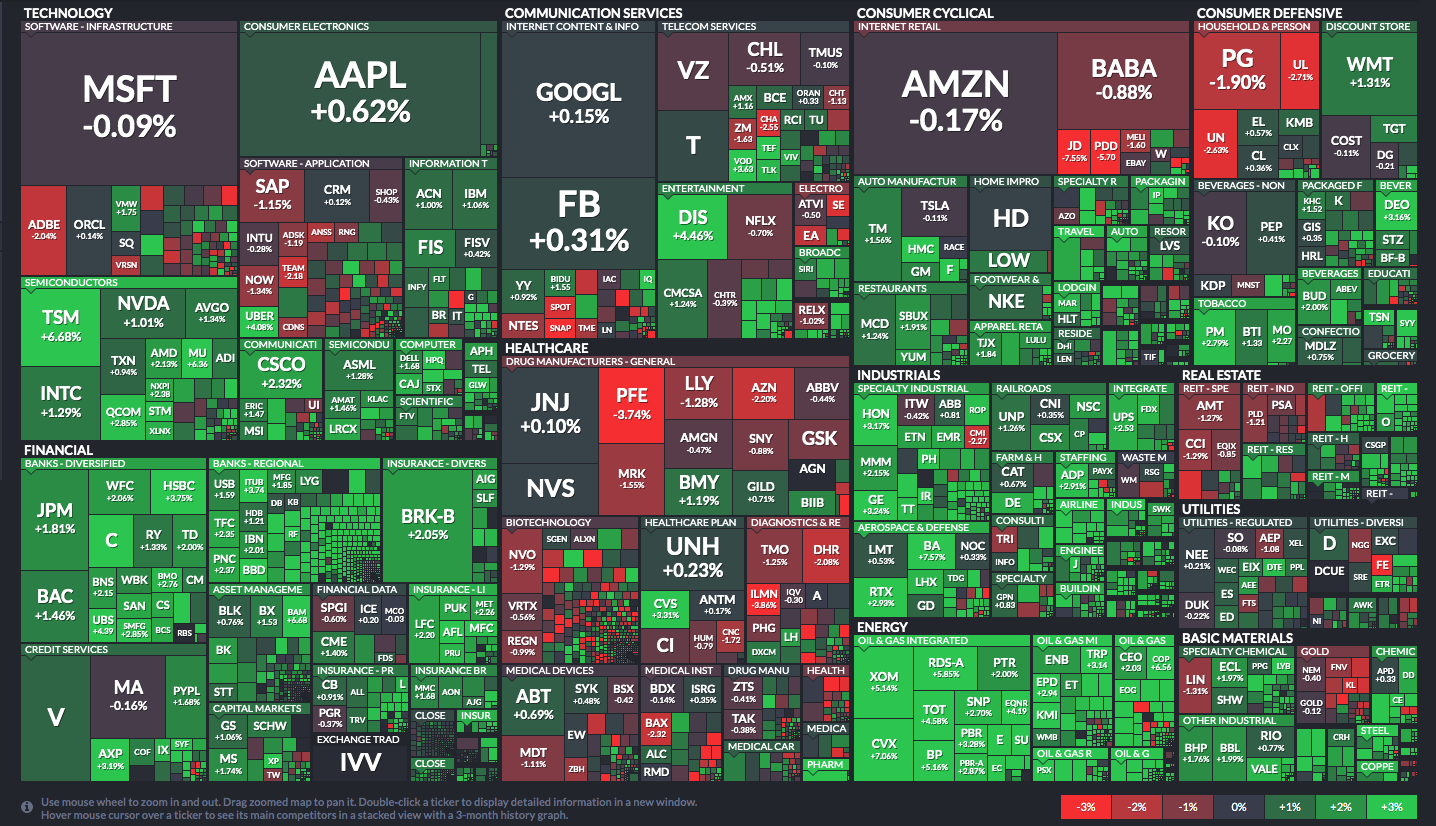 Today

19:13


Brexit

Sky News Europe Correspondent Adam Parsons has said in a tweet: "am told European Union is looking into way of fast-tracking any Brexit deal. Senior sources say it's now very likely to be an "EU-only" rather than "mixed" deal. Which, crucially, would mean it would NOT need ratification by all the member state parliaments."
Today

17:04


Alterity Therapeutics Shares Up Over 151%

Alterity Therapeutics shares are currently trading 129% higher at $2.64 after the company gained a US Patent approval for its compounds to treat neurodegenerative diseases such as Alzheimer's and Parkinson's disease.

Here's The Full Story: ALTERITY THERAPEUTICS (ATHE) STOCK SOARS AFTER US PATENT APPROVAL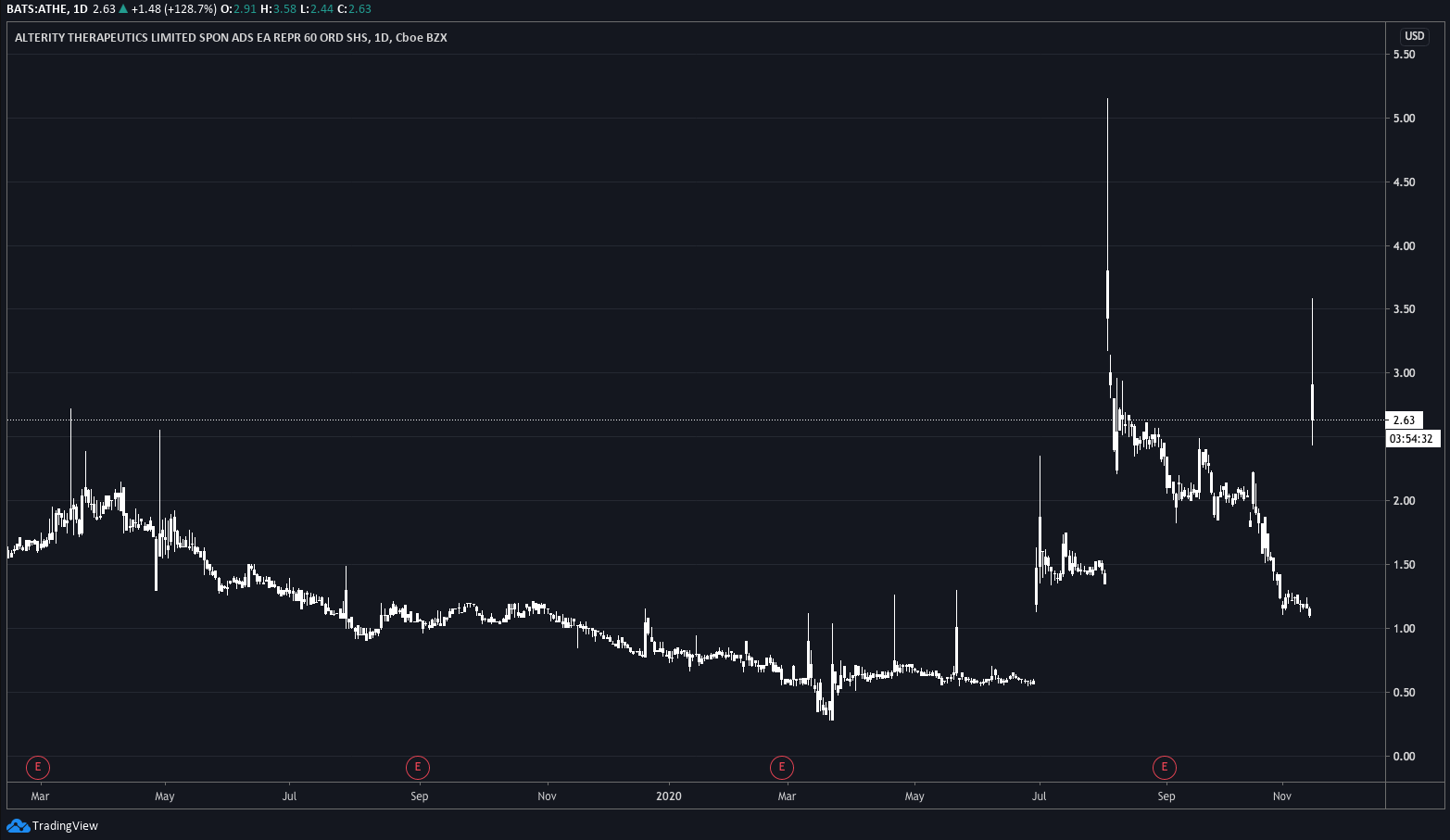 Today

16:40


European Equities Close Higher...

FTSE 100    +1.64%
DAX             +0.52%
STOXX 50  +1.01%
IBEX 35      +2.59%
CAC 40       +1.70%
Today

15:52


RAPT Therapeutics Stock Plummets

RAPT Therapeutics (NASDAQ: RAPT) shares have fallen over 48% to $15.76 today after the company reported its third-quarter earnings, missing analyst estimates for EPS but coming in above expectations for revenue.

EPS: -$0.60
Revenue: $1.53 million

RAPT also announced promising data from its ongoing Phase1/2 trial for FLX475 earlier today.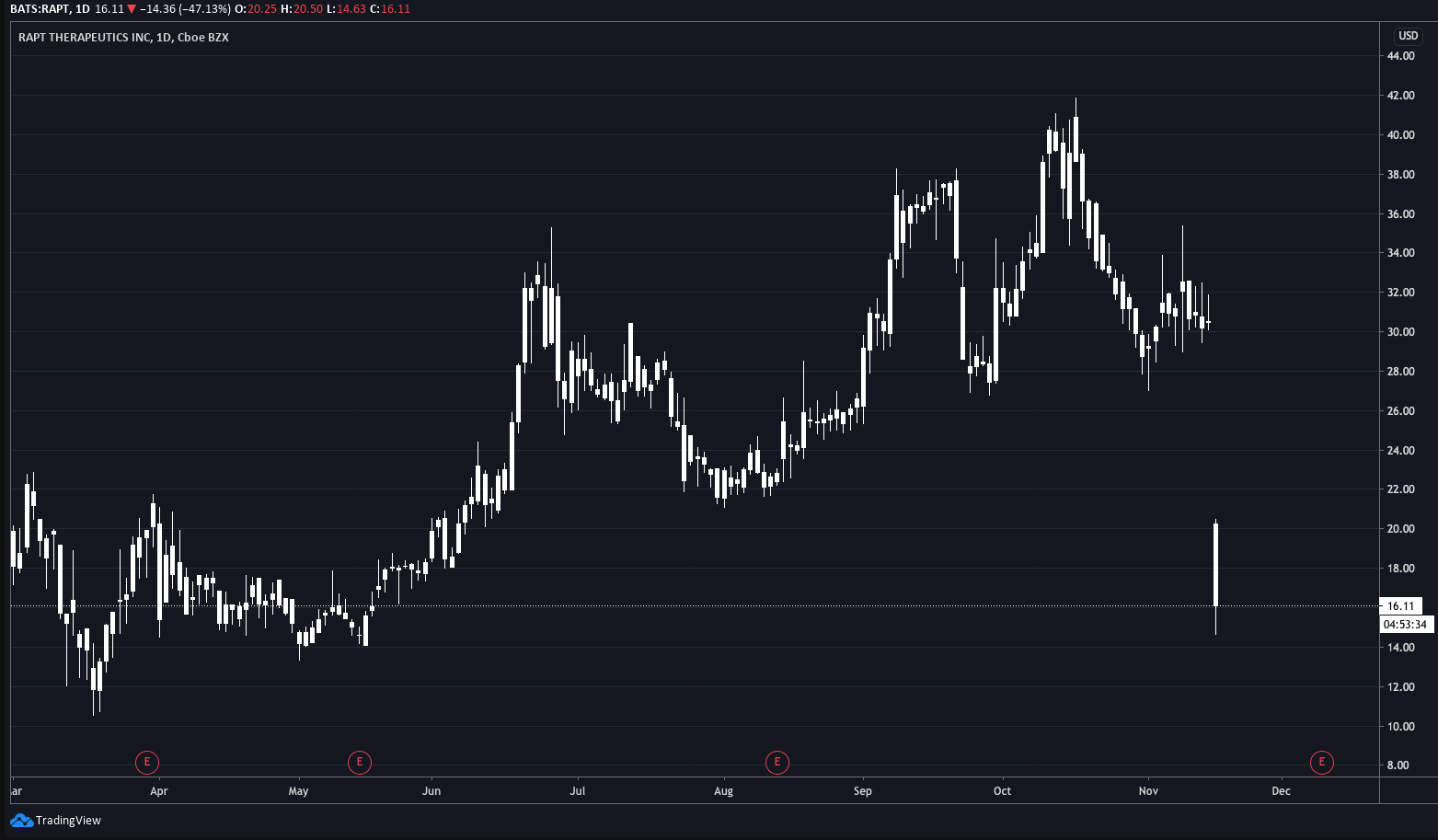 Today

14:39


US Equities Positive

DOW         +1.14%
S&P 500   +0.74%
NASDAQ  +0.47%
Today

14:03


BBVA Shares Surge

BBVA's (NYSE: BBVA) US-listed shares are up 18.72% at $4.44 premarket after it was announced that Pittsburgh-based lender PNC will buy the American unit of Spanish financial group BBVA for $11.6 billion.

The deal will be the second-largest banking merger since the global financial crisis.

According to a report by CNN once the deal closes it will mean that PNC will have more than $560 billion in assets, making it the fifth-largest retail bank in the US.
Today

12:15


Moderna Coronavirus Vaccine

Moderna's Phase 3 study has shown that its vaccine candidate is 94.5% effective according to interim analysis of its data.

Its trial involved 30,000 people and the analysis was based on the first 95 people to develop COVID-19 symptoms, with only five of the people given the vaccine and 90 given the placebo.

Eleven cases of sever Covid occurred in the trial but none were people who were immunised.

Moderna's vaccine is expected to remain stable at standard refrigerator temperatures of3-8 degrees for 30 days.

MODERNA SHARES SURGE 18.4% ON COVID-19 VACCINE PHASE 3 STUDY RESULTS
Today

11:03


IAG Shares Jump

Shares of International Consolidated Airlines (LON: IAG), the owner of British Airways and other airline carriers, have surged 7.37%, extending gains from last week to 49% as investor ride the wave of optimism surrounding a potential coronavirus vaccine.

HERE'S WHY BRITISH AIRWAYS OWNER (IAG) SHARES SURGED 7.37% TODAY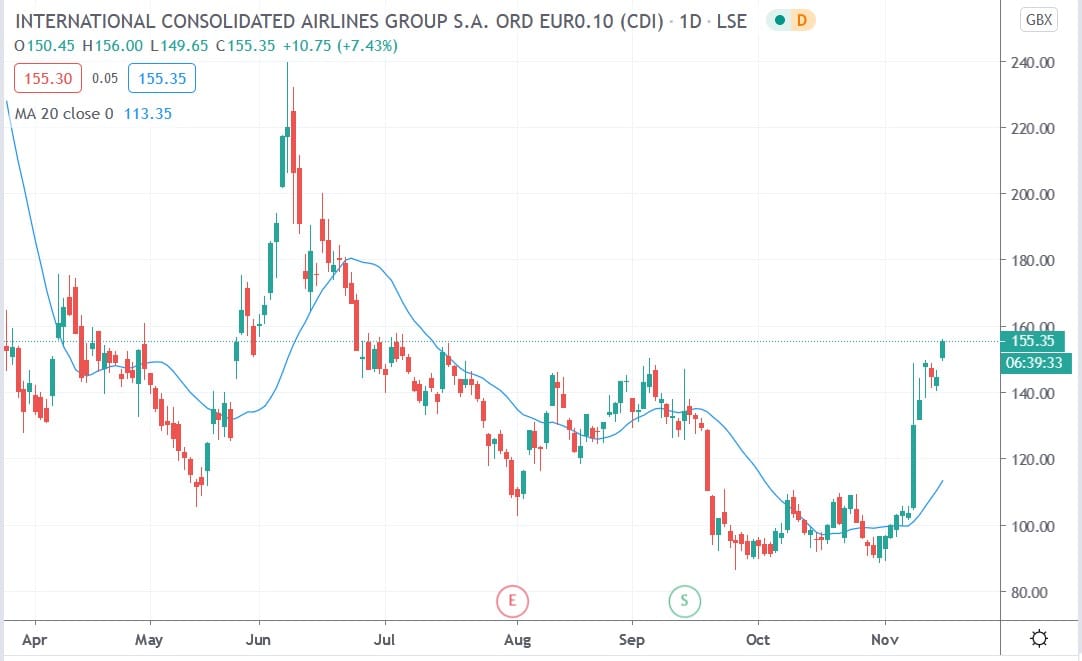 Today

10:36


UK Stock Movers

Ncondezi Energy Limited +36.84%: Ncondezi Energy Limited (AIM: NCCL) announced that it has signed a Supplementary Agreement to the Joint Development Agreement with China Machinery Engineering.

Block Energy +18.03%: Block Energy released an operational update revealing the construction of Block's gathering line between the EPF and the WR-38Z well has been completed on time and on budget. The company said the EPF is now ready to receive gas from wells.

The Barkby Group +17.95%:
Today

08:23


European Equities

FTSE 100    +0.65%
DAX             +0.77%
STOXX 50  +0.89%
IBEX 35      +2.37%
CAC 40       +1.00%
Today

07:40


Preview

Good Morning…

Equities
Overnight, markets in the APAC region traded positively with the Nikkei gaining over 2% and the ASX closing 1.23% higher.
US and European futures are also trading positively.

Covid-19
Cases in the US continue to increase.
Austria has announced strict lockdown measures that include an around the clock curfew. The measures will take effect tomorrow. Meanwhile, Germany looks set to tighten its lockdown restrictions.
UK Prime Minister Boris Johnson is self-isolating after coming into close contact with an MP who tested positive for the coronavirus.
Moderna's vaccine interim trial results are expected this week with experts saying it is also likely to have high effectiveness.

Brexit
UK ministers have said that trade deal talks could extend beyond this week with UK chief Brexit trade negotiator heading to Brussels for talks. UK government officials also stated that there will be no change in its Brexit policy after Senior Advisor, Dominic Cummings left his role.
Ireland has warned there will be no trade deal if the UK pushes ahead with legislation that breaks international law.

RCEP Trade Deal
15 nations in the Asia-Pacific region have signed RCEP which is labelled as the world's biggest free-trade deal. The Regional Comprehensive Economic Partnership accounts for around one-third of the world's population.

Stocks
General Motors has recalled thousands of electric vehicles after warning of battery fires. PNC is to buy the US arm of Spanish bank BBVA for $11.6 billion. Company's reporting today include JD.com, Baidu, Tyson, Remark Holdings and Boxlight.

FX
In FX markets the US dollar has weakened since yesterday evenings open, with markets taking a risk-on tone.

Economic data
On the calendar today we have US NY manufacturing, Canadian new motor vehicle and manufacturing sales and speakers from the RBA, ECB (President Lagarde), BoE and Fed.