Latest

21:02


US Equities Close In The Red

DOW         -0.75%
S&P            -0.69%
NASDAQ  -0.42%
20:34


FireEye Inc

Shares of cyber-security company FireEye Inc (NASDAQ: FEYE) jumped nearly 15% premarket on Friday after the company said it will receive $400 million worth of by Blackstone and security investment firm ClearSky.

As we approach the close its shares are up .81% at $15.21.

Here's the full story: FIREEYE STOCK JUMPS 15% AFTER BLACKSTONE LEADS $400M INVESTMENT
20:13


Pfizer Coronavirus Vaccine

Pfizer and BioNTech have applied for emergency use authorisation from the US Food and Drug Administration for their coronavirus vaccine.

The FDA process is expected to take a few weeks with an advisory committee meeting to review the vaccine tentatively scheduled for early December.
19:22


Precision BioSciences Shares Up 11%

Precision BioSciences shares are up 11% after initially rallying 38% premarket.

Here's the reason for its rally: PRECISION BIOSCIENCES STOCK RALLIES 38% ON ELI LILLY COLLABORATION
17:07


Citron Research Sets Price Target of $2 for SOLO

Citron Research has tweeted saying that Electromeccanica (SOLO) is a "complete joke" and they have a $2 price target for its stock.

The research firm said that SOLO has six cars delivered in two years and the company is "run out of an apartment building."

Here is the link to the tweet.
17:00


EV Stocks

Electric-Vehicle stocks are mixed so far today, although, AYRO, SOLO, and Workhorse are making strong gains…

Tesla -1.11%
Nikola  -1.22%
NIO +2.29%
AYRO +43.37%
Electrameccania (SOLO) +25.26%
Workhorse +9.13%
Fisker -5.00%
Kandi -9.78%
Li Auto +4.22%
16:37


European Indexes Close Green

FTSE 100    +0.25%
DAX             +0.40%
STOXX 50  +0.49%
IBEX 35      +0.62%
CAC 40        +0.39%
15:57


FTS International Shares Rally

FTS INTERNATIONAL STOCK SPIKES 48% AFTER EXITING BANKRUPTCY

Shares of oil company FTS International (NYSEAMERICAN: FTSE) have rallied on Friday after the company said it successfully completed its financial restructuring and has emerged from Chapter 11 bankruptcy.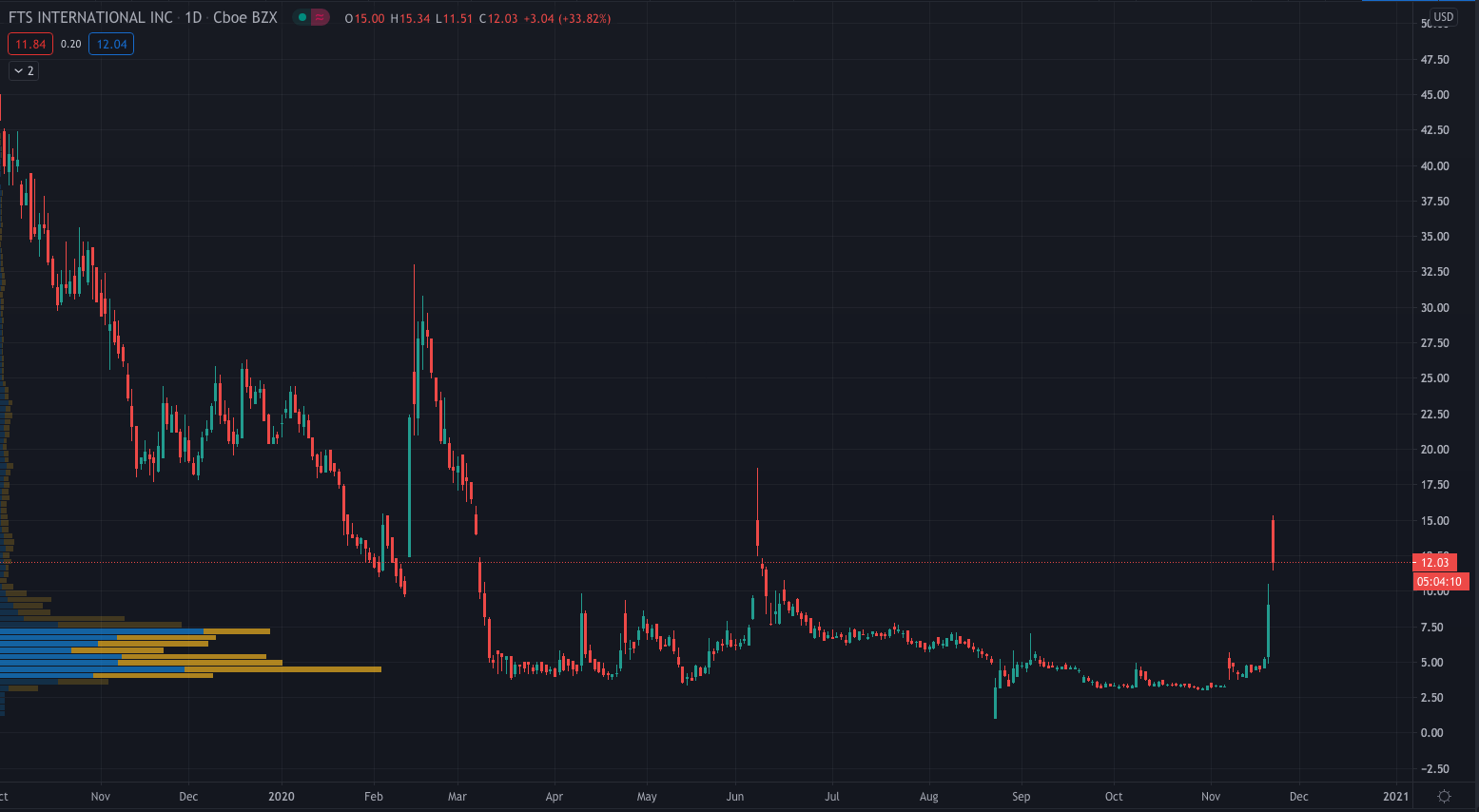 14:37


US Equities Fall

DOW         -0.20%
S&P           -0.16%
NASDAQ  -0.19%
13:21


Electric-Vehicle Stocks Continue to Rise

Electric vehicles stocks are rallying again this morning with relative newcomer Ayro up 28.80% so far premarket at $7.96. 

Yesterday saw Ayro gain 45.75%, closing at $6.18, while Tesla closed up 2.60%. Some of the other EV stocks that made moves were…


Workhorse +3.34%,
Kandi  +27%
Solo +39%
Blink  +24%
Nikola +3.19%

So far all of the EV stocks mentioned above (minus Tesla) are up premarket as the electric vehicle momentum continues.
10:52


UK Stock Movers

Worldsec +66.67%

Block Energy +31.42%: Block provides an update on its acquisition of Schlumberger Rustaveli. The company said the acquisition will be completed on the 23rd of November, with Block taking possession of approximately 29,000 bbls of crude oil inventory.

Mulberry +28.46%: Mike Ashley's Fraser Group weighs up a bid for Mulberry after increasing its stake to 37%. The takeover panel has granted Fraser's a waiver from making a mandatory cash offer (usually triggered after a stake passes 30%) as the company's biggest shareholder owns 56%.

French Connection +19.54%

Telit Communications +16.77%: Telit confirms it has received a preliminary proposal from u-blox Holding about a possible all-share merger.
08:54


European Equities Turn Positive

After opening up lower, European equities are now in the green:

FTSE 100    +0.21%
DAX             +0.20%
STOXX 50  +0.31%
IBEX 35      +0.24%
CAC 40       +0.43%
07:45


Preview

Good Morning…

Equities
Overnight equities in the APAC region traded mixed.
Yesterday saw US equities close positively following news that Senate majority Leader Mitch McConnell has agreed to resume stimulus bill negotiations.
US equity futures are trading negatively.

Covid-19
In the US, a new record for hospitalised patients was reached, while in New York, Mayor Bill de Blasio warned it is just a matter of time until the state halts indoor dining.
The California Governor issued a statewide curfew from 10 pm to 5 am amid a rise in coronavirus cases.
The WHO has advised against using remdesivir as a treatment for hospitalised coronavirus patients.
The EU could approve Pfizer/BioNTech and Moderna's vaccines in December according to reports.
In the UK, the health secretary for Scotland said that the first vaccination against coronavirus is expected to be delivered in Scotland next month.

US Gov/Fed
US Treasury Secretary Steve Mnuchin asked the Fed to return unused CARES Act funds to allow congress to reallocate the money. He also said that key pandemic lending programs at the Fed would expire on December 31st.

Stocks
Roblox files for NYSE IPO.
Eli Lilly's arthritis drug gets Emergency Use Approval for treatment of Covid-19.
Pfizer is expected to file for FDA Emergency Approval today.

Economic Data
On the data calendar today we have Canadian retail sales and Eurozone consumer confidence.