Latest

21:06


FDA COVID-19 Treatment

Some breaking news…

The FDA has approved Gilead's remdesivir as a coronavirus treatment. Remdesivir was previously authorised by the FDA for emergency use to treat the coronavirus.

Gilead stock has jumped 3.61% after-hours to $62.87.
Today

21:04


US Equities Close Higher

DOW           +0.54%

S&P 500     +0.52%

NASDAQ    +0.19%
Today

19:56


Final Hour

As we head into the final hour US equities are trading higher:

DOW +0.60%

S&P +0.53%

NASDAQ +0.23%
Today

17:03


US Stock Performance

Here's how US stocks are performing so far today. Courtesy of finviz.com…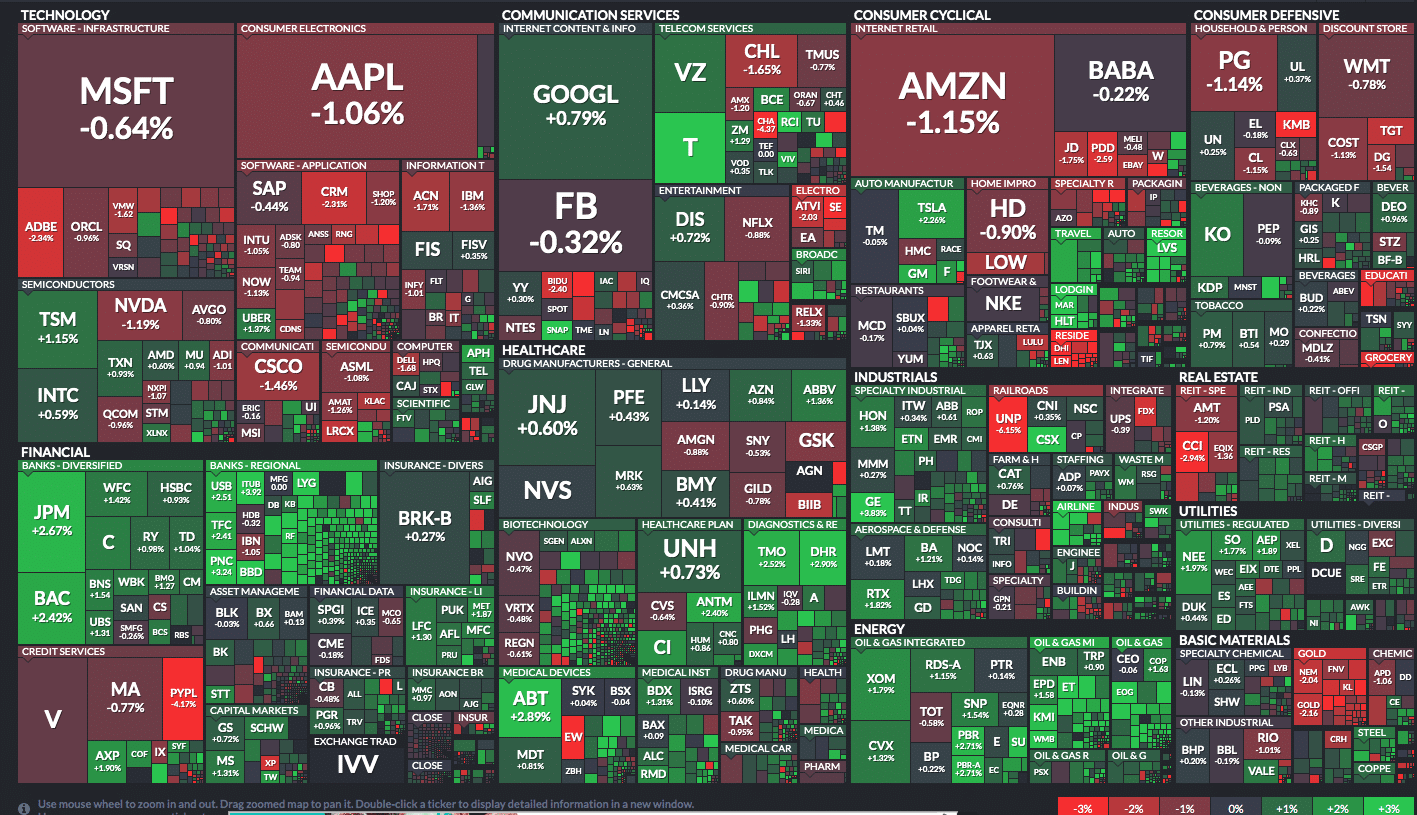 Today

16:4


European Equities Close

FTSE 100     +0.15%

DAX              -0.17%

STOXX 50   -0.38%

IBEX 35       -0.21%

CAC 40        -0.05%
Today

16:38


Another Stimulus Update...

CNBC has just reported that Pelosi has cautioned that Congress may be far from passing a stimulus bill despite progress.

Here is that CNBC article.
Today

15:55


US Stimulus Bill

US House Speaker Pelosi said that progress has been made this week, going on to add that "we're just about there" on the stimulus deal.

However, some analysts have pointed to the fact that Pelosi may have been talking about just the healthcare portion of the bill.
Today

15:13


Chipotle

Chipotle shares have plummeted despite its earnings beat on Wednesday.  So far today they are currently trading at $1,284.50, down 6.01% after the company reported its third-quarter earnings.

Chipotle reported that its sales rose 14.1% in the third quarter, but the shift to delivery weighed on its profits.
Today

15:06


Align Technologies

Align Technologies stock continues to climb. It is currently up 33.25% at $447.48.

"Invisalign creator Align Technologies (NASDAQ: ALGN) stock looks set to reach new highs with its share price surging premarket after the company released its third-quarter earnings results."

ALIGN TECHNOLOGY (ALGN) STOCK SURGES TO NEW HIGHS AFTER Q3 EARNINGS
Today

14:46


Cineworld

Shares of Cineworld PLC (LON: CINE) have received a major boost this week after its Regal cinema chain said it will open 11 locations in New York state starting from tomorrow.

CINEWORLD SHARE PRICE IS UP NEARLY 50% THIS WEEK. HERE'S WHY

Cineworld's London-listed shares are currently priced at 31.01p, down over 4%.
Today

11:25


US Equity Futures

US equity futures are all trading lower with the S&P down 0.16%, the DOW down 0.18% and the NASDAQ down 0.13%.
Today

10:12


Tesla Premarket

After reporting its earnings yesterday, Tesla shares are up 4.91% premarket at $443.29.

The company reported:

an EPS of $0.76 adjusted vs $0.57 Est.

And, its Q3 revenue came in at $8.77B vs $8.36B Est.
Today

09:08


UK Stock Movers

Gainers:

Live Company Group  +73%

Ascent Resources         +25%  -Entering into negotiations with the Republic of Slovenia after a dispute with a                                                         view to possibly settling the claim

Online Blockchain       +18%

4D Pharma                    +13% – Announced the intention to merge with SPAC Longevity Corp with the                                                                       intention of listing on the Nasdaq. Merger price agreed at £1.10 per share

Losers:

Jardine Strategic           -40%

Plaza Centres                 -25%

MC Mining                     -13% – Company announced Annual report and AG< to be held on November 20th                                                               2020

Countrywide                  -10% – Company released half-year report and announces equity raising
Today

07:55


Preview

Good morning…

-The majority of APAC indexes traded lower overnight

-Stimulus talks are ongoing, although, it looks as though differences are narrowing

-PayPal closed yesterday's session at an all-time high after the company announced users will be able to buy, sell, and hold cryptocurrency using their PayPal accounts

-According to Operation Warp Speed Chief Slaoui, AstraZeneca and Johnson & Johnson COVID-19 vaccine trials will restart this week.

-In FX markets we saw the US dollar gain strength overnight after yesterday's weakness

-On today's calendar we have US initial jobless claims and European consumer confidence along with speakers from the BoE and Fed

-On the earnings calendar today we have names such as Coca-Cola, At&t, American Airlines, Southwest Airlines, Intel, Capital One, and SVB Financial

-European stocks start the day in the red with the FTSE down 0.4%, the DAX down 1%, the CAC 40 down 0.5% and the IBEX down 0.7%