Latest

21:05


US Markets Closed Mixed

DOW            -0.10%

S&P              + 0.34%

NASDAQ    +37%
Today

19:45


AstraZeneca COVID-19 Trial

The Wall Street Journal is reporting that AstraZenecaand Oxford University's COVID-19 vaccine trial can resume in the US.
Today

19:36


Tesla China Recall Update...

A report by Electrek says Tesla is arguing that there is no defect on its suspension (see previous update) and China is forcing the recall.

Tesla shares have climbed in the last few hours, now down just 1.62%  at $418.90
Today

17:04


Tesla

Tesla shares are down 3.55% at $410.68 meaning they are on track for their worst day in three weeks.

The electric vehicle company's share price has been impacted by a report that China's market regulator saying that Tesla will recall 29,193 Model S and Model X vehicles in the country.

There are reportedly two issues with the suspension.
Today

16:36


European Stocks Make Solid Gains...

FTSE 100     +1.27%

DAX              +0.84%

STOXX 50   +0.82%

IBEX 35       +1.42%

CAC 40        +1.20%
Today

15:44


US Stock Movers

Gainers: 

Socket Mobile                 +171.11% – SOCKET MOBILE STOCK CLIMBS AFTER Q4 EANRINGS RESULTS

Dogness International  +64.29% – DOGNESS CORP (DOGZ) STOCK RALLIES, HERE'S WHY…

Zedge Inc                         +59.87% – ZEDGE STOCK SURGES ON STRONG PAID SUBSCRIPTION GROWTH

Losers:

Limelight Networks       -27.69% – LIMELIGHT SHARES FALL AFTER Q3 EARNINGS REPORT

Tuanche Limited            -23.71%

Cyber Optics                    -22.86% – CYBER OPTICS REPORTS Q3 EARNINGS, DISAPPOINTING OUTLOOK
Today

15:34


US Stock Performance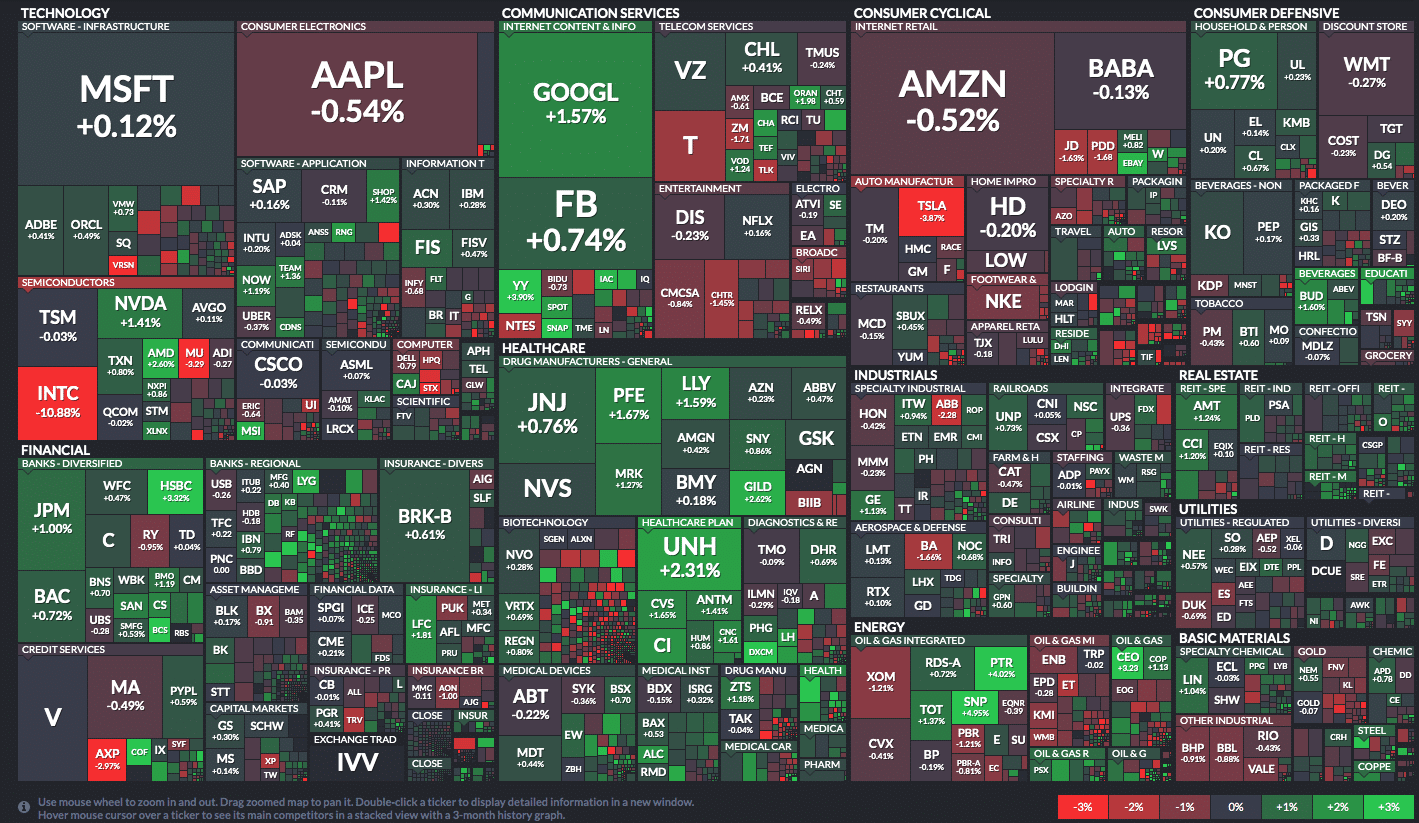 Today

14:43


US Equities

DOW           +0.18%

S&P              +0.23%

NASDAQ     -0.15%
Today

11:31


Cassava Sciences

$SAVA

Cassava Sciences stock is up 21.63% at $10.74 per share after US financial services firm Cantor Fitzgerald gave the company a boost by rating it overweight and setting a price target of $24.

Analysts surveyed by TipRanks are also bullish on the stock with a medium price target of $17.

Today

11:07


Brexit

Irish Foreign Minister, Simon Coveney has told Ireland's RTE that he thinks a deal can be done and that the process is back on track.

However, he did say that issues that are preventing a trade deal being finalised are very much still there.

Coveney said the trust with the UK has improved in recent days but the two sides are still "miles apart" on fish.
Today

09:20


McCarthy & Stone Shares

Shares of McCarthy & Stone PLC (LON: MCS) have surged 44.4% after the company revealed that it had agreed to a £630 million takeover offer from US private equity group Lone Star.

MCCARTHY & STONE SHARES SURGE 44.4% ON £630M TAKEOVER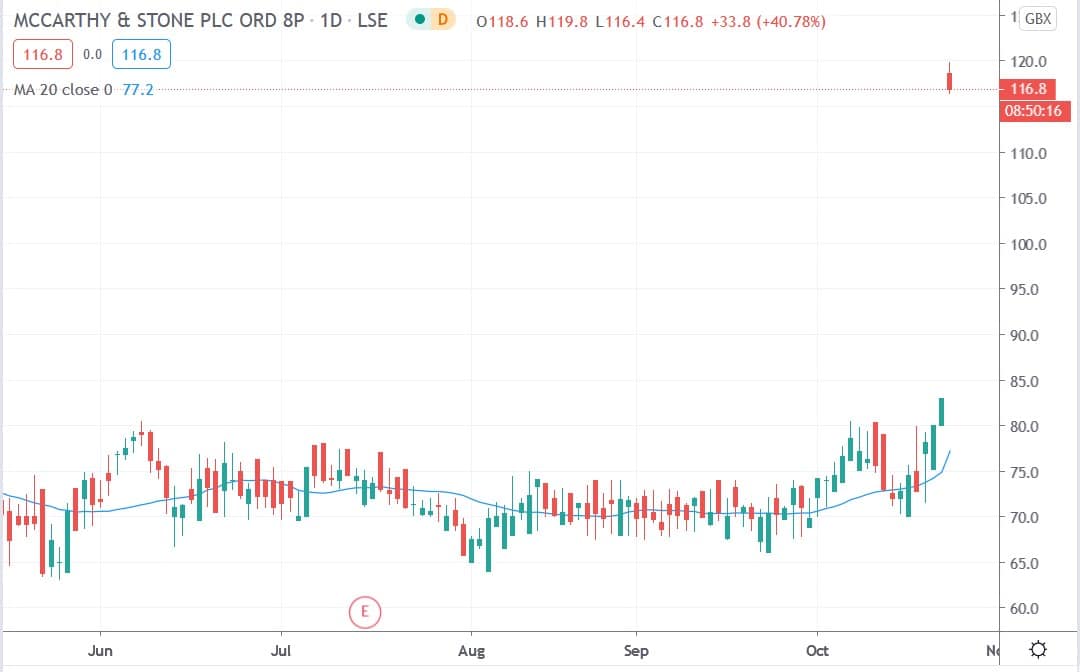 Today

08:44


European Indices Trading Positively

FTSE 100       +1.04%

DAX                +0.84%

STOXX 50     +0.96%

IBEX 35         +1.07%

CAC 40           +1.23%
Today

07:55


Preview

Good Morning…

-APAC markets traded mixed overnight with the ASX closing down 0.11% and the Nikkei closing up 0.18%

-US stimulus hopes are fading as, despite progress, Pelosi warned that congress may be far off from passing a deal

-Yesterday the final Presidential Debate took place with little market reaction

-US President Trump said that a COVID-19 vaccine is ready in the next few weeks but not guaranteed. This comes after yesterday the FDA approved Gilead Sciences Remdisivir – its COVID treatment

-According to reports, PayPal is eyeing the purchase of cryptocurrency custodian BitGo

-Intel stock fell over 9% after reporting its earnings yesterday evening. The company reported a Q3 adjusted EPS of $1.11 vs the estimated $1.11, and a revenue of $18.3B vs the estimated $18.25B

-In FX markets the US dollar continued to strengthen

-On today's calendar we have European, UK and US PMI's

-Company's reporting earnings today include American Express, Gentex, First Horizon, OFG Bancorp and Barnes Group