Latest

21:05


US Equities Make Strong Gains

DOW          +1.54%
S&P            +1.61%
NASDAQ  +1.31%
Today

19:25


Airline Stocks On the Rise

US airline stocks are continuing to climb as hopes of a coronavirus vaccine approval increase.

Delta Airlines +5.13%
American Airlines +8.55%
Southwest Airlines +2.71%
United Airlines +7.72%
Spirit Airlines +6.07%
Today

17:12


Li Auto

Li auto shares were up 11% premarket but have given up some of those gains since the open, currently trading 1.81% higher at $44.43.

Here's our analysis on the recent rise in Li auto…

LI AUTO SHARE PRICE UP 11% IN PRE-OPEN TO TOTAL MONTHLY GAINS TO OVER 140%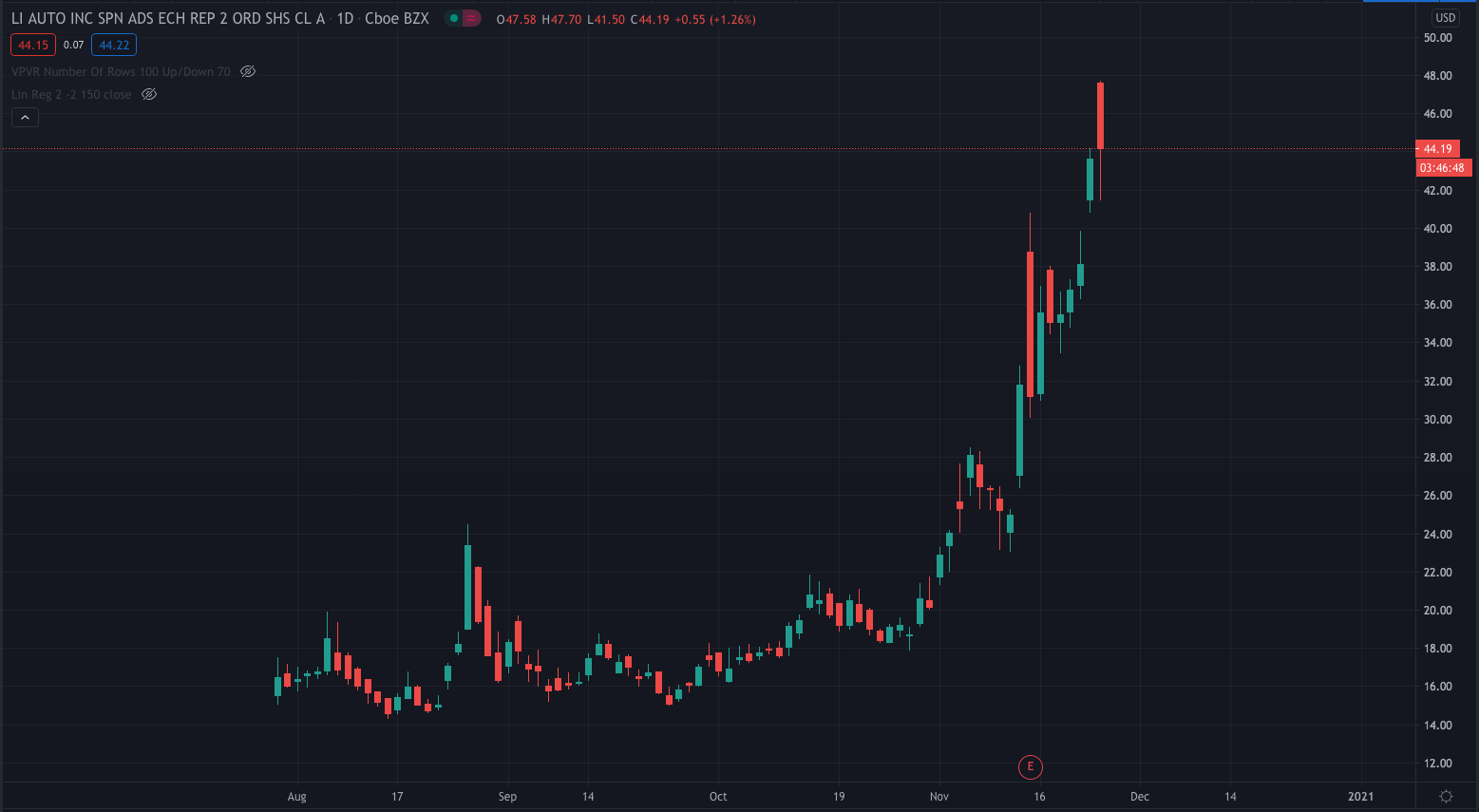 Today

16:42


European Equities Finish the Day Positively, The Dow Hits 30K

FTSE 100     +1.53%
DAX              +1.26%
STOXX 50   +1.30%
IBEX 35       +1.98%
CAC 40        +1.21%

In other equity news, the Dow Jones Industrial Average has hit 3o,000 for the first time.
Today

15:50


Carnival Shares Surge

Shares of Carnival plc (LON: CCL) surged 10.6% today after the cruise operator announced that it had closed the previously announced registered direct offering of 10.4 million shares of its common stock at $17.59 per share to a holder of its 5.75% Convertible Senior Notes due 2023 (the "Convertible Notes").

CARNIVAL PLC SHARES SURGED 10.6% TODAY AFTER CLOSING 10.4M DIRECT SHARE OFFERING
Today

15:13


Gold Plummets

The spot gold (XAUUSD) price has plummeted again today, currently sitting at $1,802 after a 1.95% fall. Yesterday gold fell 1.77% after opening up at $1,870.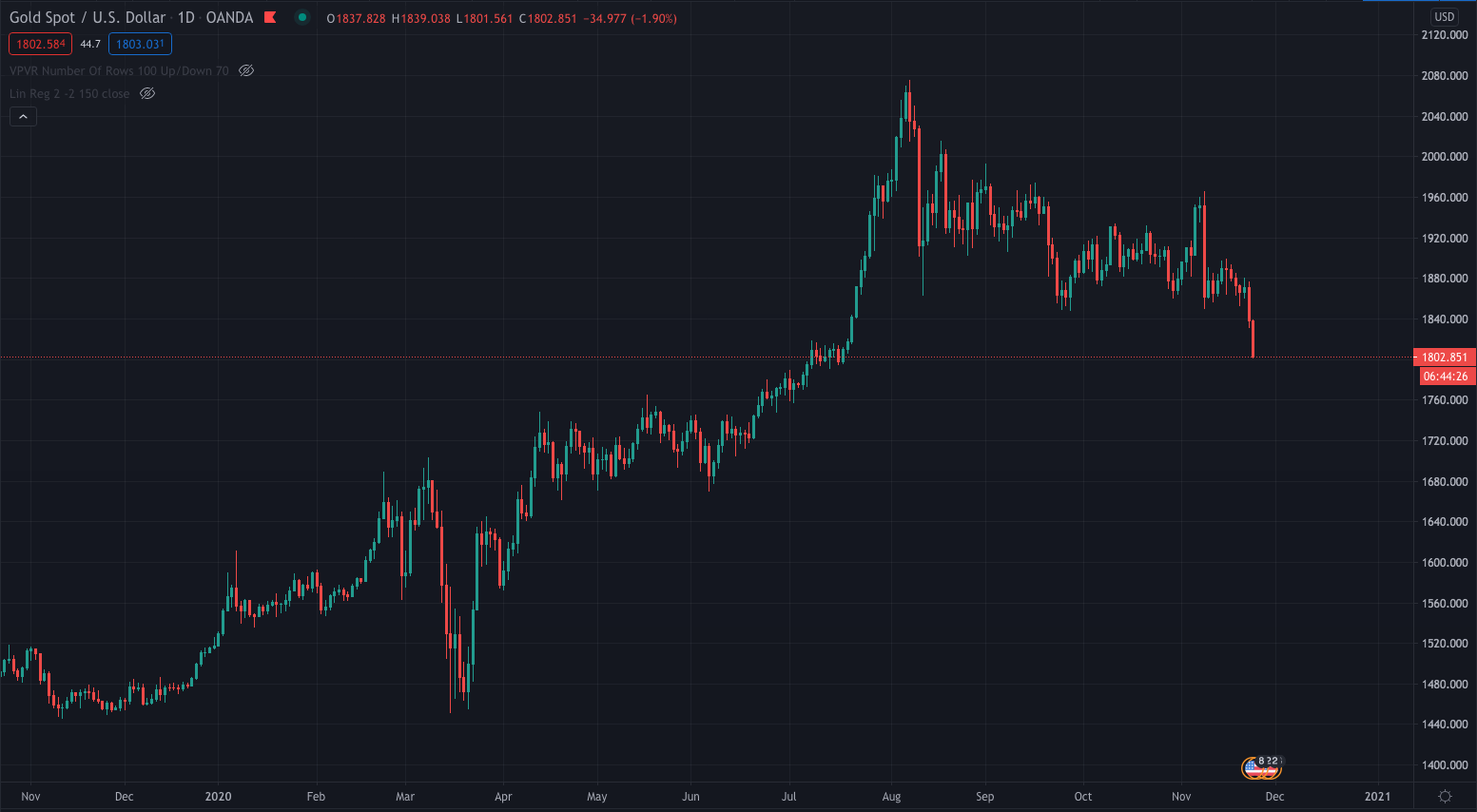 Today

15:02


US Equities Higher

DOW        +1.14%
S&P          +0.80%
NASDAQ +0.28%
Today

11:12


Countrywide Share Price Falls

Shares of Countrywide PLC (LON: CWD) are trading about 3.5% in the red today on news the company has dropped a £90 million proposal from Alchemy.

COUNTRYWIDE SHARE PRICE DIPS AFTER DROPPING ALCHEMY PROPOSAL AND MANAGEMENT CHANGES
Today

10:13


Uk Stock Movers

Orchard Funding +17.65%

Invinity Energy Systems +16.96%: Invinity announces it has signed a contract to deliver an 8MWh Vanadium Flow Battery system for a utility-scale solar-plus-storage project to be built in South Australia.

Zoetic International +16.95%: ZOETIC (ZOE) INTERNATIONAL SHARES SURGE 35% ON A MAJOR US DISTRIBUTION DEAL

ReNeuron Group  -18.77%: ReNeuron announces interim results for the six months ending September 30th. The company also announces the results of placing and subscription.
Today

08:09


European Equities Open Higher

FTSE 100    +0.87%
DAX             +1.00%
STOXX 50  +1.08%
IBEX 35      +1.18%
CAC 40       +1.04%
Today

07:50


Preview

Good morning…

Equities
Asian bourses were mixed overnight with the Nikkei and ASX closing higher and Chinese equities moving lower following the positive close on Wall Street.
US and European index futures are positive this morning.

Covid-19
In the UK, Prime Minister Johnson confirmed that the nationwide lockdown will end next week with the country moving to a tougher three-tiered system. The government will announce which areas will be placed under which tier on Thursday.
AstraZeneca's vaccine has been questioned due to its lower efficacy rate compared to Moderna or Pfizer's vaccine, while there are also questions as to whether it will be approved in the US due to the small group of volunteers in the trial.
A report in the Guardian states that the US, UK and Germany could start Covid vaccinations as early as December.

Politics
US media reported yesterday that President-elect Biden will nominate former Federal Reserve chair Janet Yellen as his treasury secretary.
The Trump administration has officially begun the transition to Biden with General Administration Chief Emily Murphy informing President-elect Biden that the Trump administration is making federal resources available for his transition into office.

Stocks
Uber and Lyft have secured an $810 million Federal Transportation Contract.
McCormick & Co is nearing a deal to purchase hot sauce maker Cholula for $800 million.
Names on the earnings calendar today include Dicks Sporting Goods, Best Buy, Nordstrom, Dell, Dollar Tree, Pure Storage, HP, and Autodesk.

Data
Look out for German Ifo Business climate data, and US consumer confidence.