Latest

20:07


US Equities Fall

Not a good day for bulls…

DOW           -2.29%

S&P             -1.82%

NASDAQ   -1.64%
Today

19:24


Oil Prices Fall

It's not just stocks that have fallen today as both Brent crude oil and WTI crude oil prices have dipped.

Brent is trading at $40.44 per barrel, down 2.98% while WTI is down 3.03% at $38.51 per barrel
Today

17:00


US Stock Movers

Gainers:

Document Securities Systems +40.97%

Muscle Maker +35.62% – MUSCLE MAKER (GRIL) STOCK SURGES 60%, HERE'S WHY

Mid-Con Energy Partners +18.27%

Losers:

BioSig Technologies -41.64% – BIOSIG TECHNOLOGIES (BSGM) STOCK PLUMMETS 45%, HERE'S WHY

Biondvax Pharmaceuticals -25.14%

SAP -23.36% – SAP SHARE PRICE JUST CRASHED OVER 20%. HERE'S WHY
Today

16:44


European Equity Closing Prices

FTSE 100    -1.17%

DAX             -3.68%

STOXX 50  -2.89%

IBEX 35       -1.35%

CAC 40        -1.91%
Today

15:23


S&P 500

In a week where there are more than a third of S&P 500 companies reporting earnings, it begins with a sea of red…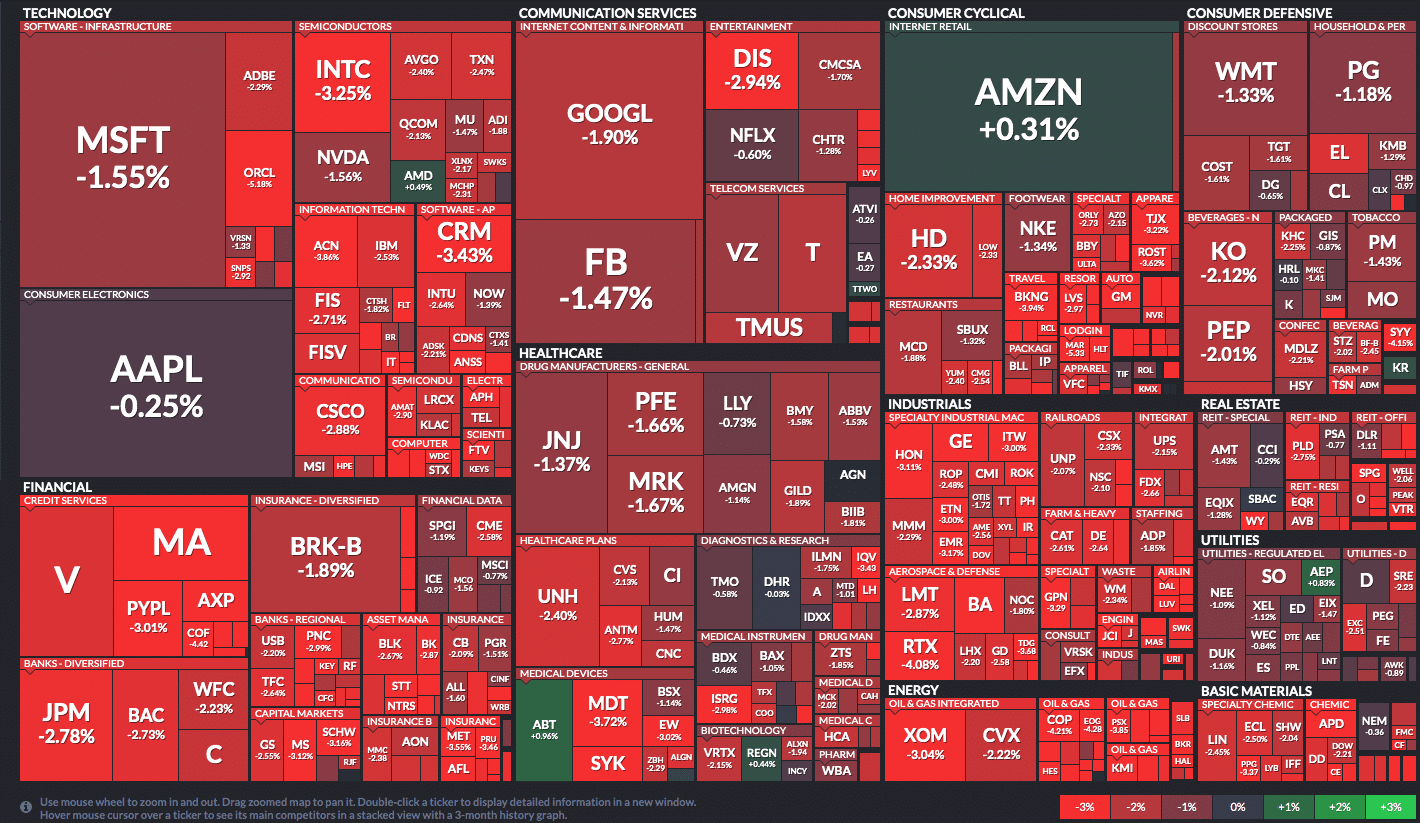 Today

15:13


Equities Plunge

It's not a pretty sight at the moment with both US and European equities all trading in the red.

The DOW is down 2.22%, the S&P is down 2.07% and the Nasdaq is down 1.47%.

Meanwhile, the DAX is down over 3.5%, and the FTSE 100 is trading 0.91% lower.
Today

14:40


Mirati Therapeutics

Mirati Therapeutics (NASDAQ: MRTX) stock is up 13.73% t $204.95 after the company said that preliminary data from two studies showed its experimental drug, adagrasib, caused tumours to shrink or disappear in 45% of patients with non-small cell lung cancer (NSCLC).

The company said it plans to submit a marketing application for accelerated approval of adagrasib as a monotherapy in advanced NSCLC in the second half of 2021
Today

14:15


US-China

China has demanded that Chinese based branches of ABC, The Los Angeles Times, Minnesota Public Radio, Bureau of National Affairs, Newsweek, and Feature Story News report information about their operations in the country within seven days.

China is seeking information on staff, finances, and real estate holdings.
Today

13:56


US Equities

The Nasdaq is regaining some earlier losses…

DOW          -1.35%

S&P            -0.88%

NASDAQ  -0.13%
Today

11:08


Alien Metals

Alien Metals shares are up 12.24% at 1.910p after the company announced it has been granted a 208 km exploration licence in northern Greenland, surrounding the Citronen zinc-lead project owned by Ironbark Zinc Limited.

According to Alien's press release, the Citronen project "is believed to be one of the world's largest underdeveloped zinc-lead projects."
Today

10:00


Earnings Before the US Open

Here are some of the companies reporting earnings before the US cash open…

SAP – SAP SHARE PRICE JUST CRASHED OVER 20%. HERE'S WHY

Twilio

Amkor Technology

Alliance Resource Partners

Bank of Hawaii
Today

08:24


European Equities

A bad start for European equities…

FTSE 100     -0.50%

DAX              -2.26%

STOXX 50   -1.65%

IBEX 35       -0.59%

CAC 40        -0.87%
Today

07:38


Preview

Good morning all…

-APAC markets traded mostly lower as investors worry about the rise in coronavirus cases

-France and Italy saw record surges in coronavirus cases

-Chinese health authorities reported 137 new cases on Sunday in Xinjiang province

-AstraZeneca and Oxford University's COVID-19 vaccine reportedly produced a robust immune system response in elderly people the Financial Times has reported

-Elsewhere according to reports, Airbnb is to split privately held shares 2-for-1 ahead of an IPO

-Post-Brexit trade talks have been extended

-In FX markets the USD has strengthened

-On today's calendar we have German Ifo business climate data and US new home sales.

-This week is a packed one for earnings with over a third of S&P 500 companies reporting