Latest

21:03


US Markets Close
DOW: +0.12%
S&P: -0.40%
NASDAQ: -0.10%
20:47


Apple Targets Car Production by 2024

Reuters is reporting that Apple is moving forward with self-driving car technology and is targeting 2024 to produce a passenger vehicle that could include its own breakthrough battery technology.

Apple shares are rising, currently up 0.60%.

Tesla's stock price has fallen on the news and is now down 6.59% for the day.
20:01


Brexit

The Financial Times' Whitehall correspondent, Sebastien Payne has sent out a tweet suggesting that the EU and UK are edging towards a deal on fishing rights with December 30th eyed as the date to pass it into law.

Payne said that the compromise may be a 35% cut in EU access to UK waters over a five year period.

The pound has reclaimed most of Mondy's losses, trading at 1.3473, having briefly touched the 1.35 level.
17:57


Anterix Signs Agreement With Ameren

Anterix (NASDAQ: ATEX) today announced its first long term 900 MHz broadband spectrum lease agreements, covering Ameren Corporation's (NYSE: AEE) service territories for 30 years.

No financial details were provided.

Anterix shares rose over 60% following the news and are now up 54.84% at $45.63.

Ameren's share price has seen little reaction to the news, down 2.50% at $76.89.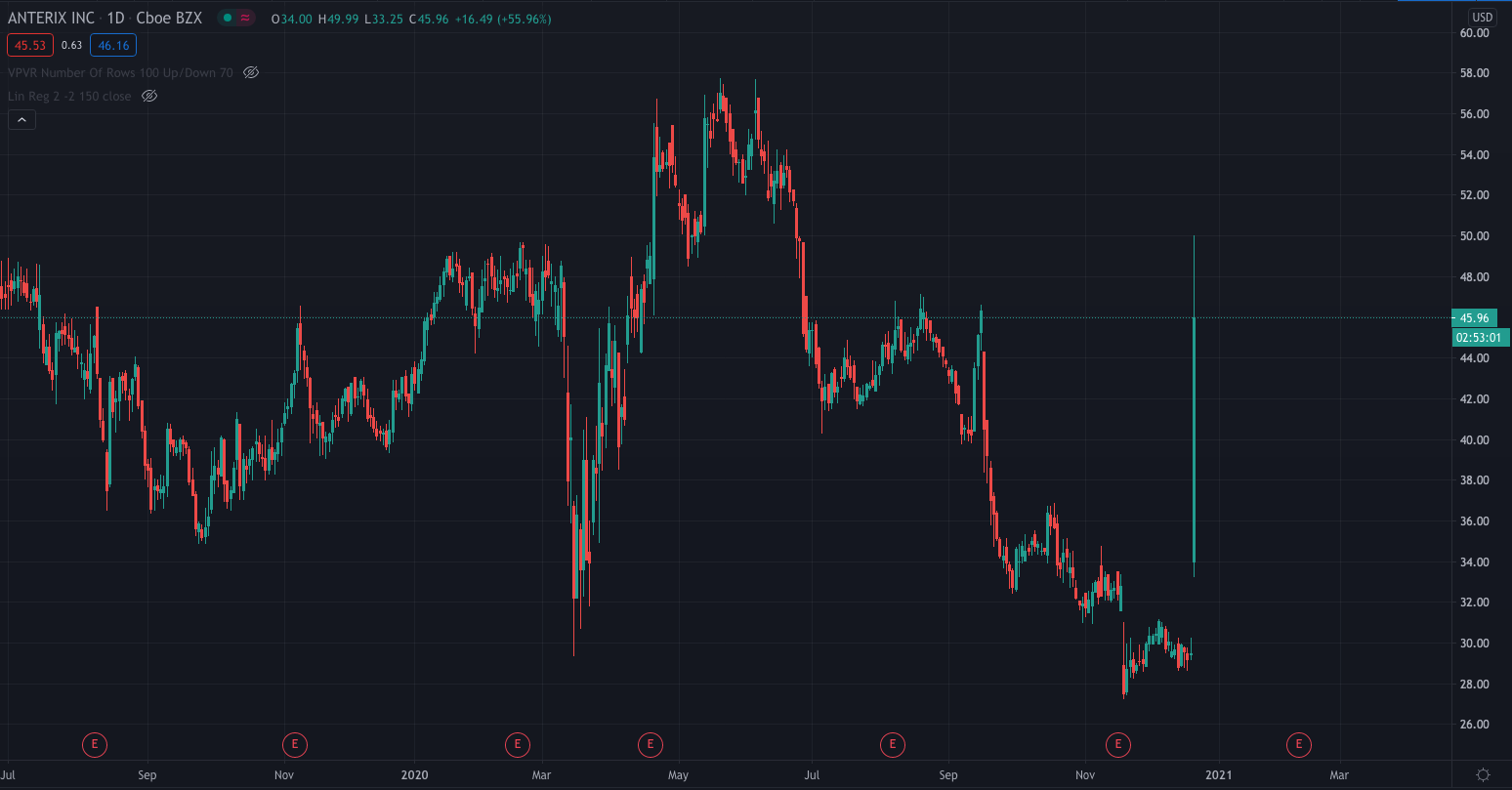 17:13


Facebook To Roll Out New Video Call Library

Facebook said it is rolling out a new video calling library to all the relevant products across its apps and services, including Instagram, Messenger, Portal, Workplace chat, etc.

Facebook shares are down 1.97% from Friday's close, at $270.97.
17:03


European Equities Tumble

European Equities regained some losses following the earlier fall:
FTSE 100: -1.79%
DAX: -2.82%
STOXX 50: -2.74%
IBEX 35: -3.08%
CAC 40: -2.43%
16:06


FuboTV Shares Surge

FuboTV shares are rising after a report from Axios said the company is looking at forming exclusive sports content deals.

FuboTV: +16.71% $45.81
14:35


IBM to Acquire Nordcloud

IBM (NYSE: IBM) today announced an agreement to acquire Nordcloud, a European leader in cloud implementation, application transformation and managed services.

IBM shares are down 1.94% at $123.41.
14:33


US Equities Down
DOW: -0.89%
S&P: -1.16%
NASDAQ:-0.87%
11:25


UK Stock Movers
Panthera Resources +27.49%: The company is expecting results from several explorations in the coming months
Sareum Holdings +25.41%
Powerhouse Energy Group +18.96%: Site clearance has begun for Powerhouse Energy's proposal at the Cheshire Energy hub.
Global Invacom -25%
Gunsynd -20%
Menzies -16.38%: The aviation services business'  shares fall as European countries close borders to UK travellers.
Universe Group -13.88%: UNIVERSE GROUP SHARES FALL 13% AS PROJECT REVENUE DELAYED
Hyve Group -11.04%
11:10


Risk-Off Takes Hold

Markets across the board are falling on fears of a new coronavirus strain.

European equity markets have taken a hit with the FTSE 100 down 2.80%, the DAX down 3.37% and the CAC 40 down 3.35%.

In FX markets the US dollar is gaining strength as money flows into safe-haven assets with sterling is down 2.05% against the dollar at 1.3243 having initially fallen as low as 1.3187, while the EURUSD is trading at 1.2163, down 0.73% on the day.

Gold is down, trading at $1,875 having dropped to lows of $1,855 while Brent crude oil is down over 5% at $49.66, with WTI crude down 4.61% at $46.77.

Elsewhere, Bitcoin hasn't escaped the fall, currently trading at $22,791, falling nearly 3%.
08:05


European Equities Plummet
FTSE 100: -1.86%
DAX: -1.69%
STOXX 50: -2.21%
IBEX 35: -3.03%
CAC 40: -2.55%
News:
The FDA approved Moderna's COVID-19 vaccine for emergency use
Trump signed a bill that could lead to the delisting of Chinese stocks
US lawmakers have agreed on a stimulus deal to provide $900 billion in aid according to reports.
European Stocks have plummeted after the open as the UK reported over the weekend that it had identified a new strain of coronavirus that could be 70% more transmissible. Several European countries announced that they would be banning UK travellers from entering, while there is expected to be significant disruption at UK ports.